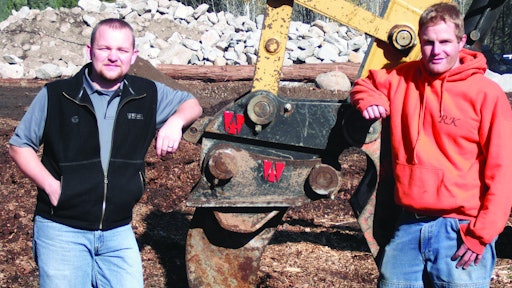 When utility companies run into underground problems in the Truckee region, near Sacramento, California, they know just who to call.
In only a few years, RK Contractors Inc. has established itself as a specialist in challenging excavation projects. The firm's owner, Ryan Kautz, is just 25 years old, but customers and subcontractors alike already know him as the go-to guy when a tough job needs digging up, fast.
"I think of our team like it's a fire department," Kautz says. "We do a lot of emergency response work: hazmat containment, soil remediation, along with our pipeline work and line-laying projects. Terrain and subsoil conditions in this area can be very tricky. We just have to make sure we're ready for whatever is coming, at a moment's notice."
Kautz grew up around jobsites, starting with a few years working with his father's blasting company. As a contractor, he has always focused on having the right tool for the job. That's part of his secret to success in his new specialty. The other part is making sure he always arrives at the job with all the equipment he might possibly need and the right people to help him hit the ground running.
Along with his core crew of a half a dozen trusted staff members, Kautz is well connected to subcontractors and other trades he knows he can rely on. If a big job suddenly crops up, he is able to deploy as many as 60 skilled workers to the project within 24 hours.
A customizable approach
Like any fire department, equipment is always a top-of-mind concern. When a call comes in, Kautz pulls out with a convoy of lowboys loaded up with prime movers and attachments. "We take everything to the site, so we're sure we'll have whatever's needed. If we run into a problem, I don't want our crew standing around waiting for a delivery truck. Neither do my customers!"
Each piece of equipment in the RK Contractors fleet is also rigged for every eventuality. Every prime mover is fitted with night lights and auxiliary hydraulic circuits, along with quick couplers, thumbs and an array of specialized attachments.
"Everything I buy, I have to change. I don't expect OEMs to build exactly what I need for my particular line of work," says Kautz. "Just give me a solid machine, and then I'll customize it the way I want."
To help him tailor his equipment into a versatile emergency dirt-moving fleet, Kautz turns first to his long-time field representative for Wedgelock couplers, Cameron Noble of Norco Attachments. Noble not only supplies RK Contractors with its quick couplers and buckets, he gets hands-on with the machinery to deliver the hardware and support that Kautz needs. "I've worked with Cameron for several years," says Kautz. "We just tell him what we want to do and he figures it all out."
According to Noble, helping customers to achieve their goals is just part of his job description. "Ryan Kautz is really an ideal customer for Norco Attachments, because he gives us the chance to put our own knowledge to work. Instead of bringing us an order for some hardware, he brings us a problem. That gives us the opportunity to work with him and find the best possible solution."
Norco Attachments is the manufacturer of the varied Wedgelock products that have become a key factor in Kautz' business strategy. The excavators at RK Contractors are fitted with a host of Wedgelock rippers, custom buckets and compactor wheels. With quick couplers installed on all of the equipment, Kautz' crews can assess the project's requirements when they arrive onsite and quickly attach the best tool for the job. Then, as the project progresses, they can switch tools easily to adapt to specific conditions.
Noble is responsible for designing and installing all the custom hydraulics and auxiliary valves that operate the specialized gear on RK Contractors' machinery. "He's like our tech support," says Kautz.
Noble appreciates the comment. "I've always felt I'm in the service business, not the sales business. Good service builds the kind of relationships that work best for both the customer and for Norco. The trust we have with Ryan lets us move past the 'sales' aspect and zero in on how to build his business."
Solutions for improved service and safety
With his fire department mentality, Kautz is also devoted to a strict preventive maintenance program aimed at keeping his earthmoving arsenal ready for action on a moment's notice. He stocks a large inventory of his own service parts. High-demand items such as hydraulic fittings and tires are always close to hand. His goal is to completely eliminate any downtime while he's on a jobsite.
Norco Attachments also plays a part in his maintenance plan, supplying Wedgelock shim kits. Kautz explains, "The kits we get from Cameron include a variety of shim sizes to take out the 'slop' anywhere on the machine that has a pin. We can use them on any excavator, loader or dozer. They're just part of our routine servicing for booms, sticks, buckets. They keep everything running smooth, which makes the equipment nicer to operate and extends its life, too."
Kautz points out that caring for the machines also keeps machines safer on the jobsite. With crews responding quickly to urgent customer needs, he feels it's important to do everything possible to prevent accidents from happening. His Wedgelock couplers, for instance, were also a safety-conscious choice.
"We rely on quick-change couplers. On some jobs, we might change attachments on a machine half a dozen times or more in a day," he notes. "With the pin-type design of the Wedgelock couplers, we don't have to worry about throwing an attachment. It just can't happen."
About Norco Attachments
Wedgelock couplers are available for all popular excavator makes and models from 5,000-lb. mini-exs up to 200,000-lb. mine shovels. The unique system was originally developed by Wedgelock, a family owned and operated business based in New Zealand. Norco Attachments recently entered into a joint venture with Wedgelock to manufacture and distribute the coupler system for North and Central America. Over 45,000 of the Wedgelock Quick Couplers are in service worldwide.
Companies in this article