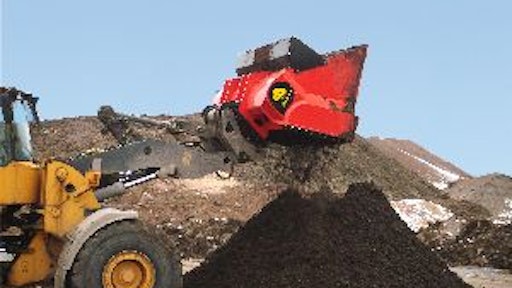 Specialty buckets can be a cost-effective solution to let you to process materials or cut through rock without additional equipment. These attachments utilize your investment in an existing carrier on the jobsite. And in many cases, you avoid having to rent additional screening or crushing equipment or other attachments. Let's look at a few examples of specialty buckets available in the market.
On-site processing
There are crushing and screening buckets available that can size and/or screen material on site.
MB S.p.A., Vicenza, Italy, offers the MB Crusher line of jaw-action crusher buckets. Four models are available for use on all brands and models of excavators from 8 tons up. Applications include demolition, road work, excavation, quarries and mines, environmental remediation, etc. An iron separator is available for all crusher bucket models.
"The MB crusher bucket is unique," says Veronica Guerra, MB S.p.A. The bucket features jaw movement. "There are similar products, but not like a crusher bucket. Compared to a [dedicated] crusher, the iron can go outside a crusher bucket clean. With a crusher, you can't do this because the crusher will stop.
"Using a crusher bucket can have many advantages for the customer," she continues. "You eliminate transportation, waste disposal and material buy-back costs. You collect and crush material directly on site. The customer can change the final size of the material from 2 to 12cm."
ALLU Group Inc. offers a screener crusher attachment for screening, crushing, pulverizing and blending soil, stone, asphalt, compost or any material that requires processing. "It provides portable, affordable on-site screening, crushing, etc.," says Dale Mickle. "The company provides a readily available material processor by simply attaching it on a customer's base machine.
"ALLU fits any size excavator, wheel loader, skid steer, backhoe or mini-excavator, making a customer's already owned base machine more productive," he adds. There are over 50 models to fit any size base machine and also to match the base machine's hydraulic flow. "It needs no special setup as it operates off the base machine's standard third valve hydraulics."
The ALLU units come in 5/8-, 7/8-, 1-, 1 1/2-, 3- and 5-in. screening sizes. Mickle asserts that owning an attachment is often much less costly than renting a screener or crusher and paying an outside source to process the material. "In addition, you have instant availability because you own the [attachment]," he notes. The unit is also productive. "For example, a 2-yd.-capacity ALLU screens in approximately one minute, which equals 120 yds. per hour. Multiply times an eight-hour day and that equals +/- 960 yds. per day."
Yet another alternative to on-site processing is offered by Magnum Attachments. The RSB Series rotating screening buckets are designed for the demolition, road building, landscaping, sewer and water main industries. Four-piece, bolt-on, interchangeable screens available in seven sizes make the attachments suitable for a variety of screening processes.
These buckets come in six excavator sizes, from 6,615 to 88,200 lbs. A flat top frame allows for installation on any carrier with the addition of a bolt-on mounting bracket. To minimize downtime, all hoses are routed within the frame, and the hydraulic motor uses a conventional hammer circuit.
Cutting and digging all in one
A different type of specialty bucket allows you to cut through rock and dig with a single attachment. Take the Alpine cutter-crusher bucket, for example.
"One of the most popular applications for the Alpine cutter-crusher bucket is trenching in rock and mixed ground," says Chip Kogelmann. "[It] is an efficient tool for this application because you can both cut the trench and muck out the material with the same attachment. This saves the contractor from either having to swap between the cutting tool and a bucket, or have a second excavator present for trench cleaning." If soft ground is encountered, the bucket can be used for conventional bucket trenching.
"The grinding action of the integrated hydraulic rotary cutter produces a precise, smooth-walled trench that does not require over excavation, as is the case with hammer trenching where the deeper the trench, the wider the opening (i.e., V-shaped trench cross-section)," says Kogelmann. "Additionally, grinders produce a finer, more uniform material compared to large rock pieces generated by hammering. Typically, the cuttings can be used as backfill or pipe bedding, thus eliminating the need for removal of the material from the jobsite and costly disposal or secondary crushing."
He adds, "The crushing ability of the Alpine cutter crusher bucket permits re-sizing of material via an adjustable crusher plate."
The bucket uses the same motor, transmission and cutting tools as standalone cutter heads, so the cutting performance is the same in terms of shaft torque and cutting force. "The cutter-crusher bucket is more productive where material handling is required, and when there is mixed ground where both conventional bucket excavation and rock grinding are needed," says Kogelmann.
Shaft excavation is also simplified. According to Kogelmann, "In shaft excavation jobs where an excavator can be utilized, the cutter bucket is highly efficient due to its ability to both cut and load. For instance, if a hoist bucket is being used to cut material from the shaft bottom, the cutter bucket is used to load the hoist bucket. Before the cutter bucket, contractors had to either swap attachments or use a second machine for mucking, which increases time, equipment needs and labor."