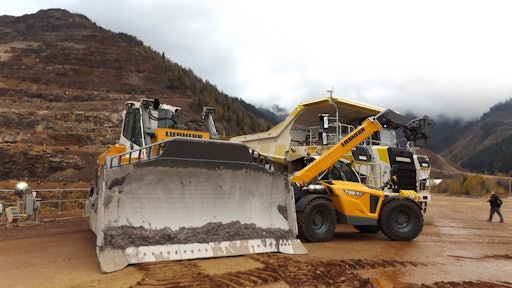 Liebherr informed international trade press attending its 2017 Information Tour of three new major product developments. Following formal presentations at a conference center in Leoben, Austria, we moved to a mountain top in Central Austria, where the program included live demonstrations of two of the company's latest products in action, as well as a walkaround presentation and brief demo of the first models in a brand-new telescopic handler line.
100-tonne Mining Truck Field Trials
The Information Tour began with an update on the T 236, a 100-tonne off-highway mining truck that was launched in 2016 at MINEXPO. The new rigid-frame dump truck with diesel-electric drive system represents a "new direction and increased expansion of Liebherr's mining product range," according to Dr. Burkhard Richthammer, managing director, design and engineering, Liebherr-Mining Equipment Colmar SAS. "Even more notable, it was closely developed with many of our customers, meeting market requirements that ultimately focus on maximum performance with the lowest possible operating costs."
Members of the press got to see the T 236 in action at the Erzberg Iron Mine in Eisenerz, Austria, where it has begun its first field operation trials. "Erzberg mine was carefully and deliberately chosen as the proving ground because it offers the T 236 a varied and interesting set of conditions for the field trials," said Richthammer, "and it has an existing fleet of mining truck models in the 100-tonne class for the T 236 to work alongside as direct comparison."
The mine operates 24 hours a day for 330 days a year in climate conditions varying from snow with temperatures of -20° C to summer heat with in-pit temperatures reaching 40° C. "In addition, Erzberg offers both uphill and downhill haulage cycles, and offers challenging haulage profiles due to a constant variation of grade," Richthammer added.
The mine site was selected to demonstrate:
efficiency by controlling the engine independently from the drive to optimize fuel consumption
productivity as a result of an optimal power availability from the diesel-electric drive at any grade
safety for operators via four-corner wet brake control and optimal in-cab visibility, and for maintenance personnel with the Drive System Inhibit
reliability of Liebherr-developed technologies such as the powertrain and Drive System isolation
customer service and product support in alignment with Liebherr's vertical integration philosophy, as well as the ability to tailor each machine to customers' specific requirements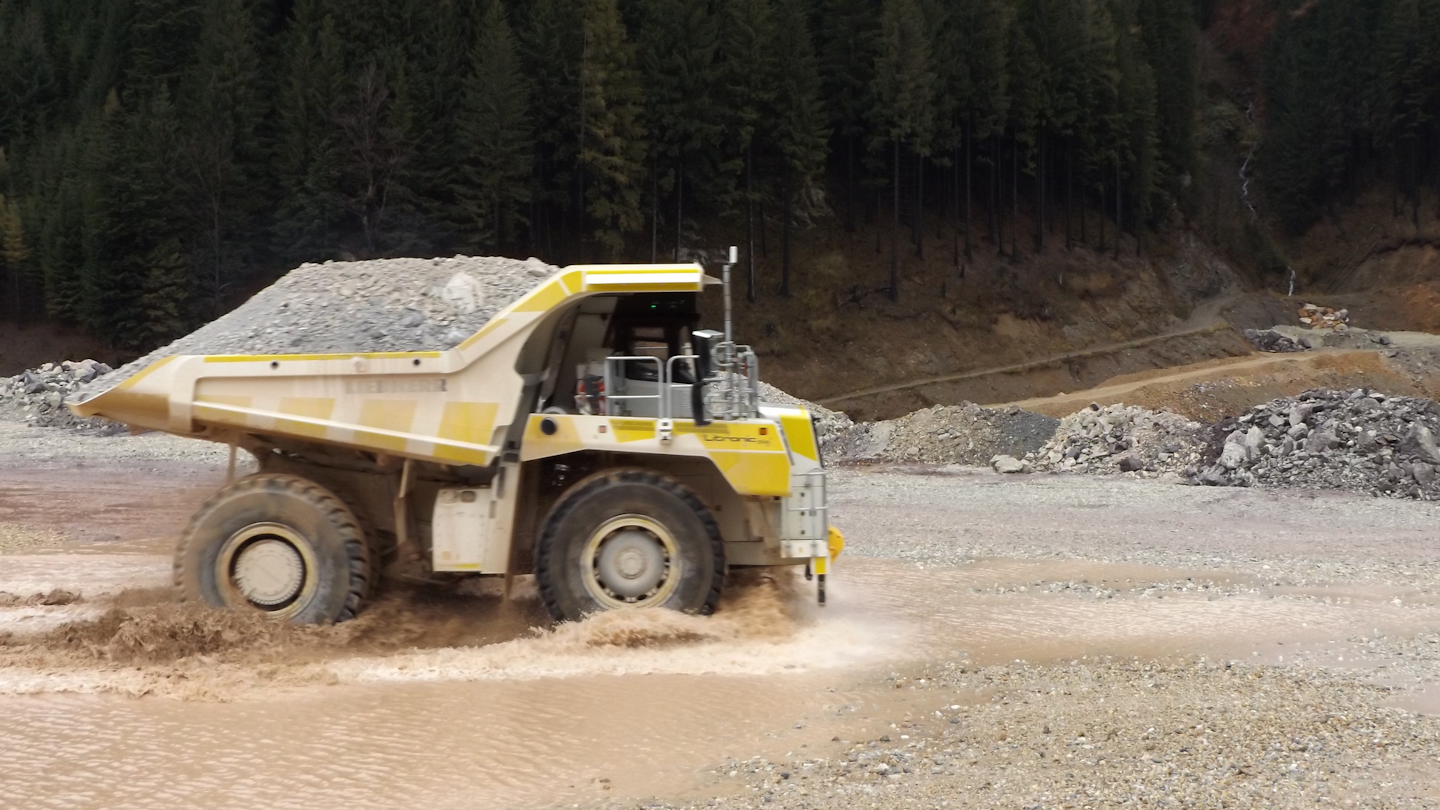 "The T 236 is currently undergoing a primary field trial phase at the Erzberg Mine, comprising an intensive testing program designed to test all of the features and technologies," said Richthammer. "In the coming year, Liebherr will be supplying further pre-series machines to selected operations to further validate the truck's capabilities. These sites are currently planned for South Africa and other selected global locations."
Latest Generation 6 Crawler Tractor
Liebherr also introduced the new PR 766 crawler tractor, which is targeted for both mining applications and challenging earthmoving applications. Weighing in at around 50 tonnes, it is driven by a Liebherr eight-cylinder V-engine, which generates 422 hp and complies with Tier 4/Stage IV emissions standards using a selective catalytic reduction-only (SCR) concept – in other words, without the need for a diesel particulate filter (DPF).
[VIDEO] Liebherr PR 766 Crawler Tractor Demonstrated at Austrian Iron Mine
Like its predecessor the PR 764, the PR 766 features a hydrostatic travel drive. "With this successful technology, we are ensuring maximum efficiency combined with low fuel consumption for Generation 6 crawler tractors," stated Martin Längle, managing director of sales, Liebherr-Werk Telfs GmbH. "In addition, the PR 766 comes with the Liebherr ECO function as standard – as is the case with all Liebherr Generation 6 crawler tractors – which achieves additional fuel savings.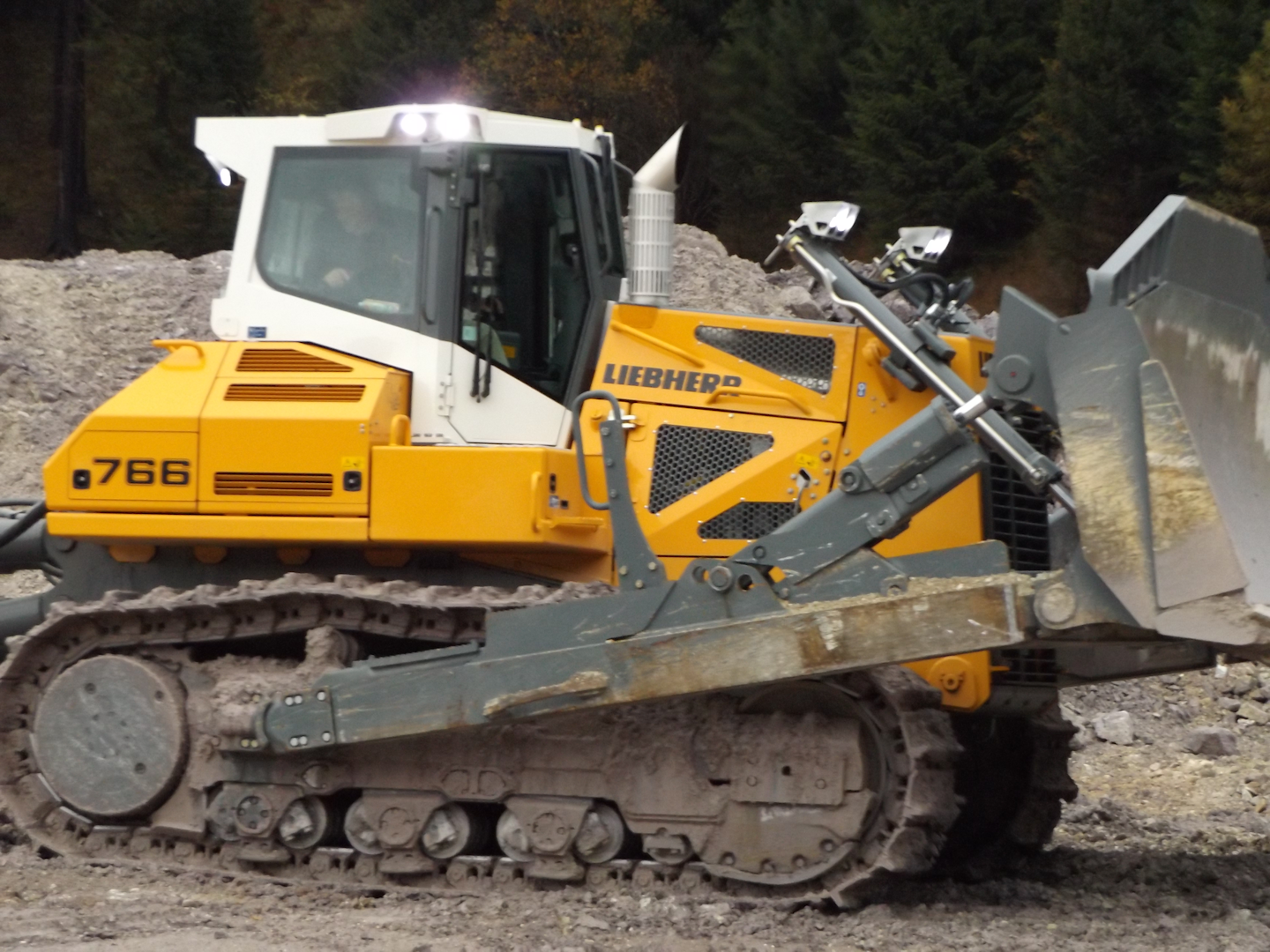 "The proactive power control is another innovation of Generation 6," he continued. "As well as enhanced response behavior for the machine, this results in a noticeable improvement in performance capability and torque output."
The driver's platform has been optimized for even simpler and more reliable operation. The ROPS/FOPS guard integrated into the cab, edges that slope away on all sides and the all-round panoramic window ensure panoramic visibility around the machine, as well as to the blade and rear-mounted ripper.
Options are available to tailor Generation 6 models for use in extreme weather conditions. "These special options were developed by our engineers in close collaboration with end users, and have already proven successful in many practical applications," said Längle.
All-new Telehandler Series Premieres
Three years ago at this same event, Liebherr announced the launch of its 7m class of telescopic handlers. In 2017, it announced it will launch an all-new telehandler series consisting of eight models in a total of 26 different versions, and with numerous options available.
"We will supply our new telescopic handlers in two different model series, separated according to different requirements," Längle explained. "We designed the top-of-the-range models (identified by the suffix S) for materials handling or production applications. These are enhanced by simpler, cost-optimized value models, which are ideal for stacking and lifting applications.
"As of January [2018], we will be producing three 7m models with a load bearing capacity of 3.2 t, 3.6 t and 4.1 t, one 6m model with a load bearing capacity of 3.5 t and one 10m model with a load bearing capacity of 3.3 t," he indicated. "Two additional 7m models with a load bearing capacity of 4.6 t and 5.5 t will follow in the course of the year. A 9m model with a load bearing capacity of 6 t will complete this extensive range of new telescopic handlers for the time being."
The units will be powered by Deutz diesel engines, including 3.6-liter units rated at 74 or 100 kW and an engine with a displacement of 4.1L and 115 kW. The engines comply with Tier 4/Stage IV Final emission standards via a diesel oxidation catalyst (DOC) and SCR. Telehandlers with a displacement of 4.1L will also include DPF. An optional DPF is available for the 3.6L models where the application requires, and Tier 3/Stage IIIa engines will be offered for lesser-regulated markets.
The telehandlers utilize infinitely adjustable hydrostatic travel drives that enable maximum speeds of up to 40 km/h. Versions with throttled speeds of 20 km/h or 30 km/h are also available. "The telescopic handlers are braked without wear by means of the hydrostatic drive's self-stoppage function," noted Langle.
Standard hill assist ensures safety when travelling over uneven ground thanks to the automatic activation of the parking brake.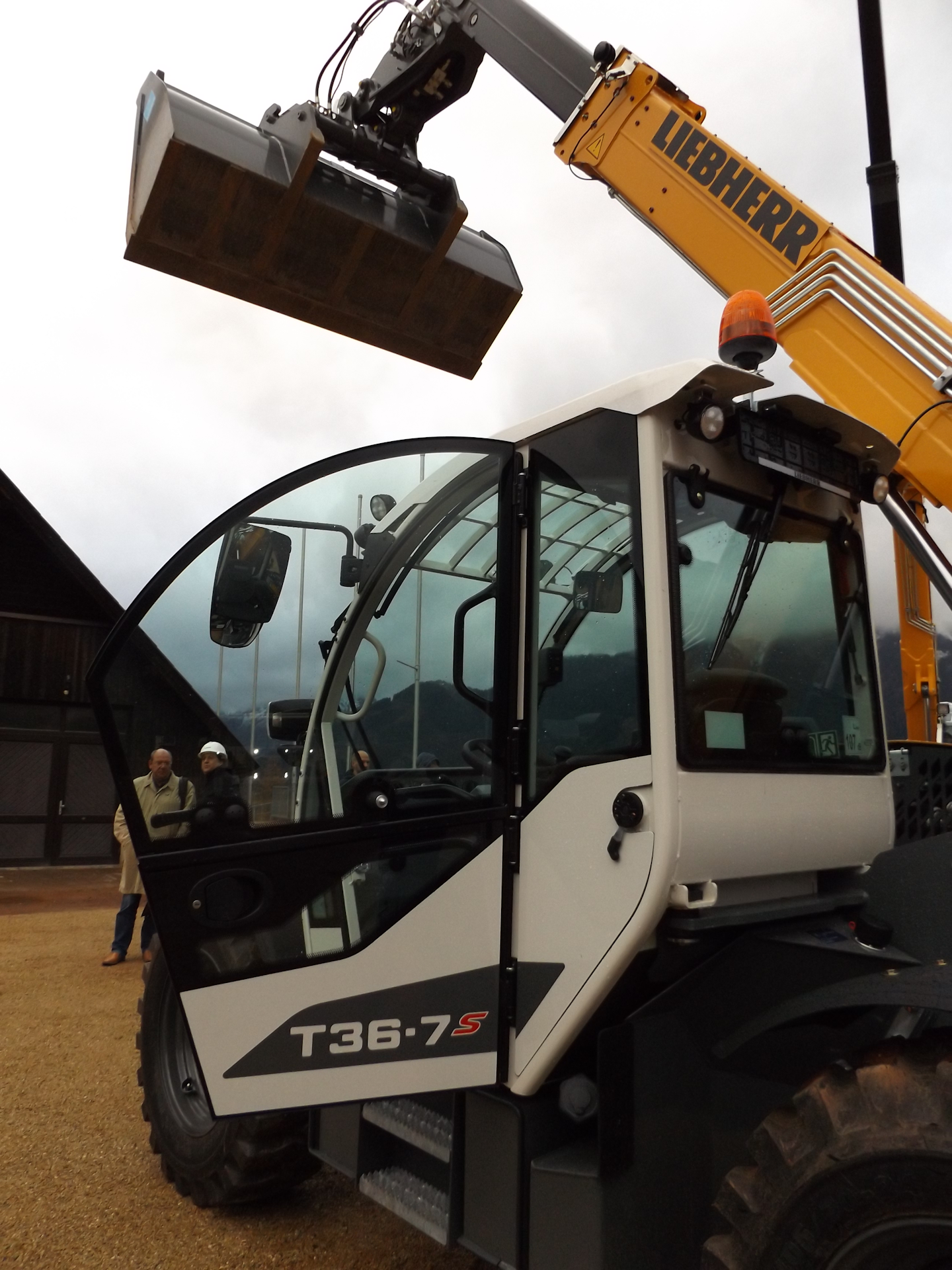 "In the value models, Liebherr relies on successful working hydraulics, while the S models are equipped with high-performance working hydraulics," Längle pointed out. "A powerful load-sensing working hydraulic pump with an oil output of 160 l/min and a control block with load-independent flow rate distribution enable overlapping working movements and therefore dynamic and rapid operating cycles."
In addition to the Liebherr quick coupler, the range includes quick couplers compatible with machine hitches from Manitou, Claas, Kramer, JCB and Volvo. "This means that existing customers of other manufacturers can also use their existing tool attachments on the Liebherr telescopic handlers," said Längle.
Optimal visibility of the load to the front, side and rear is largely achieved by the low linkage point of the telescopic boom and by sloped edges on the engine hood. An all-round windscreen and narrow internal ROPS/FOPS guard contribute to panoramic visibility.
The design of the new machine incorporates intuitive operation, as well as comfort and ergonomics. "The 5-in-1 joystick installed in the value models, or the multifunctional joystick integrated into the S models, enables all essential operating functions to be carried out using single-arm operation, so that the driver's left hand remains safely on the steering wheel at all times," Längle indicated.
The new T46-7 model has been awarded two design prizes even before its official market launch. "The German Design Council named this telescopic handler as the winner of the renowned 'German Design Award 2018' in the transportation category for its ideal visibility and its dynamic appearance. It also won the 'Red Dot Product Design Award 2017'," Längle announced.
The new units are currently available from Liebherr sales partners in many global regions. That said, no date has been announced for availability in North America - though the company perceives thisi as a primary target market.
"In March 2015, Liebherr entered into an OEM partnership with Claas. This collaboration involves the supply of significant quantities of telescopic handlers, which will be delivered via the Claas' distribution network," said Längle. "As a result, increasing sales potential will be able to be exploited for us in the agricultural sector in addition to the sales in the traditional target segments of the building sector and industry. The first telescopic handlers will be delivered to Claas in January 2018.
"This collaboration will allow Liebherr to reposition itself in the market for telescopic handlers," he continued. "The addition of the sales potential in the agricultural sector via Claas and the sales made via Liebherr sales partners are creating the opportunity for our factory in Telfs to immediately produce telescopic handlers on a large-series scale."