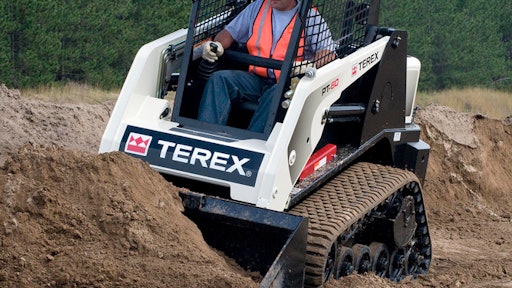 Compact track loaders (CTLs) are designed to be tool carriers. Ensuring they can perform this role effectively calls for regular maintenance of both the machine and attachments.
"With hydraulically operated attachment systems and/or attachments, routine maintenance on the hydraulic system is critical," says David Steger, product and training manager, Takeuchi-US. "It is important to understand and follow both the loader manufacturer's and the attachment manufacturer's service recommendations."
Jamie Wright, product manager, Terex Construction Americas, agrees, noting that to receive peak performance from a CTL and attachments, the hydraulic oil needs to run clean and cool. "Also, to keep the machine from running too hot, the oil cooler and radiator should be kept free of dust and dirt contaminants," he stresses. "The owner also needs to keep up with regular maintenance checks, including changing the hydraulic oil, engine oil and filter and the fuel filter, as recommended by the manufacturer."
How to Get Maximum Life from Rubber Tracks
Undercarriage maintenance is also critical to optimize productivity and performance of the machine. To maximize undercarriage life, check the track tension during the daily walk-around or inspection, and tension the tracks according to the owner/operators manual. Running a track too loose can lead to damage or possible derailment. Running it too tight can lead to excessive roller and idler wear and can tear the tracks.
Wright also advises cleaning mud and debris such as rock and gravel out of the machine's undercarriage at least once at the end of the day or shift to minimize unnecessary track wear. He also recommends avoiding making quick turns by counter-rotating. This will not only scuff turf and other sensitive surfaces, but can cause tracks to wear faster. Make gradual turns whenever possible.