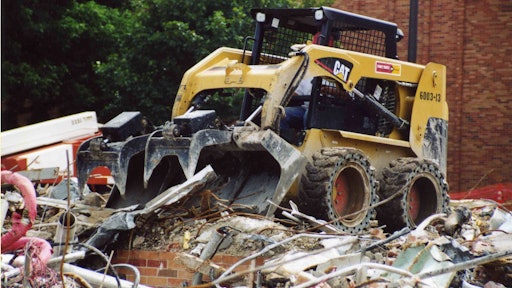 Caterpillar
The environment, operator and application are the three major variables impacting skid-steer tire wear. Aligning tire choice with the jobsite environment and application, while training your operator, will reduce accelerated wear and tear.
The operator has the most effect on tire life. Skid steers can spin around 360˚ within their own wheelbase by counter-rotating the tires. While this extreme maneuverability makes the loaders a very useful tool on the jobsite, these types of maneuvers do come at a cost: extreme tire wear. Good operators will only counter-rotate the tires when necessary. Those with a softer touch and who take wider turns when operating on hard surfaces will certainly extend tire life.
Staff

Conditions Drive Selection
Beyond operator training, the best thing you can do to get the most out of your tire investment is understand the surface and working conditions.
Tires come in a range of rubber/void ratios, tread depths and tread patterns. The rubber/void ratio is the percentage of tread that is taken up by the rubber compound vs. the amount of air, or void space, in the tire tread pattern. The higher the rubber/void ratio, the more rubber compound that will be in contact with the ground at any time.
Specifying a premium tire with more tread depth often yields longer life. A tire with more rubber in the tread — i.e., more tread depth and/or a higher rubber/void ratio (fewer grooves) — will account for more kilometers/miles on the clock than the same tire with the same tread compound but less tread depth and/or more grooves (void area).
Tread depth and rubber/void ratio choice is highly dependent on the surface conditions. Surface conditions can be divided into three main categories:
On-road or improved surfaces
Off-road
Mixed-use (combination of on-road and off-road use)
On an improved surface, you really want a tread pattern that has more surface contact to the ground. The lug-to-void ratio should be at least 2:1 on an improved surface. For most hard surface applications and those leaning toward that spectrum, you will want to use a non-directional tread pattern. These typically feature a higher lug-to-void ratio, so there is more rubber on the tread pattern.
Off-road use often places an emphasis on traction. Depending upon region and climate, the conditions could vary from sand to muddy conditions. These place opposing demands on the tire.
When working in sandy conditions, tires are ideally equipped with a non-aggressive tread pattern and run at the lowest possible pressure for better flotation. Muddy conditions require an aggressive tread pattern with an open auto-cleaning pattern renewing the grip capacity at every tire rotation. Deep treads with larger voids are desirable. Mixed-service applications require optimization between hard and soft surface properties.
If the skid steer is going to be used more than 50% of the time on asphalt and concrete, operators may be more productive with a non-directional tread better suited to operation on hard surfaces. Conversely, if they're going to be in dirt most of the time, an off-road tread would be preferred to assist with traction.
In cases where machine usage can vary over relatively short periods of time, it may be worth having two sets of tire-wheel assemblies available.
Solid Tires Gain Popularity
There is a current trend toward solid tires as the technology continues to evolve. At one time, solid tires were relegated primarily for severe-duty applications such as waste and recycling, scrapyard and demolition. But the technology has improved and today they are much more of an everyday solution.
Aperture technology uses voids in the sidewall of the solid tire to increase the ride quality. Through aperture design, engineers can optimize between ride quality and resistance to cracking.
Common reasons for selecting a solid tire include:
Rapid wear from operating on hard surfaces due to excessive abrasion (wearing away of the rubber)
Sidewall impact damage tearing at tire
Wheel damage — certain specialist environments carry additional risk to wheels and rims, which can then catastrophically damage tires
Unnecessary downtime caused by excessive flats — if a customer is routinely incurring loss of productivity caused by punctures, a solid tire is often the solution.
A traditional low-cost entry point for no-flat performance is foam-filled tires. The cavity of a pneumatic tire is filled with polyurethane. The downside is if the carcass gets compromised, punctured or torn open, there's nothing holding the urethane fill in.
Other downsides include ride quality and weight. A typical 10x16.5 polyurethane fill tire will take about 135 lbs. of fill. If you're in very soft or muddy conditions, that extra weight could bog down the machine.