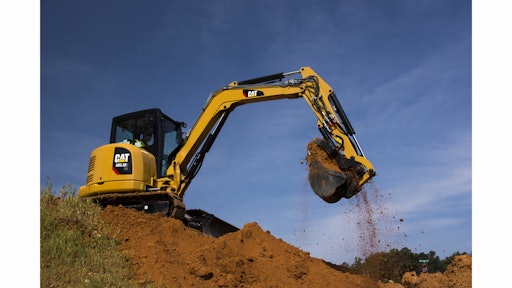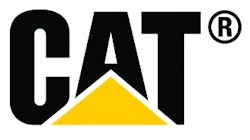 Caterpillar downsized the engine in its 3.5-tonne 303.5E2 mini excavator to 23.5 hp to cut the machine's emissions-compliance cost, and upgraded to an electronically controlled hydraulic pump to match the higher-horsepower predecessor's productivity.
Keeping the 303.5E2 under 25 hp avoids having to equip it with a diesel particulate filter or diesel oxidation catalyst to satisfy the U.S. EPA's Tier 4 exhaust limits. Borrowing hydraulic technology from Cat's F Series backhoe loaders boosts the 303.5E2's production.
Cat's tests comparing the 303.5E2 to its 31.6-hp 303.5E suggests the E2 produces every bit as much with a 7% fuel efficiency advantage. Cat attributes the new model's performance to what the company calls Smart Technology: sensors measuring altitude, ambient and engine temperatures, hydraulic load and air conditioning load and computers on the engine and pump that manage loads to keep the diesel engine working at peak torque.
New High Definition Hydraulics use a simpler valve to improve system efficiency and precision and reduce heat
Redesigned operator station includes new interlocking front window panes that both swing up to store
Wider, two-pane swinging cab door replaces curved sliding door used on E Series
Automatic two-speed travel motors
200 degrees of bucket rotation and unique bucket designs maximize material moved per scoop
Operating weight (with canopy): 7,803 lb.
Dig depth: 9 ft. 5 in.
Engine: 23.5-hp Cat C1.8
Request More Information
Fill out the form below to request more information about
Cat Mini Excavator Works as Hard with 25% Less Power