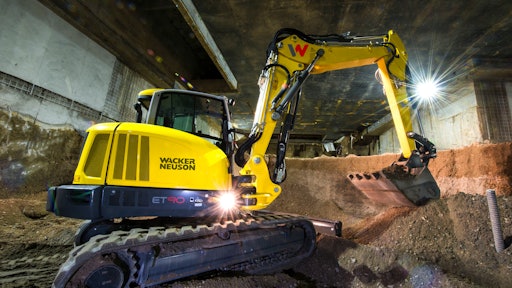 The 6.5-ton ET65 and 9-ton ET90 excavators are a ground-up redesign, offering 30% more performance in a very compact package. According to Marcus Auerbach, director of market development, Wacker Neuson US, "Their overall envelope size went down... They're heavier, they're stronger and, at the same time, they're more compact than they used to be."
The new models are powered by Perkins (ET65) and Deutz (ET90) Tier 4 Final turbocharged engines that produce more power and offer up to 20% fuel savings over the previous generation machines via the Eco mode. In addition, their new three-point bucket linkage and 200° expanded angle of rotation offer enhanced breakout force, providing more power for digging in tough conditions and the ability to rotate further to keep the load more secure in the bucket before dumping.
"It's very important to have a lot of force when you curl the bucket in to break through [tough] ground," Auerbach comments. "This three-pin linkage... gives you more rotation, so you can lift higher and curl the bucket in without losing material when you dump into a truck. It also allows you to dig deeper while still maintaining a flat face on the trench because of the bigger rotation angle. But the really big deal is the breakout force. With this kinematic setup, you get... maximum breakout force exactly where you need it."
48-hp ET65 delivers a breakout force of 11,398 lbs. and a maximum digging depth of 13 ft. 9 in. with the long dipperstick
73.8-hp ET90 provides a breakout force of 15,829 lbs. and a maximum digging depth of 15 ft. 2 in. with a long dipperstick
Push-button control pattern change
Lower center of gravity and significantly reduced dimensions
Low-profile engine compartment and larger windows provide a view of both sides of the machine
Boom shifted to the right for visibility to the entire boom and attachment, as well as the entire job
Comfortable cab with standard air conditioning, cell phone charger and holder, air-cushioned operator's seat and easy to use and read controls
Standard hydraulic quick attach and diverter valve on the auxiliary hydraulic line for switching between a hydraulic thumb and breaker without disconnecting hoses
Side-mounted fuel tank with ground level fill
ET90 available with a triple boom configuration
Request More Information
Fill out the form below to request more information about
Wacker Neuson ET65 and ET90 Compact Track Excavators