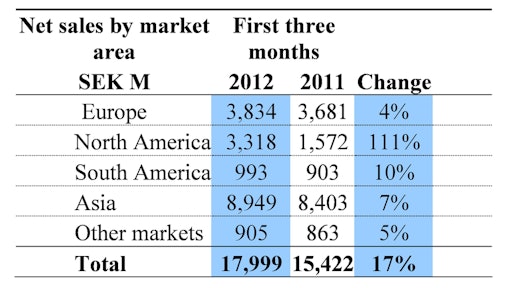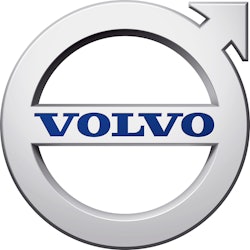 Volvo Construction Equipment (Volvo CE) experienced a strong first quarter in 2012, seeing sales rise 17 percent and record levels of income and operating margin for a first quarter. These positive results come despite a flat total world market for construction equipment, compared to last year, and a Chinese market that was down by 26 percent. Despite this decline in the Chinese market, Volvo CE maintained sales in China and reinforced its number one position in the Chinese wheel loader and excavator market together with its joint-venture partner, SDLG. A further highlight for Volvo CE in the quarter was an 111 percent increase in sales in North America.
The company's net sales during the first three months were driven by favorable demand for construction equipment in most markets outside of China, rising by 17 percent to SEK 17,999 M (SEK 15,422 M in Q1 2011). Volvo Construction Equipment also demonstrated strong profitability during the period, posting a 21 percent increase in operating income to SEK 2,131 M, (SEK 1,755 M) and an operating margin of 11.8 percent, up from 11.4 percent in the same period last year. Both measures of profitability are records for the company in a first quarter and are attributable to sales price realization, currency effects and internal cost reductions.
The value of Volvo CE's order book on March 31, 2012, was also improved, being 35 percent higher than the previous year.
"The strong sales growth and high profitability is a combination of growth in all regions, especially in North America, and our success in achieving sales and profitability is on a par with the preceding year in China, despite the significant weakening of that market," commented Volvo CE's President Pat Olney. "Our success in China was due to our continued ability to capture market share, thanks to a strong product portfolio and our efforts to establish stable distribution channels."
Volvo Construction Equipment continued to invest and innovate during the quarter. The company opened a new plant in Linyi, China, that will make SDLG branded equipment, while in Bangalore, India, a new factory was inaugurated to make Volvo excavators, alongside the existing road machinery products already produced at the facility.
Companies in this article