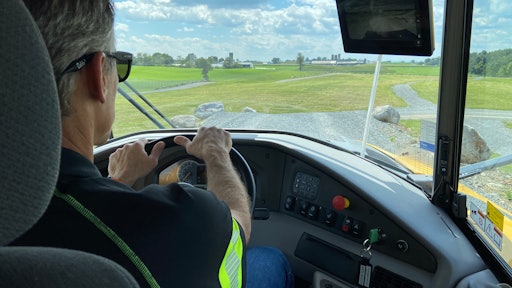 Friday, August 18, 2023, Volvo Construction Equipment (CE) North America welcomed dignitaries, the media and other VIPs to the headquarters in Shippensburg, Pennsylvania, for a presentation in its manufacturing facility. The attendees also took part in a ribbon-cutting ceremony for the new training center. I was thrilled to be able to attend, and I also had the opportunity to talk with Dr. Ray Gallant, vice president — sustainability and productivity solutions, North America, Volvo CE, and ride and drive an A45FS articulated haul truck.
Volvo

CE Marks Production of Electric Equipment in North America

The DD25 Electric compactor marks the next step in the company's sustainability journey. Volvo CE has a large lineup of commercially available electric construction equipment, and its battery-electric machines started arriving on North American jobsites more than a year ago.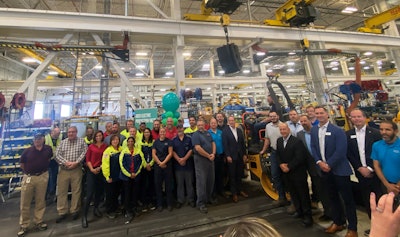 Now, Volvo CE has brought electric machine production to the U.S., starting with the company's newest offering, the DD25 Electric compactor. The first models are expected to deliver later this year. The company aims to have 35% of its product line electric by 2030.
"The equipment manufactured in Pennsylvania's 13th District is used in projects around the world," U.S. Representative John Joyce said. "With the opening of its new assembly line to produce electric asphalt compactors here in Shippensburg, Volvo Construction Equipment is helping to carry on that legacy. The family-sustaining jobs this expansion creates in Franklin and Cumberland Counties are a welcome addition for those looking to live, work and raise a family here in our district."
The DD25 Electric will be manufactured on the same assembly line as Volvo diesel asphalt and soil compactors. This allows the site to expand production capacity without increasing its footprint or incurring significant costs to retool the factory. Volvo is investing heavily in training for its employees, providing over 800 total hours of instruction on electric equipment production concepts and processes.
"We have a talented workforce and the perfect space at this location to set ourselves up for ongoing development and production of industry-changing machines," said Gustavo Casagrandi, head of operations at the Shippensburg plant. "Some of the world's best engineers and production team members are right here, building the future of construction."
Volvo CE is also expected to receive a $1.1 million grant to conduct a pilot project of its new DD25 Electric asphalt compactor in California. The company will put another $758,000 toward the project, bringing the total to nearly $1.9 million.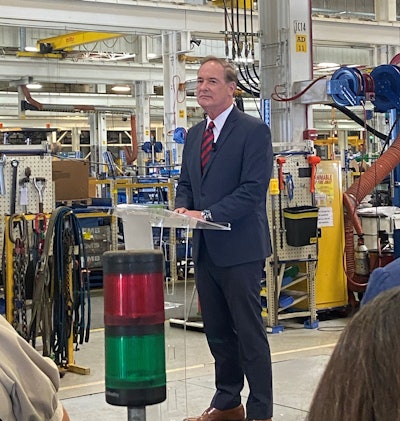 The U.S. Environmental Protection Agency (EPA) grant, funded under the Targeted Airshed Grant Program, will be administered by the South Coast Air Quality Management District (AQMD), an agency responsible for improving air quality in an area around Los Angeles that's home to 17 million people. Volvo CE received a similar grant in 2020 for battery-electric compact wheel loaders and excavators, and those zero-emission machines are now being used on jobsites throughout the U.S. and around the world.
The South Coast AQMD board approved the project earlier this summer, and details are being finalized.
"We're excited to partner with South Coast AQMD and the EPA again, and we thank them for their support," said Dr. Ray Gallant, vice president — sustainability and productivity solutions, North America, Volvo CE. "Off-road equipment is a significant source of pollution, and Volvo CE is committed to reducing the environmental impact of our products and our customers' jobsites. Being an industry leader in developing sustainably powered machines is a big part of that, and so is partnering with organizations to bring about positive change."
An earlier pilot project in California showed that Volvo CE electric construction equipment could both reduce emissions and meet the performance needs of contractors and government fleets in multiple applications. Now, the company's battery-electric wheel loaders and excavators have been commercially available in North America for more than a year, with customers confirming their performance and reduced emissions, noise and maintenance.
Volvo

CE Opens New Technical Training Center

Taking 2 years to build, the new technical training center in Shippensburg, Pennsylvania, is for Volvo CE dealer service technicians on diesel and electric heavy equipment, machine control technology, connectivity and productivity services, and more. It includes in-person classrooms, virtual labs and three service bays that can accommodate the company's largest machines, including the L350H wheel loader, A60H articulated hauler and R100 rigid hauler, allowing those trainings to occur inside year-round.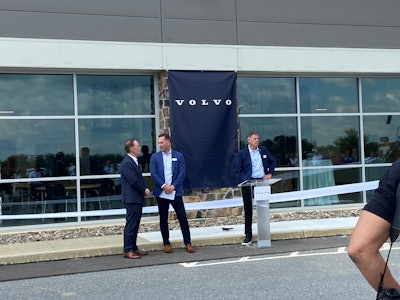 The $7.3-million facility will be a training hub of expertise and innovation conducting about 500 classes each year.
"I'm proud to work for a company that invests in not only the equipment and technology of the construction industry's future, but also the North American workforce," said Scott Young, acting president of Region North America, Volvo CE. "The technicians who come through this training center will be prepared for a more climate-friendly and connected future, supporting our customers in this fast-changing industry."
During his live remarks at the ribbon-cutting ceremony, Young also said, "This is a great step as we build the world we want to live in."
Volvo CE offers training to dealer service and sales teams from across the U.S. and Canada. This includes three levels of technical certifications for maintenance, diagnostics and repair of Volvo equipment, plus a new certification to perform commissioning and decommissioning of Volvo electric machines.
The new center doubles the number of students that can be trained in a year, compared to its former off-site location. It will also provide hands-on and virtual training to Volvo employees globally. It was also announced on Friday that the Customer and Training Center received a 100% certified landfill-free certification by Volvo Group North America.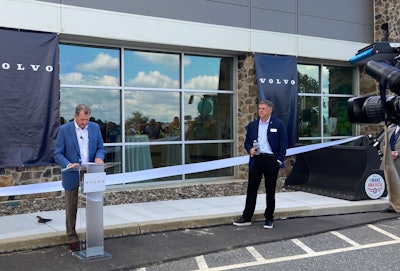 Among the attendees was U.S. Rep. John Joyce who said, "Volvo CE has committed to the Shippensburg community."
Federal, state, and local legislators and members from area business and education communities took part in the ribbon-cutting ceremony.
Tim Watters, CEO of Hoffman Equipment and Volvo CE dealer advisory council president, was also in attendance. He underlined the impact of the investment. "The need for expertly trained service techs cannot be overstated, as they are the critical link to ensure maximum customer uptime. This new center has the capacity and knowledge bank to keep our teams at the leading edge of equipment service technology," he said.
Volvo is also exploring collaboration with local high school and career and technology centers to provide heavy-equipment technology training and mentorship opportunities.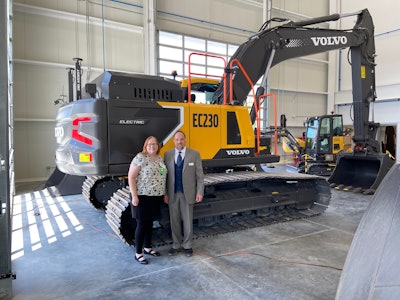 The 20,000-square-foot training wing is an extension of the Volvo CE Customer Center and doubles the overall building's size. Design and construction work was led by Pennsylvania-based companies: site design by Herbert, Rowland & Grubic Inc. (HRG), architecture and engineering by NUTEC and construction by Waynesboro Construction.
Conversation With Gallant & Ride Along
Gallant and I discussed the capabilities of electricity and what the industry must do with equipment that cannot feasibly be electrified. The use of alternative fuels like hydrotreated vegetable oil and hydrogen will be the future of larger equipment that need more power than electricity can provide. We also discussed the new Volvo EC230 fully electric excavator, which is not tiny and provides the same operation and power of its diesel counterpart.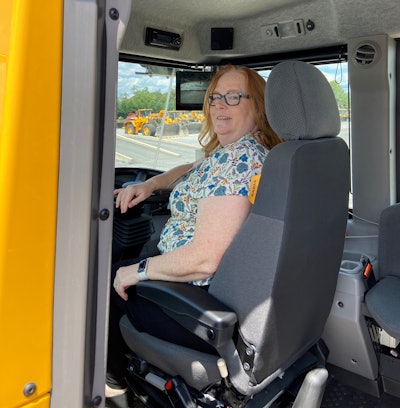 I then got the honor of a ride along in the A45FS articulated haul truck and then I drove it around the more level sections of the mining course. I did get the chance to take it up and down one hill. Fortunately, I was successful. It really was like driving a large car since everything was automatic.