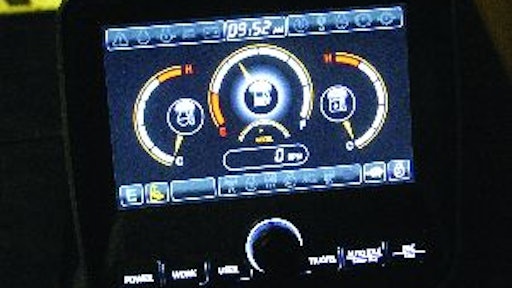 Following a sneak preview of the pre-production version of the R210LC-9 at CONEXPO-CON/AGG last March, Hyundai Construction Equipment U.S.A., Inc. officially launches its 9 Series excavator lineup. The R210LC-9 and R290LC-9 are currently available through the company's dealer network, with the R140LC-9 and R250LC-9 scheduled to be available later this year.
Despite adopting some of the leading features of the 7A Series, the 9 Series models are not an upgrade. "They are radically different from the bottom up," asserts Corey Rogers, Hyundai sales training manager. "They are completely new excavators."
The 143-net-hp R210LC-9 features a standard operating weight of 42,280 lbs. and comes equipped with a 9-ft. 7-in. arm and a 1.2-cu.-yd. bucket. It delivers 29,320 lbf. of bucket digging force. The 197-net-hp R290LC-9 has a 67,150-lb. operating weight and comes with a 10-ft. arm and a 1.66-cu.-yd. bucket. It has a bucket digging force of 37,480 lbs. Both models are powered by electronically controlled Cummins QSB6.7 water-cooled, six-cylinder, turbocharged, Tier III diesel engines.
Perhaps the most significant advancement on these machines is the combination of Kawasaki-designed pump technology with the all-new Posi-Nega hydraulic control system. Available on the R210LC-9 and R250LC-9, the Posi-Nega system combines the simplicity of a negative-type control system with the multi-function capabilities of a positive control system. The result is smoother operation and improved fine control capabilities, while delivering faster cycle times in high-production operation.
Harnessing the new technology is a new CAPO (Computer Aided Power Optimization) system. It offers multiple mode selections that tune the engine and pump power to optimum levels to ensure maximum performance while reducing fuel consumption. The system also includes auto deceleration and auto power boost (automatically delivers up to 10% more power when needed). In addition, it monitors key operating functions and provides self-diagnostic capabilities. All functions are managed via a new user-friendly 7-in.-wide LCD monitor.
Standard features on all models include a heated air ride suspension seat, transparent skylight, CD player/radio with MP3 input and remote-mounted controls, adjustable sunshades, cup holders, control pattern selector valve, battery cut-off switch, lockable fuel cap and right and left side boom flood lights. Also standard is the HI-mate remote management system, a GPS-based system that provides Internet-based access to critical machine information.