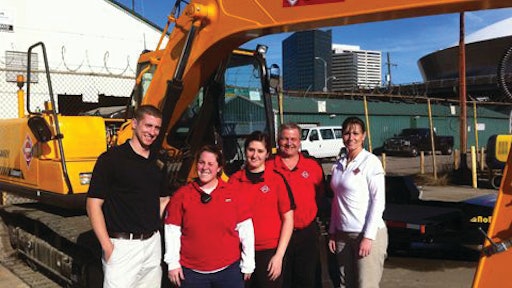 Sany America signed New Orleans, La.,-based heavy equipment dealer Equipco LLC, marking Sany's entry into the dealer-distribution segment of the American excavator market. Sany says the alliance will serve as a launching point for future product offerings.
"As we searched for opportunities to join with established dealers, Equipco impressed us with their success and continued expansion," said Eric Teague, director of dealer development in Sany America's excavator division. "Equipco's reputation for friendly customer service and careful attention to detail makes them an ideal partner as we grow our footprint in the U.S."
After meeting representatives from Sany at Conexpo last year, Equipco owner Walter Boasso and General Manager Jody Bacque began investigating the company's line of hydraulic excavators. This research culminated with a visit to Sany's headquarters to review the manufacturing and quality control procedures.
"Our business caters to general contractors, so the slightest downtime can lead to tremendous costs on a job site," said Boasso. "When we traveled to Sany's headquarters and saw their factories, we saw the build quality and knew Sany would make an excellent partner for our business," he added.
In August of last year, Sany America opened the doors of its corporate headquarters in Peachtree City, Ga. To date, the company has invested $60 million in the 400,000-sq.-ft. office and manufacturing facility, which will assemble high-end concrete pump trucks, hydraulic excavators, rough terrain cranes and crawler cranes. The company also plans to build a $25 million research and development center to support technological advancements in the construction and mining machinery sectors.
Companies in this article