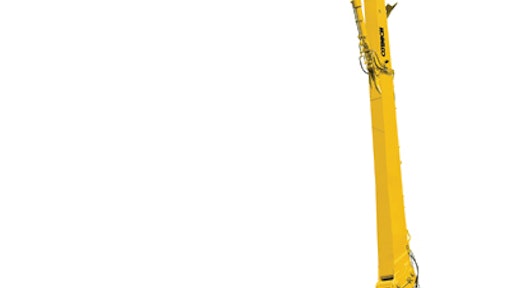 Kobelco Construction Machinery USA announces the launch of a new demolition equipment line for the North American market. Three models - the SK210D Multi-Dismantling Machine, the SK350DLC Scrap Handling Machine, and the SK1000DLC Large-Building Demo Machine - were introduced at CONEXPO-CON/AGG 2014, in the company's 34,650-sq.-ft. outdoor exhibit (Booth 4408 in Silver Lot 2).
According to Kobelco, the new line of machines offers powerful and practical solutions to almost any demolition task through the use of rugged designs, comfortable operator cabs and controls, and energy-efficient engines and hydraulic systems.
The SK210D Multi-Dismantling Machine is designed to take apart vehicle bodies, engines, and other metal components with precise, safe, and efficient operation. Two specialized crushers allow for different dismantling tasks: 1) a multi-dismantling crusher is suited for small-scale separating and the sorting of all types of metal products, including small parts such as electrical fittings and harnesses; and 2) an optional vehicle-dismantling crusher offers a powerful grab, increased cutting force and rotational torque powerful enough to cut through a chassis and frame. The Kobelco Innovation Clamp Arm features a bowl-shaped grip and powerful cutting teeth with different shapes on the right and left sides to enable efficient bending, breaking and tearing.
The SK350DLC Scrap Handling Machine features a low center of gravity and dedicated counterweight provides excellent dynamic stability. Its unique "bent boom" design makes dumping more efficient. The 26.9-ft. angled boom easily negotiates the sides of a trailer flatbed or the hatch coaming on a cargo container. The unit features a two-pin grapple that is more stable than a traditional one-pin design, eliminating shaking and reducing spillage of loads. An elevating cab can be smoothly raised to 8'6" in about 20 seconds, giving the operator a maximum eye-point height of 17.9' and a clear view of operations.
The SK1000DLC Large-Building Demolition Machine falls in the 220,000-lb. (100-ton) class and offers flexibility with four different attachments for job-specific strength and reach capabilities: 1) The GD Ultra Long Attachment puts the priority on reaching high places, extending up to 130' with a 5,500-lb. (2.5 ton) class crusher; 2) the HD Ultra Long Attachment focuses on high-elevation crushing force with an 11,000-lb. (5-ton) class crusher and a reach of 100'; 3) the Separate + Insert Boom Attachment offers even more crushing force with a large crusher that carries 331,000 lbs. (150 tons) of tip crushing force and a reach of 65'; and 4) the Separate Boom Attachment is built for compact operation, with a powerful crusher, advanced workability in confined spaces, and superior lifting power near the ground. An optional removable trans-lifter and stacking-type counterweight assist with easier preparation for shipment, and a dedicated 30° tilting cab presents operators with a safe line of sight and comfortable working posture.
To support this introduction, Kobelco will initiate a dealer network dedicated to representing its line of demolition equipment. This is just part of continued expansion within North and South America as it increases dealer support and equipment offerings, including a full line of crawler excavators. Availability of the demolition line in North America is expected by mid-2014.