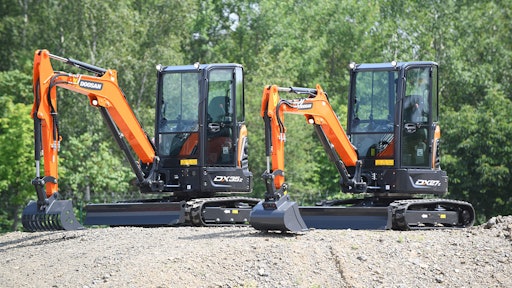 Doosan Construction Equipment will be showing a range of new products at the bauma 2019 exhibition in Munich, Germany next month. The new products include the Stage V DX27z, DX35z, DX62R-3, DX63-3 and DX85R-3 mini-excavators, the DX250WMH-5 25 tonne material handler, the Stage V DX300LC-7 30 tonne excavator, the DX800LC-5B 80 tonne excavator and 30 and 40 tonne class Stage V-compliant articulated dump trucks (ADTs). Doosan will also be showing the new DL280-5, DL420CVT-5 and DL580-5 wheel loaders for the first time at bauma.
The new Stage V-compliant 2.7 tonne DX27z and 3.5 tonne DX35z zero tail swing (ZTS) models enhance Doosan's range of mini-excavators, providing a mix of optimal stability, smooth controllability and high digging forces, complemented by low weights for easy transportation.
As a true ZTS machine (even with the optional heavy counterweight), the DX27z offers flexibility of movements when working close to walls, coupled with 360-degree stability and a low weight for easy transportation. The DX35z is a new generation model in the popular 3.5-tonne machine class, offering the additional benefits of ZTS design. It provides a mix of compactness, large operating range for the work group, greater stability and a large and comfortable operator area. 
Stage V 6- and 8-tonne Mini-excavators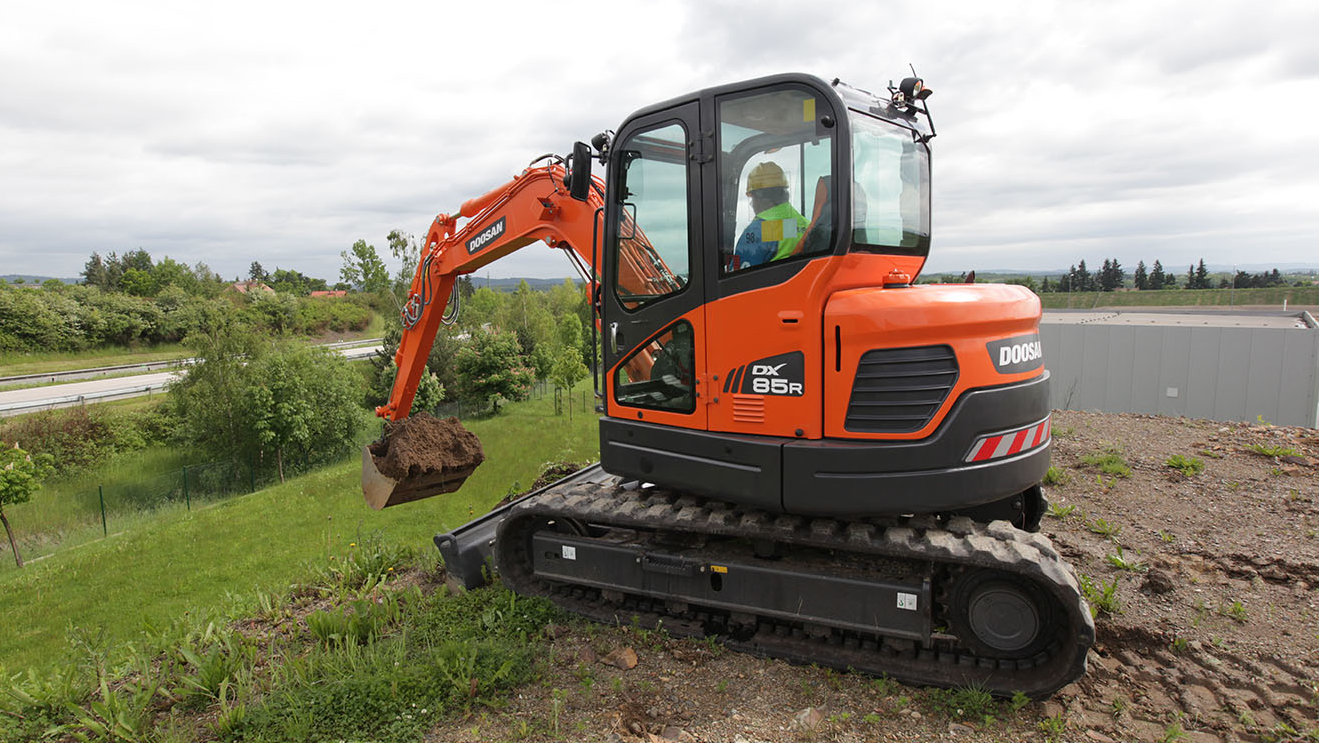 The 8-tonne DX85R-3 reduced tailswing excavator is powered by a 44.3-kW Yanmar 4TNV98C Stage V diesel engine.The Stage V, 8-tonne DX85R-3 reduced tailswing (RTS) excavator is powered by the Yanmar 4TNV98C Common Rail direct injection diesel engine, providing 44.3 kW of power at a rated speed of 2100 rpm.
The Stage V versions of the 6-tonne DX62R-3 RTS and DX63-3 conventional tailswing models are powered by the same Yanmar 4TNV98C diesel engine, providing a 22% increase in engine power over the previous generation models. 
The new DX250WMH-5 25 tonne Stage IV compliant material handler is designed for use in the solid waste, recycling, demolition and forestry industries. Based on the DX210W-5 21 tonne wheeled excavator, the new DX250WMH-5 material handler has been designed specifically for a wide range of material sorting and handling applications. 
The DX250WMH-5 is built with front and rear stabilizers, and a boom and arm specifically designed for material handling tasks. A standard feature is the hydraulic cab riser, which gives the operator better all-around visibility of the attachment and work area. When combined with the rearview camera display in the cab, the operator has optimal visibility of the jobsite.
The Stage V-compliant DX300LC-7 medium-size crawler excavator offers a combination of high performance, operating features, fuel efficiency, reliability and durability in the 30-tonne class. The 'LC-7' Stage V excavators build on the successful design of the previous Stage IV machines, while introducing enhancements in operator comfort, machine controllability, productivity, uptime and return on investment, with a strong focus on low fuel consumption, increased power, robustness and versatility.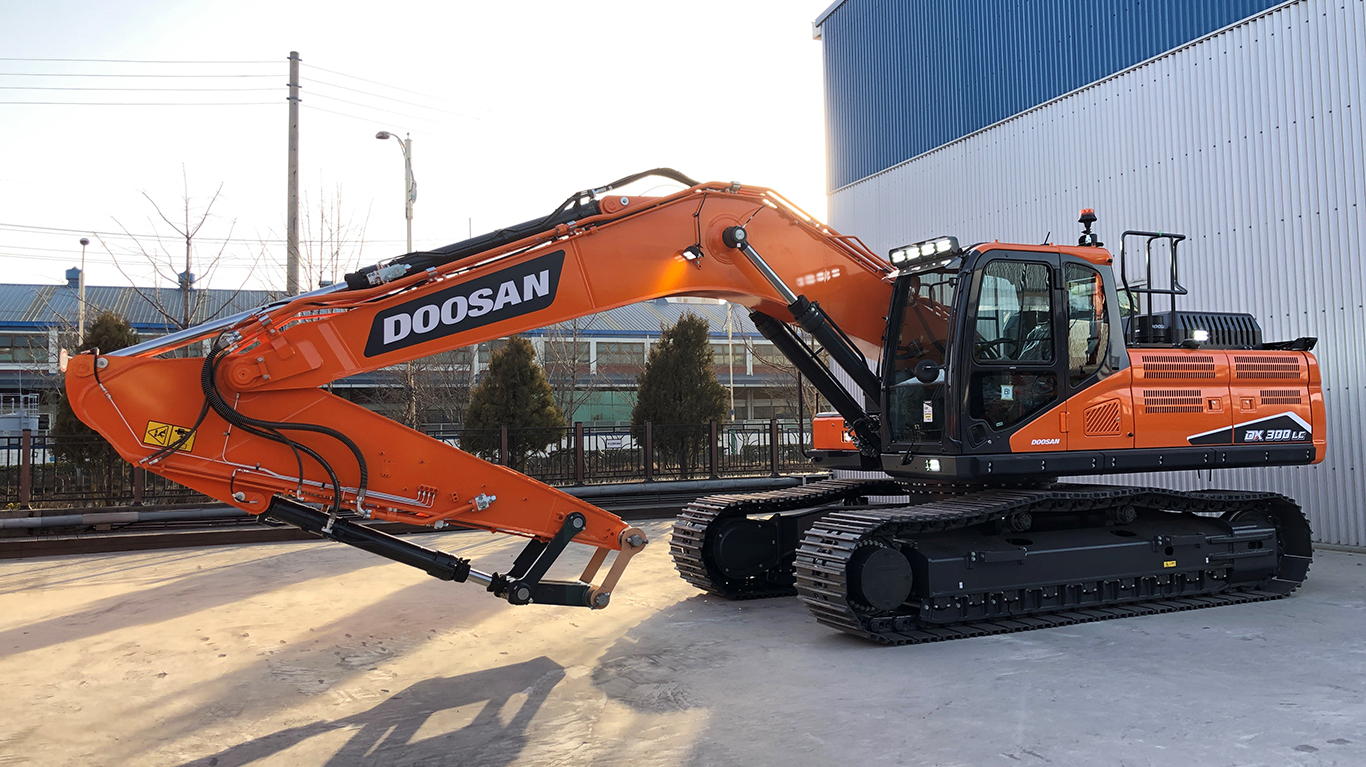 The DX300LC-7 medium-size crawler excavator offers a combination of high performance, operating features, fuel efficiency, reliability and durability in the 30-tonne class.
The 80-tonne DX800LC-5B offers improved productivity, high fuel efficiency, greater operator comfort, enhanced reliability, durability and maximum uptime. It is designed to meet the needs of heavy-duty mining and quarrying applications as well as major infrastructure construction projects.
Stage V ADTs
In 2018, the DA30 ADT was upgraded with a range of features including a new cab, a new self-levelling front suspension and a new tandem bogie system, which are all incorporated in the new Stage V model. A similar process has been applied in the new 40-tonne Stage V machine, with a new cab and a semi-levelling front suspension that adjusts itself independently depending on the operating conditions to ensure a comfortable working environment for the operator.
The Stage V models offer many more features - one of the most eye-catching is a new design for the front frame and bonnet components on the trucks, created by the Doosan Design Team in accordance with the latest trends in the market. 
The units' Scania Stage V-compliant 9 and 13 l engines have undergone two years of intensive testing in exacting construction and mining environments. Whilet the core of the engines has not changed, the main difference from their predecessors is the improved aftertreatment system.
Doosan Wheel Loaders
Offering a dedicated design for waste and recycling and general industrial applications, the new DL280-5 will be shown in its full waste industry configuration at bauma. The 'Waste Kit' includes protectors for lifting and bucket cylinders, articulation, rims, lamps, the rear engine bonnet and the front windscreen, which is tiltable for easy cleaning. It is tailored for waste applications, with a wide core radiator and heavy duty axles, which are approved for the use of solid tires.
[VIDEO] Doosan DL280-5 Wheel Loader Enhances Performance and Comfort
The DL280-5 offers high performance and productivity with optimal breakout force, tipping load and enhanced output. It features Z-bar kinematics with a simple lifting piston system designed for heavy-duty applications.
With a maximum bucket capacity of 4.4 m3, the DL420CVT-5 combines the benefits of a mechanical and a hydrostatic transmission in the same machine. This allows it to automatically transition from hydrostatic power at low speed to the mechanical system to operate at higher speeds. The complete driving range, forwards and in reverse, is controlled by the CVT system, which can provide fuel savings of up to 25%.
The DL580-5 has a bucket capacity of 6.4 m3 and a similar look to the DL550-5, but features robust structural components and an advanced double circuit axle cooling system for applications such as block lifting and other heavier material-handling needs. To meet these requirements, the DL580-5 has an operating weight of 36,030 kg and higher static tipping loads (straight/full turn 40°) of 29,700 and 26,200 kg, respectively.