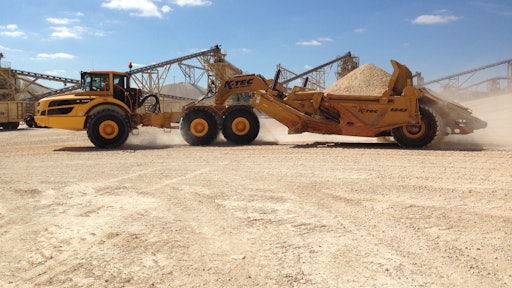 Texas Crushed Stone Co. (TCS) was established in 1947, and is headquartered in Georgetown, TX, to serve the aggregate needs of Texas and Louisiana for road base, under slab fill and concrete ingredients. Its quarry spans approximately 7,500 acres and is considered the state's largest.
In March of 2014, TCS owner Bill Snead and his son Kent traveled to CONEXPO-CON/AGG 2014 in Las Vegas to investigate the latest equipment on the market. K-Tec Earthmovers had unveiled the new 43-cu.-yd. 1243ADT scraper model attached to a Volvo articulated dump truck chassis. The scraper was a logical fit for TCS as the units can transport, dump and level the stone without additional equipment and operators. In addition, the large capacity of the scraper would means less trips around the quarry. These efficiencies would save the company considerable labor, fuel and equipment maintenance expenses.
Texas Crushed Stone now owns two 1243ADT scraper units ulled by Volvo 40-ton ADTs. The trucks drive underneath a system of overhead bins and position the scrapers beneath a bin chute. Up to 3-in.-diameter crushed limestone is released and fills up a 43-cu.-yd. heap inside the scraper bowl. The trucks then travel at up to 30 mph to carry the limestone across the quarry for further processing.
Using the scraper innovations to their advantage, TCS' forward-thinking outlook aims to propel the company to continued success over the next 50 years and beyond.
Companies in this article