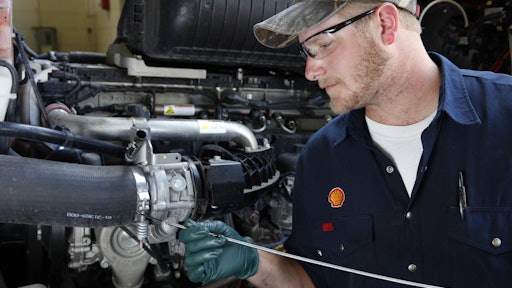 You and your equipment work hard, and properly maintained equipment is vital to your business. Here are some maintenance and analysis practices that can help assure maximum operating efficiency, help extend the life of your equipment and possibly save you some money.
Engine care and maintenance
Make sure your engine oil is full. If there is not enough oil in the engine, the oil will oxidize faster and reduce engine oil life. This can also increase engine wear.
Consider using a synthetic blend or full synthetic engine oil. Synthetic engine oils provide engine protection and can help increase fuel economy.
Excess idling can cost a lot of money, so when you have to idle, be sure your engine is running at a low level.
Shifting at the proper time can save fuel; don't over rev your engine.
Make sure your air filter is clean, as it can help improve the way your engine performs and can help maintain fuel economy.
You may want to carry a spare fuel filter in case you need to replace it while on the road or on the job.
Regularly check air pressure and tire tread. Tires inflated to the proper pressure on any vehicle should help maintain fuel mileage and maximize tire life.
Oil analysis
Oil analysis is one of the most effective ways to monitor the condition of your engine. A regular oil analysis program helps you build a historic database and watch for trends in a variety of areas. Serving as an early warning system, oil analysis can alert you to problems before they become costly headaches.
Used-oil samples can tell if contaminants such as water, coolant, fuel or dirt are getting into the oil, indicating a head-gasket leak, a leaking fuel injector or other problems.
Spectrochemical analysis detects the presence of wear metals in the oil — unusually high amounts of wear metals could be a sign of abnormal wear.
The knowledge gained from a consistent oil analysis program can assist you in optimizing your oil drain interval, help increase equipment reliability, help minimize unscheduled downtime and more precisely track operating efficiency and maintenance practices. This combination could contribute to help lower total operating costs.
Coolant care
Coolant maintenance for conventional fully formulated coolants requires checking the freeze point of the coolant and the additive or inhibitor level at each maintenance service of the vehicle. With Extended Life Coolants (ELC), checking the freeze point is required at each maintenance interval and checking the inhibitor level annually is recommended. 
ELCs help reduce maintenance costs and can help improve water pump life, as well as eliminate the need for supplemental coolant additives.
Each type of coolant is different and needs to be maintained in a different way. This is particularly important for both conventional fully formulated and ELCs which can be contaminated if they are diluted with other types of coolants.
Mixing of conventional fully formulated coolant with ELC or ELC with conventional fully formulated coolant reduces the effectiveness of the corrosion inhibitor in both products and the poorest corrosion inhibitor will dictate the performance.
Content provided by Shell Rotella