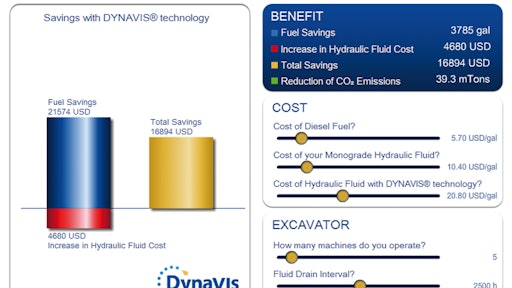 China-based SANY Heavy Industry Co., Ltd., one of the world's largest manufacturers of engineering machinery, is conducting a field test with a new fluid formulated with DYNAVIS technology developed by Evonik Oil Additives. With promising initial test results, SANY plans to introduce the innovative SANY High Efficiency Energy Saving Hydraulic Fluid at the 2012 INTERMAT exhibition in France.
"Since the benefits of reduced fuel consumption included fundamental environmental benefits like reduced CO2 emissions, we see DYNAVIS as a technology that complements our own focus on the environment and resource efficiency, and creates more value for our customers," says Mr. MAO Jianhua, Deputy General Manager of SANY.
The hydraulic system is a key factor in determining fuel consumption in engineering machinery. Most motions are performed hydraulically with the power derived from a hydraulic pump. All pumps, however, are vulnerable to a power-sapping phenomenon known as "internal leakage." Internal leakage occurs to a greater or lesser extent, depending on working conditions. Hydraulic oils formulated with DYNAVIS technology have been shown to reduce this loss of power in all temperature ranges, making considerable fuel savings possible.
High-quality, multi-grade hydraulic fluids formulated with DYNAVIS technology enjoy a broader temperature operating range. At higher temperatures, the hydraulic fluids help reduce the pump's internal leakage. As a result, power output is higher, fuel consumption goes down and the equipment is more responsive to operator controls. Even normal "wear and tear" of seals and other hydraulic components is diminished.
At the SANY stand at the INTERMAT exhibition, Evonik Oil Additives representatives will be available to support the SANY Team with additional technical information as they explain the DYNAVIS technology and its potential benefits to customers.
Companies in this article