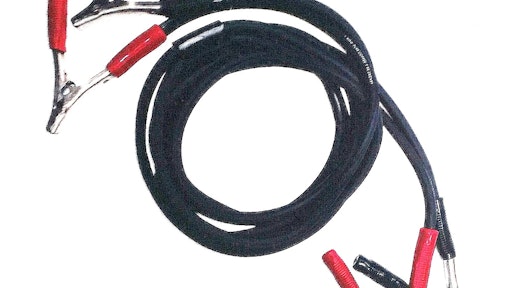 To jump start dead batteries and get car, truck, tractor, construction, and even mining vehicles rapidly back into operation, Mississippi Industries for the Blind (MIB) now offers its heavy-duty military-spec. booster cables to the public.
Developed by MIB for the U.S. Military since 1984, MIB's MIL-SPEC booster cables combine 1-gauge stranded copper welding type cable with solid copper clamps for enhanced electrical conductivity and an efficient jump start.  These cables are significantly thicker than standard 6-gauge jumper cables, and each clamp and cable has a 600 amp minimum current rating.
For enhanced electrical conductivity, MIB also constructs each clamp from a solid copper sheet.  In addition, the clamp jaws are serrated, and the clamps are assembled with a heavy duty, high tension spring to ensure a good connection to the battery terminal.  The clamps are tested to hold 500 lbs.       
To optimize use of the booster cables on the road or at jobsites, the oil and abrasion resistant booster cables maintain flexibility in a wide range of temperatures from -94° to +198° F, and are available in up to 25' lengths for ease of vehicle positioning.
The company, which is ISO 9000 certified, has manufactured products for the Department of Defense, USPS, the General Services Administration (GSA) and others. As an ISO 9000 certified agency, MIB adheres to strict government regulations regarding quality standards and practices.  
Request More Information
Fill out the form below to request more information about
Military Spec Booster Cables from MIB