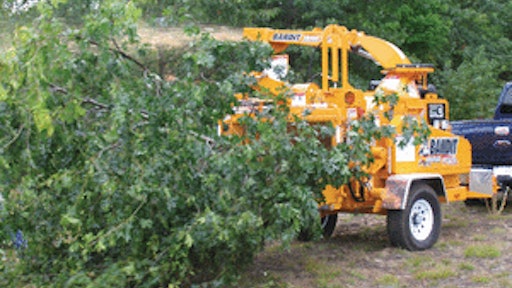 1490XP Drum Chipper
Large diameter drum
17 3/4" high by 19.5" chipper opening
Accommodates limby material up to 15 in. in diameter
Engine options up to 142 hp.
Patented Power Slot system
Bandit Industries, Inc.
660 Wood Chipper
The ultra-compact 660 6-in. disk-style wood chipper can be towed by compact trucks and SUVs.
Digital autofeed controls feed based on engine speed to help prevent overfeeding
Double-edged knives easily flipped to offer a second cutting edge
High-speed, balanced and rounded chipper disks provide a smooth chipping action that prolongs bearing and machine life
27-hp engine
JP Carlton
BC2100XL Brush Chipper
The BC2100XL brush chipper can be powered by a 215-hp, 250-hp or 275-hp Tier III diesel engine. A 21-in. capacity and a 72-in.-wide infeed table allow for smooth material feeding to the 22" x 28" drum opening. Offset horizontal feed rollers have theoretical combined 10,000 lbs. of pulling force. A SmartCrush system provides increased down pressure on the material being fed and assists when feeding forked or branchy material. The SmartFeed system monitors engine rpm and automatically stops or reverses the rollers when feeding larger hardwood material. A belt-tensioned clutchless design eliminates the need for an over-center clutch that requires adjustment, rebuilding or replacing. Heavy-duty tandem torsion axles provide reliable off-road jobsite performance.
Vermeer Corporation
Beever M6R
The revamped 6-in.-capacity Beever M6R is now equipped with a 12-in.-diameter, two-knife machined rotor with removable drum shaft and 1/2-in.-thick dual-edged knives that allows full knife coverage with even knife wear.
Features 180° silo swivel discharge, direct drive with belt power transfer, ergonomic infeed design standards, a 12% larger infeed perimeter opening, hydraulic drum braking system and larger tires
Kohler 27-HP gasoline engine with belt power transfer
Reduced space between the rotor and feed wheel minimizes the potential for material to lodge or turn sideways
Morbark, Inc.
Brush Shredders
The self-powered Brush Shredders rotating drum and patented stationary teeth for clearing heavy brush and trees.
Available with 60, 170 or 275 hp
Rotating drum and stationary teeth for clearing heavy brush and trees
Attach to the Sneller Multi-Task carrier or your existing excavator
Built to take daily up-front punishment
Sneller Machine
Chipper 727-731
360-degree rotating discharge chute
Gravity- or hydraulic-feed models available
30-in. flywheel
PowerTek Inc.
RH1754 Horizontal Grinder
The RH1754 compact horizontal grinder is now available as a towable unit or a self-propelled unit on a steel tracked undercarriage.
Towable version can be easily moved behind a 1-ton truck, while the self-propelled model is capable of getting into remote jobsites and saves time with repositioning
Designed to grind pallets, brush, green waste, lumber scraps and construction debris
Operate well on small jobsites inaccessible to larger machines
Low fuel consumption keeps operating costs at a minimum
Rayco Mfg., Inc.
SC262-18ERL
MacKissic SC262-18ERL ChipNShred
Heavy gauge, commercial construction
Highway towable with Flexride suspension
4-in. rapid feed chipping with 2 chipper knives and outer adjustable bedknife
Shredding chamber with 48 free-swinging hammers
18-hp Vanguard engine
MacKissic Inc.
Wood-Pro Model 30Q Series AVP
The Wood-Pro AVP is a unique one-hopper chipper + shredder. It uniformly reduces organic debris without sizing rods or screens. The AVP handles everything from leaves and weeds to 6" diameter brush and tree limbs through one hopper. Branches need only minimal trimming and entire armfuls of debris are instantaneously reduced by the patented rotor to small chips, excellent for mulching. Available as 14-hp to 22-hp self-powered models and as low-cost tractor PTO unit. The AVP gets rid of all vegetation waste.
Vandermolen Corp.