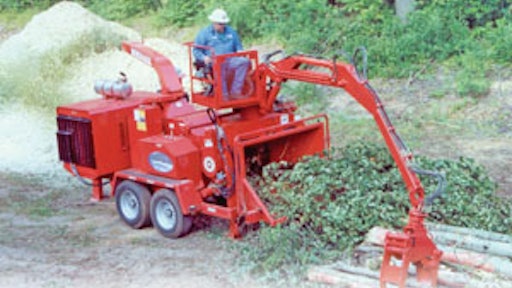 When you have land to clear for a project, trees and brush need to be taken care of fast and safely. Manufacturers of brush chippers have developed features and options that can help maximize productivity and/or reduce labor costs during chipping.
According to Rob Faber, commercial sales specialist at Morbark, the benefits also include reduced potential for injury and repetitive motion ailments, plus a possible reduction in insurance costs and liability concerns. He adds that these features and options can be grouped into three main areas.
Feed systems get smart
Recently, systems have gotten "smarter" when it comes to drawing brush and limbs into a chipper. "There are different styles, but most use rpm sensors," Faber says. "When a preset rpm is reached, the sensor will stop the feed wheels. Often, this is followed by a reverse action to clear the material. The operator doesn't have to stand next to a control bar to feed in material and monitor operations as closely now." He points out that an auto-feed feature is standard on Morbark machines.
Bandit Industries offers the Auto Feed Plus on its 9- to 18-in.-diameter hand-fed chippers. This feature starts, stops and automatically reverses the feed system to protect the chipper from lugging to the point of stalling the engine. "When reversing the feed, material is pulled out of the cut, which prevents wood from rubbing against the knives," comments Leslie Kinnee at Bandit. "This shortens recovery time while eliminating the potential for burning and dulling knives. The easy-to-program reverse feature is infinitely adjustable from a millisecond up to 65 seconds to fit your application."
She adds, "This option, which retails for about $1,200, increases fuel economy, improves knife life and allows the operator to gather additional material instead of attending the chipper. It also improves chip uniformity, which can increase chip resale value."
Vermeer offers the SmartFeed system, which is standard on five of its models. "This patented feed-sensing control system addresses predictability, or how quickly the engine loses rpm, rather than reacting based on a predetermined machine setting," Mark Rieckhoff, environmental segment manager, explains. "The controller will only allow the engine rpm to drop slightly before stopping hydraulic flow to the feed rollers. Once they've stopped, if the engine doesn't return to full rpm within a set time, the roller will automatically reverse the material. This minimizes contact between the wood and the drum to relieve friction. It also allows the drum to return to full rpm as quickly as possible and resume automatic feeding - without operator involvement."
Rieckhoff notes that for small-diameter or loose, brushy material, the feature senses extended rpm loss time. It commands the engine to drop to a lower rpm while retaining maximum torque. "This helps increase brush chipper productivity because it decreases the number of stops and starts while brushy material is processed. It helps reduce the chance of self-feeding at a low rpm, too," he points out.
Jay Benbo of S and S Tree, a full-service tree care contractor in St. Paul, MN, appreciates this feature on his company's two Vermeer chippers. "We really like how it pulls the branches in and automatically senses engine rpm so we don't have to be right there all the time," he notes.
The SmartFeed has an integrated hydraulic overpressure sensor that detects a possible stall of feed roller motors during the feeding process. "Prior to a stall, this controller initiates a reversing sequence that actually manipulates the material back and forth, at a greater distance each repetition, until the material goes through into the chipping chamber," Rieckhoff says. "This usually eliminates the need for operator involvement."
For increased operator safety around the infeed area, ANSI and OSHA set standards requiring the ability to quickly stop or reverse the device. All manufacturers follow these standards.
However, Bandit also has a patented last-chance pull stop cable standard on its hand-fed chippers. It consists of two cables hanging about halfway between the hopper entrance and the feed wheels. If an operator incorrectly finds himself past the feed control bar and inside the hopper, he can use the cable to stop or reverse the feed wheels and wood flow.
In addition, Vermeer has a patented bottom feed stop bar. Its location makes it possible for the operator's leg to strike the bar and shut off the feed in an emergency situation. The bar offers two sensitivity settings.
Winches deliver labor savings
These hydraulic assistants help operators bring big material to the chipper and pile it into the feed system with much less labor and fatigue. "You also are likely to chip more of the tree when you use winches," Faber points out. "There's less chainsaw work."
Morbark offers this option for about $2,500 on its 12- to 18-in.-diameter models.
Frank Gonzales of Frank's Tree Service in Summit, NJ, has two Morbark 2400 XLs with winch packages. "They are just the thing to pull branches to the chipper in industrial complexes and residential areas where trees must be cleared before other work can be done, but long driveways or other obstacles get in the way of easy chipper loading," he states.
As with other winches, Vermeer models are equipped with a rope (150 ft.) with a chain choker on the end. "It allows operators to pull material into the brush chipper that may not be accessible or easy to move using other conventional methods, such as a skid steer," Rieckhoff explains.
"A winch greatly reduces hand carrying and helps reduce the need to cut and trim," Kinnee points out. "It's good for dragging material from tight or restricted areas not easily accessible to the chipper."
Bandit's winch retails for about $1,800 and is available with a remote control.
"You can reduce the labor needed to process large-diameter material and reduce chainsaw trimming," Kinnee adds. "Reduced crew fatigue and less potential for back injuries are two other benefits of winches."
Loader arms ease material feeding According to Faber, joystick-controlled loader arms have a grapple that feeds material to larger chippers. Usually, the operator is safely seated in a station away from the action. Loader/grapples ease the task of feeding larger diameter material and piles of brush. "We really like how the grapple helps lift heavy branches up," says Benbo at S and S Tree. "Loaders allow the feeding of large, whole trees and the like without having to cut them into manageable pieces," Kinnee explains. "They also reduce the amount of labor needed and possible back injuries." Rieckhoff agrees, adding, "You can reduce possible injuries caused by lifting heavy logs onto an infeed table." He notes that, on the BC2000XL, a self-stowing grapple loader is available with a continuous rotation or 345° grapple clam. Loader arm options cost between $20,000 and $30,000, making them best suited for operations involving a lot of clearing work or for tree care industry contractors.
---
Other Options Available
Chipper manufacturers have devised many options to make the job easier and your crews more productive. They include:
hand-crankable or hydraulic swivel discharges to change chip direction
height-adjustable discharges to allow for fuller trucks and fewer trips to the dump site
larger-sized feed system for easier handling of crotchy and limby material
knife savers that sharpen knives while still in the machine
hydraulic lift cylinders that raise the top feed wheel to assist in feeding larger-diameter materials and crush limbs and branches
rubber track undercarriages for self-propelled chippers doing off-road work