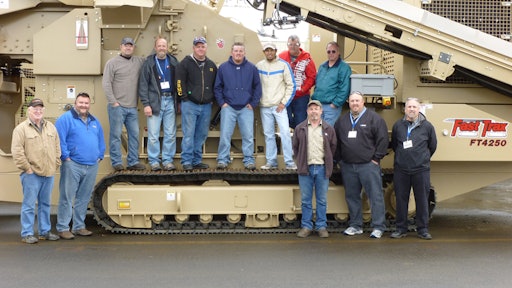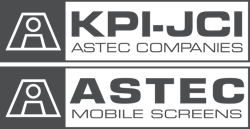 A dozen participants from across North America visited the Johnson Crushers International Inc. (KPI-JCI) manufacturing facility in Eugene, OR, to attend the first-ever Advanced PRO Training Service School for track-mounted products.
The PRO Training event, which was held April 23-27, focused on in-depth troubleshooting for track-mounted products. Terry Haas, field service technician and training coordinator at Kolberg-Pioneer, Inc. (KPI-JCI), said KPI-JCI and Astec Mobile Screens is transitioning its PRO Training curriculum to provide advanced troubleshooting solutions for service technicians in the field.
A new online training program will be launched later in 2012 that will cover introductory material, Haas said.
"Before, we would start at a 101 level and go over maintenance and lubrication and set-up and start-up procedures," Haas said. "We were spending too much time on information that most of our participants already knew. Now, new service technicians can review the introductory material first online and get themselves to the 401 level before coming to the factory, and we can spend much more time teaching our service technicians how to quickly troubleshoot a machine without wasting the customer's time."
In addition to the improved curriculum, Haas and his team have also introduced new displays, such as wiring boards and hydraulic schematic boards, to help participants visualize the components of the machine in the classroom.
Attendees for the April PRO Training event came from KPI-JCI and Astec Mobile Screens' authorized dealers Road Machinery & Supplies, Goodfellow Corp., The Western Group, Power Motive, Reuter Equipment and Madisa.
The next advanced track-mounted product PRO Training event will be held at Kolberg-Pioneer, Inc. in Yankton, S.D., Sept. 24-28, the week after the company hosts its National Dealer Conference (NDC) in Yankton. Participants will be able to utilize equipment from KPI-JCI and Astec Mobile Screens' three locations that was displayed at NDC to conduct hands-on training on a variety of equipment. Visit here to register for the event.