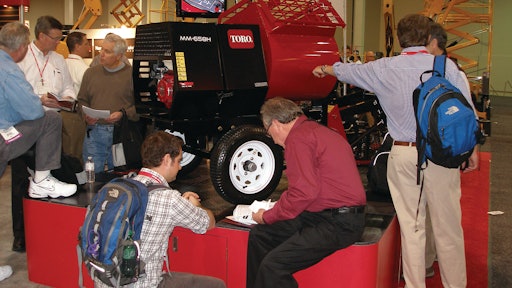 Toro entered the concrete and masonry equipment business courtesy of a line of equipment acquired with Stone Construction Equipment.
Rick Rodier, general manager of Toro's siteworks business group, says the acquisition and resurrection of Stone products – concrete and mortar mixers, power trowels, mud buggies, concrete vibrators and screeds, plate compactors, rammers and trench compactors – is part of an overall strategy to penetrate the rental industry more deeply.
"Four years ago I sat down with the Toro rental team to strategize how to take advantage of opportunities we'd identified in the rental industry," Rodier said. "One thing became abundantly clear: we know how to do product well, but we needed more product to have our brand extend further and broader into the rental industry.
"We've brought new product into the market through our own internal resources, and in the past three years we've completed three acquisitions that are material to the rental industry, most recently Stone equipment early last summer."
Video: Introducing Toro's New Concrete & Compaction Machines
Toro moved production of Stone products to Toro's Beatrice, Neb., facility with little change in their makeup. The only Stone products not currently represented in the Toro line are saws and ride-on rollers, but Toro does own the intellectual property.
Stone had more rental reps than Toro at the time of acquisition, and many rental companies that carried Stone products have come on board with Toro.
Rodier says Stone was on the short list of acquisition targets before the bank called the company's note early in 2012. The company's products had already been identified as meeting Toro's quality standards. When the banks shut Stone's doors, Toro moved quickly.
Companies in this article