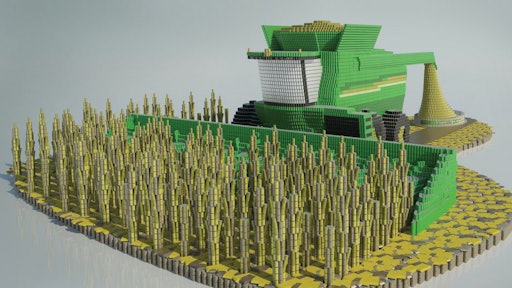 To recognize the vital role that America's farmers play in feeding the world this harvest season, John Deere is attempting a world-record at constructing a full-sized sculpture of its new S-Series combine from more than 300,000 cans of food at the John Deere Pavilion in downtown Moline, Ill.
According to Nicole Schneider, project manager, communications for John Deere Ag & Turf Division, the John Deere Project "Can Do" combine sculpture and food donation program are designed to raise awareness of the essential role farmers and ranchers play in producing safe, healthy and abundant food for a growing world population, while supplying much needed food supplies to a local food bank during the holiday season.
"With the global population expected to increase from 7 billion to more than 9 billion by 2050, farmers will need to increase food production by 70 percent while using the same amount of land, water and other resources," says Schneider. "New equipment technologies, like the John Deere S-Series Combine, are important tools in helping farmers meet that demand."
The more than 300,000 cans of food needed to complete the sculpture are donated by John Deere with delivery from Hy-Vee Food Stores. When completed, the sculpture will be 60 feet wide, 80 feet long and 16 feet tall and will weigh nearly 170 tons. 
Helping to design the combine sculpture is a team from the Chicago office of architectural firm, RTKL. John Deere employees and retirees will also volunteer to assist with the overall project.
"RTKL has been involved in a number of canned sculpture events around the country but this is by far the most ambitious," says Dan Russell, project designer, RTKL. "We can think of no better partner than John Deere in combining the design, technology and the boundless spirit needed to tackle this massive undertaking."
The combine can sculpture will be on display at the John Deere Pavilion in downtown Moline, Ill., from mid-November to mid-December. All the canned food will be donated to the River Bend Foodbank when the sculpture is dismantled.
Video: John Deere's "Can Do" Attitude Fights Hunger
Companies in this article