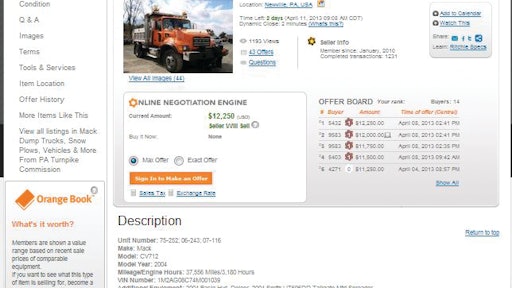 Ritchie Bros Asset Solutions
Ritchie Bros. officially launched EquipmentOne, a secure online marketplace to facilitate private sale of equipment and materials where buyers and sellers can negotiate, complete and settle their transactions all in one safe and transparent environment.
Ritchie Bros., the world's largest seller of used industrial equipment, attempts to distinguish itself from other online marketplaces primarily by serving as a secure intermediary, holding payments in escrow to assure the buyer that funds are committed to the purchase, and only releasing them to the seller after the buyer confirms that the goods are received and acceptable.
"Ritchie Bros. EquipmentOne provides a number of features and services to ensure all transactions are easy, safe and secure," said Dave Dawson, CEO of Ritchie Bros. EquipmentOne. "Our Online Negotiation Engine provides complete transparency into the negotiation process, the Ritchie Bros. Orange Book provides valuable market information to make buyers and sellers more informed on equipment pricing and EquipmentOne Total Buyer Protection ensures buyers are protected through an escrow process, seller experience ratings and facilitated dispute resolution."
The Ritchie Bros. Orange Book is a market reference tool that shows recent pricing for equipment by type, age and usage.
Sellers create their own listings using an intuitive self-serve tool, including equipment photos and detailed information. Sellers select an Ask Price and a Buy-it-Now Price for a listing period of two weeks.
Purchase negotiations take place using the Online Negotiation Engine. Buyers make transparent offers -- offers are visible not only to the seller but to other buyers as well. The item is sold when an offer is made at the Buy-it-Now Price or, if at the end of the listing period, an offer is made in excess of the seller's Ask Price. Otherwise the seller has four options: (a) accept the highest offer and sell them item, (b) move the item to a Ritchie Bros. unreserved auction, (c) remove the item from the marketplace or (d) re-list the item on EquipmentOne after a two-week wait.
In 2012 Ritchie Bros. sold $3.9 billion of equipment, yet current estimates suggest global used-equipment sales exceed $200 billion per year. Ritchie estimates that half of all those transactions take place with an owner selling their own equipment without an auction or broker, so Ritchie Bros.' market share is less than 2 percent.
EquipmentOne is Ritchie Bros.' effort to improve the completion rate of online direct sales, and their market share.
The site was preliminarily launched on January 2, 2013, and has been refined through user input. there are more than 300,000 members, starting with all of the Ritchie-Bros. registered members and those from AssetNation, the site Ritchie bought last year as the foundation of its EquipmentOne development. Ritchie claims the site has been adding new members at a pace of 1,000 per month since then.
Membership at EquipmentOne is free.
Document: Ritchie Bros. EquipmentOne Fact Sheet