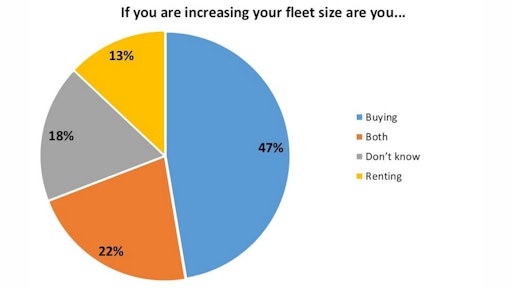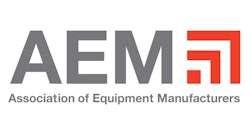 A survey of construction-industry equipment users by the Association of Equipment Manufacturers shows plans to increase equipment fleet sizes, staff levels and start adopting telematics technology. The Snapshot Survey provides a generally upbeat outlook, especially among companies with less than 1,000 employees.
Key survey findings:
40-43% of companies with less than 1,000 employees indicate that they will increase fleet size over the next 12 months and about 30% indicate they are maintaining their fleet size
Only 25% of companies with 1,000 or more employees are planning to expand their fleets
Across the board, roughly 36% of companies who plan to expand their fleets will by renting, or buying and renting. The majority of fleet increases would still be achieved through buying
More of smaller companies (based on employment size) are planning to increase staff levels compared to the larger (1,000+ employee) companies
While overall, 40% to 45% of companies indicated that they planned to increase fleet size, 54% of those that listed Lifting or Hoisting equipment categories indicated growth.
Across the equipment categories the amount of core equipment people might rent is roughly the same. But look at the employee breakout, we notice that smaller companies (less than 1,000 employees) are more inclined to rent core equipment
According to Benjamin Duyck, Market Intelligence Analyst at AEM, more than 1,200 responses were obtained. After survey-pool analysis and refinement, roughly 680 were analyzed. Demographic information was captured from all respondents.
AEM is conducting a follow-up survey about telematics usage, and encourages contractor paricipation here.