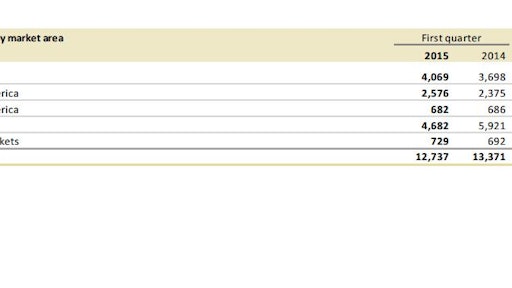 Volvo Group net sales slipped 1% in the first quarter of 2015 to about $8.7 billion (reported SEK 74.8 billion).
Truck orders increased by 3% while construction-equipment unit orders fell 24%.
"I am particularly satisfied that we in several areas of the Group have been able to improve margins, despite a negative market mix with significantly lower volumes in Brazil for trucks and in China for construction equipment," said Jan Gurander, acting president and CEO of the truck and construction-equipment company. "If we exclude restructuring charges and the effect of the sale of shares in Eicher Motors, the Group's operating margin rose from 3.9% in the first quarter of 2014 to 6.1%, which is an improvement of the operating income by 78% to SEK 4.6 billion."
Volvo Group sold slightly more than 48,000 trucks in Q1 – about the same as in Q1 2014 -- but operating income doubled to about $440 million (SEK 3.8 billion) and operating margin climbed from 4.1% to 7.3%.
"The strong increase is mainly due to a considerable improvement in profitability in North America, positive effects of the efficiency program and favorable exchange rates," said Gurander.
"Unfortunately, weak demand continued for Volvo CE," Gurander continued. "In particular, sales were impacted by the continued downturn in the important Chinese market, which was down by half compared with the year-earlier period. In total, the number of equipment deliveries declined by more than 30% during the quarter."
Volvo's construction-equipment sales fell 21% to $545 million (SEK 4,682 million) in Asia, where Volvo CE made nearly 37% of its sales volume.
Construction-equipment were up 10% in Europe to more than $473 million (SEK 4,069 million), which made up nearly 32% of Volvo CE's Q1 sales. CE sales rose 8% in North America to nearly $300 million (SEK 2,576 million), more than 20% of the division's sales.
"2015 is the year in which we will see the combined effects of the product launches carried out in 2013 and the cost reductions that were implemented in 2014," said Gurander. "Even if we still have many activities to implement also in 2015, the earnings improvement we saw in this quarter shows that we have taken another step in improving the profitability of the Group."