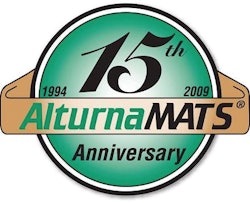 Checkers Industrial Products, LLC has partnered with Jack Roser, President and Owner of AlturnaMATS, Inc.  As a leader in professional grade ground protection mats, AlturnaMATS has served multiple markets with its matting and outrigger pads, including construction, utilities, landscaping and drilling. "The partnership with Checkers only spells a good future for AlturnaMATS," Roser said. "It brings together two companies with the same goals in mind, safety and asset protection, and will help grow both brands. In addition, it provides AlturnaMATS with additional resources to help accelerate our growth." 
The combined Checkers product offering now includes matting, cribbing, ClearMATS, AlturnaMATS, VersaMATS and Safety Tech Outrigger Pads, all falling under Checkers' ground protection product category. "This investment allows us to enter the ground protection industry with a recognized market leader, something we have wanted to do for some time, and gives us the opportunity to exponentially grow our ground protection division," said Checkers' President Ray Torres.
Checkers Industrial manufactures and distributes a variety of branded safety products including cable management systems, wheel chocks, safety lights, ground protection and warning whips for the industrial, mining, oil and gas, military, entertainment, construction and aviation markets. 
AlturnaMATS will continue operations out of its current facility in Titusville, Penn., a satellite office to Checkers' Broomfield, Colo., headquarters and Jack Roser will continue to oversee the operations in Titusville.