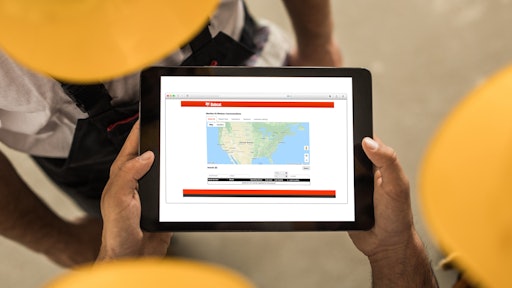 (WEST FARGO, N.D. – September 2019) The new Bobcat Owner Portal provides Bobcat® compact equipment customers with access to machine data that helps owners and fleet managers better utilize their machines.
The Bobcat Owner Portal shares machine details – collected from the Bobcat® Machine IQ wireless communications system – with owners and fleet managers. With access to more information, owners can better manage their Bobcat equipment.
The Bobcat Machine IQ wireless communication solution for customers was launched earlier in 2019. With it, Bobcat equipment customers can remotely monitor vital information about their R-Series compact excavators or M2-Series skid-steer or compact track loaders. Information personalized website accessible via any internet-connected computer, smartphone or tablet. Customers can register at my.Bobcat.com to access the Bobcat Owner Portal.
Through Bobcat Owner Portal, customers now have access to information about their Bobcat equipment, including machine location, operating hours and fuel level. This information helps customers better utilize their equipment while making maintenance and asset management more efficient. Customers can personalize each machine with a name to quickly identify the machine they are monitoring.
Monitor and Prevent Unplanned Maintenance
Bobcat customers now have greater visibility to equipment maintenance needs through Bobcat Owner Portal  by subscribing to email notifications to receive email alerts when a machine generates a common fault code. If the system detects a problem with a connected machine, a fault code notification is sent to the customer's email. The Bobcat Owner Portal provides customers with seven days of fault codes for connected machines in an owner's profile 
Owners and fleet managers can better manage regular machine maintenance by accessing the Bobcat Owner Portal and viewing the hours on their machines and when the next preventive maintenance interval is due. Customers can also subscribe to emails detailing when machine maintenance is due, the parts they'll need and a service checklist for additional maintenance needs. Dealers can better respond to customer's needs for parts and service with enhanced machine reporting.
Increase Equipment Security
With Bobcat Machine IQ, customers now have the ability to know where their Bobcat equipment is at all times. Owners can subscribe to Bobcat Owner Portal email notifications and be alerted if the machine leaves a specified area, helping prevent equipment theft. Owners can also set curfews for their machines and will be notified if it is operated outside the designated hours.
With future enhancements of Bobcat Owner Portal, owners and fleet managers will also have the ability to track their machines efficiency and utilization to make better business decisions. Other future enhancements will enable fleet managers to get a better view of machine ownership costs and help them make more informed decisions about projects that may require Bobcat equipment.