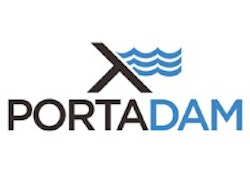 Portadam, a leading provider of temporary portable cofferdams and portable water storage systems, and Rain for Rent, a leading provider of temporary liquid handling solutions, have joined forces to the offer contractors across the U.S. environmentally friendly cofferdam and dewatering solutions.
Portadam's temporary, portable cofferdam, water diversion or fluid retention system can be used in open water up to 12 feet deep. By utilizing an established free-standing steel support system and impervious fabric membrane, the system allows many types of in-water construction to be accomplished in dry conditions without the need for excavation, fill, costly pile-driving equipment or time-consuming sandbag dikes.
With in-house engineering and design services and over 60 branch offices, Rain for Rent can support engineers, contractors and government agencies with its Liquid Ingenuity solutions and services. The range of technologies includes a variety of pumps, filtration and storage products.
The companies' combined 65 locations across the U.S. will enable rapid response and local support. The new partnership boasts engineering solutions from industry leaders and combined track records of safety and performance.
The D&G Boring project in Atlanta, GA, and the Huguenot Bridge Reconstruction project in Richmond, VA, are just two case studies demonstrating the value of a working relationship with Portadam and Rain for Rent.
Brad Thomas, D&G project manager, commented, "We were at a standstill and at risk of not being able to complete this pipeline project. Rain for Rent's solution combined with a joint Portadam and Rain for Rent implementation allowed for an on-time project completion under extremely difficult site conditions."
According to Brent Hunt, Skanska project manager for the Huguenot River Bridge Reconstruction project, "The effort and expertise of Portadam and Rain for Rent was an important factor in helping us complete this project despite challenging environmental conditions."