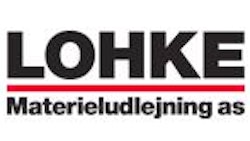 LOHKE Materieludlejning
Danish rental company, LOHKE Materieludlejning is growing its fleet with more than 130 Snorkel lifts.
The orders which were placed in February and March with official Snorkel distributor for Denmark, KH Lift ApS, include 120 Snorkel TM12 telescopic mast lifts, 10 Snorkel S3219E electric slab scissor lifts and four Snorkel SL30RTE lithium-ion battery powered Speed Levels. The units are supplied by Snorkel's UK manufacturing facility in Washington, Tyne & Wear.
LOHKE Materieludlejning was established in 2006 by Lars Lohmann, Carsten Lohmann and Peter Kew, who each brought significant rental market experience to the new business. LOHKE is focused on developing strong customer relationships and focusing on the aftermarket experience to ensure their success. Headquartered in Hvidovre, close to Copenhagen, LOHKE has four branches across Denmark, with more than 80 employees and are continuing to grow.
Lars Bruun Spange, sales manager at KH Lift ApS says of the order, "We would like to sincerely thank Peter and team at LOHKE for their trust in Snorkel and KH Lift. LOHKE are a strong and dynamic business and it is our pleasure to help them grow their fleet with electric units that deliver the performance their customers need, while meeting the increasing requirements for reduced emissions."
Peter Kew, owner at LOHKE, said, "We are delighted to add these Snorkel lifts to our growing rental fleet, particularly the lithium-ion Snorkel Speed Level's which offer a range of unique and innovative features for our customers while meeting the emissions regulations. The Snorkel TM12's have also been very well received on our customers' jobsites thanks to their compact dimensions and ease of manoeuvrability. We would like to thank Lars and the KH Lift team for their excellent service and support."
Henrik Skibsted, territory manager for Snorkel in Scandinavia and the Baltics, adds, "On behalf of Snorkel, we thank LOHKE for adding these lifts to their equipment fleet, and wish them continued success. We know that they will be well supported by the KH Lift team."
For more information on LOHKE Materieludlejning, visit www.lohke.dk, and for more on KH Lift ApS, please visit www.khlift.dk. For Snorkel, visit www.snorkellifts.com.