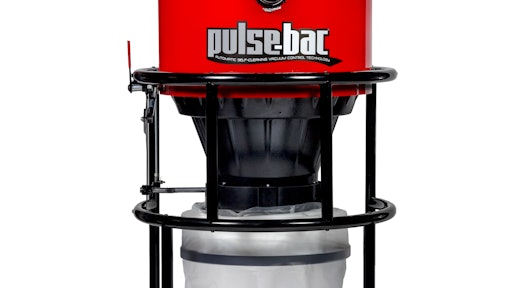 Pulse-Bac has introduced another new concept to the world of dust collection with their new line of HPLM (High Performance Low Mass) vacuums. What is HPLM? Put simply, they're vacuums designed to have the highest power to weight ratio available. This new line of vacuums delivers very high suction while working on a light weight platform that is designed to be easily transported. The 3690, the first unit to be released in the line, delivers 690 CFM with 110" of H2O lift and weighs in at only 208 lbs., by comparison, that's about 70% lighter than most vacuums with similar suction power. Fully Compliant with Table 1 of the New Silica Standard.
Wireless remote start function lets you start the vacuum with a fob from up to 180 feet away.
The 3690 is built on a larger version of the popular Revolution 360 bagger frame.
Newly redesigned dump valve can be used from a standing position and automatically closes after used.
Can use the Longo-Pac endless bagging system.
The HPLM line uses the patented Pulse-Bac self-cleaning technology.
Request More Information
Fill out the form below to request more information about
New Line of HPLM (High Performance Low Mass) Vacuums from Pulse-Bac