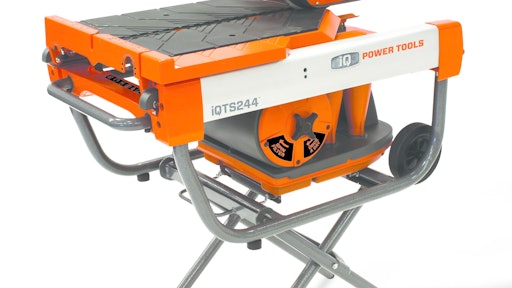 iQ Power Tools, manufacturer of premium power tools with integrated dust collection systems, introduces the first "Dry-Cut Tile Saw" designed to cut ceramic, porcelain, marble and stone. The iQTS244 is a 10" dry-cut tile saw specifically created for professional tile setters and contractors. With the world's first fully integrated dust control technology, this innovative tool allows for tile to be cut inside or outside with no water and no dust discharge. Additionally, it is lightweight, compact and built on wheels for easy transport to and from jobsites.
 100% compliant with the new OSHA standard on respirable silica dust, the iQTS244 was initially produced for professional contractors to eliminate problems caused by cutting with water.
The iQTS244 utilizes a three-stage filtration system which captures up to 99.5% of the dust. All the dust from the cutting point passes through this filtration system and is captured in the dust tray for easy clean up.

Stage 1: Heavy Debris Filtration
Stage 2: Cyclonic Filtration (Fine Particles)
Stage 3: iQ Dura Bond Filter Cartridge (Super Fine Particles)

The specially designed blades (10" Q-Drive Cool Cut Blade) are air-cooled by the vacuum. The vacuum also removes the cutting debris so the blade is not regrinding the same material, a process that reduces friction and heat.
[VIDEO] Compare Dry-Cut Masonry Saws with Integrated Dust Control at Work 
Request More Information
Fill out the form below to request more information about
iQ Power First "Dry-Cut Tile Saw" with Integrated Dust Collection