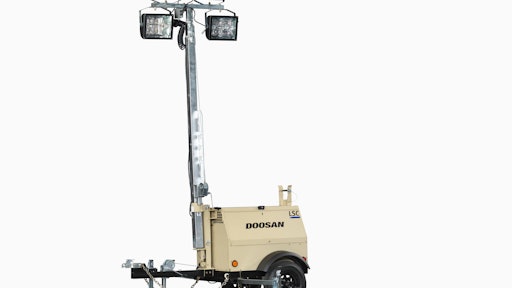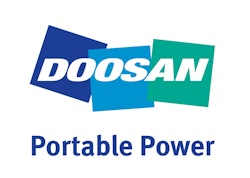 Doosan Portable Power adds light-emitting diode (LED) fixtures as an option for LSC, LS, L6 and L8 light tower models. LED fixtures are compatible with Doosan light towers and are available as a factory-installed option or as an aftermarket retrofit kit. The fixtures deliver 50,000 hours of use, instant-on operation and significant fuel cost savings compared to traditional metal halide bulbs. While the initial cost of LED fixtures is greater than metal halide lights, the long-term cost benefits of LED fixtures are clear.
The LED fixtures are rated to perform 50,000 hours. In most instances, LED lamps won't need to be replaced during the life cycle of the light tower, resulting in substantial savings in comparison to metal halide fixtures. Doosan LED fixtures also include a 5-year warranty. Doosan LED fixtures are 50% more fuel efficient than metal halide lights. The fuel economy combined with the cost savings of lifetime lamps makes it possible for LED fixtures to deliver a return on investment within a handful of years.
Instant-on/instant-off operation improves efficiency, allowing work to begin immediately. Traditional metal halide light fixtures that can take 15 to 20 minutes to reach full illumination and require a cooldown period before storage or transport. These LED fixtures use less than 1 kilowatt of energy. That leaves more auxiliary power available for operating handheld drills, saws or other electrical tools from a single light tower.
Request More Information
Fill out the form below to request more information about
Doosan Offers LED Fixtures Option