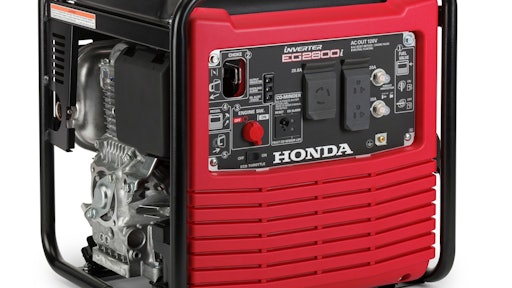 Honda Power Equipment

Honda Power Equipment, a business unit of American Honda Motor Co., Inc., continues the rollout of its CO-MINDER technology across its full line of portable generators.
The company is adding three models — the EG2800i Economy Series unit, along with the EB2800i and EB6500 Industrial Series models — to those now available with the advanced carbon monoxide (CO) detection system designed to help protect users from injury or death from accidental CO poisoning. Previously, the company announced the integration of the CO-MINDER system on its EU1000i, EU3000iS, EG4000 and EB10000 generators. Today, seven Honda CO-MINDER models are on sale nationally, and by the end of this year, all Honda portable generator models will feature the CO-MINDER technology.
The Honda CO-MINDER system continuously measures carbon monoxide levels in the air near the generator and automatically shuts down the unit before detected CO reaches a dangerous level. The technology also incorporates a fast-reacting sensor that continuously monitors for carbon monoxide in the air near the generator. If the sensor detects a CO level at or exceeding 800 parts per million (ppm) at a given time, or an average of 400 ppm for 10 minutes (per Portable Generators Manufacturers' Association [PGMA] G300-2018 standards), it triggers the generator to shut down automatically.
"The Honda CO-MINDER carbon monoxide detection system exemplifies our corporate commitment to providing industry-leading products and safety features, and we proudly embrace our position as the industry's first manufacturer committed to installing our advanced CO detection devices on 100 percent of our portable generators for commercial, residential and recreational applications," says Will Walton, vice president of Honda Power Equipment.
Positioned squarely for the budget-minded consumer, Honda Economy Series generators offer a 'no-frills' approach to backup power.
The Honda EG2800i model, a reliable source of power for home backup and other portable power applications, is the ideal choice for keeping the basics running such as a refrigerator, freezer, furnace blower motor, several lights, microwaves and TVs during a power outage. The open-frame inverter (OFI) generator incorporates a number of advanced design features:
Powered by the Honda GC190 engine, the Honda EG2800i weighs in at a dry weight of less than 68 pounds and comes equipped with a 30 amp/120 volt receptacle for easy connection to a home transfer switch. The Honda EG2800i offers a maximum of 2,800 watts of electricity with a wave form distortion factor of less than 5%; the generator also is equipped with Eco Throttle that allows the generator to conserve fuel by varying engine speed to the optimum level (given usage load), improving fuel efficiency and maximizing run time. In addition, a large 2.1-gallon gas tank provides 5.2 hours of operation per tankful of gas at rated load or 11.9 (E10) hours at ¼ load.
The Honda EB2800i OFI model is a match for light construction applications, delivering the contractor market reliable power for multiple tool use on the jobsite and more of what Honda customers have come to expect: quiet operation, high-quality power, fuel efficiency and long run times in a lightweight, portable package. At a dry weight of less than 68 pounds, the EB2800i portable generator is designed with the single worker in mind, light enough for one person to load and unload from a truck, operate, and carry around the jobsite, while providing ample power for a variety of tools including small compressors, air circulation fans, large concrete drills, multiple hand tools, electric concrete vibrators, circular saws and battery chargers up to 2,800 watts. The Honda EB2800i, offering a maximum 2,800 watts of electricity with a wave form distortion factor of less than 5%, also complies with current OSHA regulations while ensuring safe operation with ground fault circuit interrupter (GFCI) protected receptacles.
The Honda EB6500 generator provides 6,500 watts (120/240V) of backup power. Powered by the Honda iGX390 commercial grade overhead valve (OHV) engine and supported by a heavy-duty frame, the Honda EB6500 features the iAVR Power advantage, a Honda generator exclusive system that realizes a 50 percent reduction in voltage fluctuation over current AVR systems. For up to 10 seconds, the Honda iAVR allows for increased wattage above the maximum rating to start high-amp load applications.
The Honda EB6500 boasts a long run time, (up to 9.8 [E10] hours at 50% load) for extended work hours, and a special muffler results in quiet sound levels of 64 dB(A) at 50 percent load and 67 dB(A) at rated load. In addition, the Honda EB6500 generator is equipped with a two-wheel kit and lift hook and is OSHA worksite compliant, meeting job site emission and safety requirements. The model also includes GFCI technology, offering GFCI 20-amp duplex receptacles that protect a user from electrical shock by shutting down the circuit when current is flowing along an unintended path, or ground fault. 
Honda Power Equipment will introduce the CO-MINDER technology on the balance of its generator product line, including Honda Deluxe Series models, throughout the remainder of 2020.
Request More Information
Fill out the form below to request more information about
Honda Expands CO-MINDER Availability to More Generators