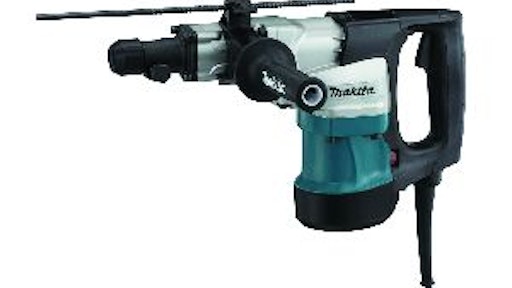 Makita HR4041C
The HR4041C 1 9/16-in. spline shank rotary hammer has a 12-amp motor producing up to 460 rpms for drilling into 5,000-psi concrete.
"Hammering only" or "rotation with hammering" dual-purpose function
"No hammering while idling" feature helps increase tool life
Torque-limiting clutch
Electronic variable speed control dial
Accepts spline shank bits for rotary hammering and 3/4-in. hex to 21/32-in. round for demo hammering
Chicago Pneumatic CP 0017 SVR
The vibration-reduced CP 0017 SVR chipping hammers feature a strong steel spring vibration isolator assembly that limits vibration levels to just 2.7 m/s2.
20.5-lb. CP 0017SVR 3R has a .68-in. round shank, and the 21-lb. CP 0017 SVR 3H has a .58-in. hex shank
Standard D-type ergonomic trigger handle
Screw cap tool retainer
Require 36 cfm of air and produce up to 1,900 bpm
Deliver a 3-in. tool stroke during operation
DeWalt Corded SDS Hammers
This line of heavy-duty 1-in. SDS hammers includes single-mode and three-mode pistol grip and D-handle models, plus three-mode L-shape hammers with or without quick-change chuck.
Up to?2.5 ft.-lbs. of impact energy at a rate of 4,300 bpm
Improved hammer mechanisms ensure?maximum power and performance
Increased rating of 7.5 to 8 amps
Steel depth rod and steel clutch
Hilti TE 7-A Rotary Hammer Drill
The cordless TE 7-A offers a 5/16- to 3/4-in.-diameter optimum drilling range, suitable for drilling and light chiseling in concrete and masonry.
36-volt lithium-ion batteries backed by Cordless Power Care
Can be charged up to 50% capacity in 18 minutes or 100% capacity in 36 minutes
Professional chiseling function
Optional TE DRS-M dust removal system
CPC batteries and chargers an be activated under the Hilti Theft Protection System
Metabo SBE610 Hammer Drill
The 4.5-lb. SBE610 has a 610-watt motor that enables it to generate a 6,200-bpm maximum impact rate.
Rated at 5 amps with 5 Nm of torque and a no-load speed of 3,100 rpm
Maximum drilling diameter of 1/2 in. in concrete, 3/8 in. in steel and 3/4 in. in soft wood
Rubberized handle and compact construction for fatigue-free, comfortable operation
Exhaust routing circulates dust and debris downward and toward the front of the tool, away from the motor and user
Milwaukee Electric V28 SDS Rotary Hammer
The 9.6-lb. 0756-22 V28 cordless 1-in. SDS rotary hammer is powered by V28 Lithium-Ion technology for consistent fade-free power and greater run time.
Rotary hammer, drill only and chipping operating modes
Compact L-shape design with non-slip grip handle
28-volt, reversible motor delivers 4,700 bpm and 2.1 ft.-lbs. of impact energy
1-in. solid bit drilling capacity in concrete and an optimal concrete drilling range of 3/16 to 3/4 in.
CS Unitec SDS-Max Hammer Drill
The SDS-Max hammer drill has a 2-in. bit capacity and can drill concrete and masonry.
Hammer drilling, hammering and rotation operating modes
Operates at 1.6 hp at 90 psi while consuming 53 cfm
Operates at up to 250 rpm with up to 2,500 bpm
Safety clutch protects against overloading and jamming
Quick-change chuck and pivoting side handle
Weighs just 26 lbs. and measures 19.5" x 9.8" x 4.5"
Bosch 1-in. SDS-plus Bulldog Xtreme
The 1-in. SDS-plus Bulldog Xtreme rotary hammers are available in both D-handle and pistol-grip designs.
7.2-amp motor
Vital components "dialed in" with tight tolerances to remain concentric, smoothly transfer energy and last longer
Deliver 2.2 ft.-lbs. of hitting force at up to 5,800 bpm
Up to 1,300-rpm drilling speed
Feature a rotating brush plate, rotating cord turret, SDS-plus tool holder, integral clutch and three-mode selector
Hitachi DH30PC2 Rotary Hammer
The compact 1 3/16-in. SDS plus rotary hammer weighs 9.5 lbs. and measures 14 in. in length, yet produces an impact energy of 4 ft.-lbs.
Electronic variable speed control provides a no-load RPM between zero and 850, and an impact rate of zero to 3,700 bpm
Operating modes include drilling only, hammer only and hammer drilling
Chuck accepts SDS Plus bits by sliding the bit into the retainer
Adjustable 360° side handle
7.4-amp motor delivers 850 watts of input power
Companies in this article