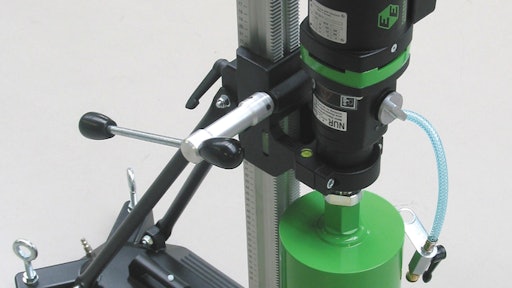 Concrete contractors who are required to perform concrete core strength tests have a few options when it comes to core drilling. They can hire a testing lab or concrete sawing and drilling company to drill the cores, or they can choose to drill the cores themselves. Regardless of who drills the cores, make sure you have a written core test program that considers the proper place in a wall or slab from which to extract cores and how to handle cores once you remove them from the concrete.
Here are a few tips for contractors who choose to drill the cores themselves.
Choosing a drill. Whether you purchase or rent a drill, there are a few options to consider. Typically, you will use a hand-held core drill for holes up to 3 inches in diameter, says Scott Saunders, C.S. Unitec. Since a minimum core size for core strength testing is 3.7 inches in diameter, you will want to use a drill stand or rig-mounted unit. If you are purchasing a unit, you may want to choose a model that offers the flexibility to perform other projects, like drilling dowel holes or holes for plumbing or electrical work. There are various sizes of hand-held units, rig-mounted units, and intermediary units that can be used either hand-held or with a drill stand.
Power. Core drill motors come in three power options: hydraulic, air and electric. Your jobsite power availability and working environment will dictate the power option you choose. Some units also allow you to choose an appropriate speed for your hole size and concrete hardness.
Stand attachment. When drilling cores in slabs with a relatively flat surface, you can use a vacuum stand, which attaches to the floor with suction power and does not require anchor holes. When drilling cores in a wall you will need to secure the stand to the wall with anchors. Saunders also recommends a safety chain with drill stands as a precaution in the event of a slip.
Choosing a diamond bit. Consider concrete psi and aggregate hardness when choosing the correct diamond core bit. "The diamond core bit will need to correspond to the material you are drilling," offers Saunders. "Use a softer diamond bond for harder materials and a harder diamond bond for softer concrete."
Depth. Most of your standard concrete core testing samples can be drilled with a 1-foot bit. If you need to drill a core deeper than that, you can utilize barrel bits, which are essentially bit extensions that allow you to drill deeper than the cutting bit itself.
Read "How to Choose a High-Quality Diamond Core Drill" for a deeper look at coring equipment options.