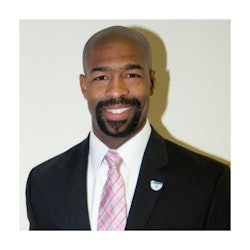 DHI - Door Security + Safety Professionals
The DHI Board of Governors and DSSF Board of Trustees has appointed Cedric Calhoun, FASAE, CAE as their Chief Executive Officer effective April 5, 2021. He succeeds Sharon Newport, CAE who served as interim Chief Executive Officer following the retirement of Jerry S. Heppes, Sr., CAE in October 2020.
Calhoun comes to DHI and DSSF with more than 20 years of association management experience, having served in CEO roles since 2007. He has significant experience in growing training and certification programs and creating value for membership. He has a proven track record in collaborative strategy development, alliance building, advocacy, fundraising, and evolving the member experience. Most recently, Calhoun served as President and CEO of Eclipse Business Strategies. Prior to this, he held the positions of Executive Vice President of the National Association of Enrolled Agents and Executive Director of the Alliance of Hazardous Materials Professionals.
"The Board of Governors welcomes Cedric to DHI and DSSF," states David Sylvester, PSP, President of the DHI Board of Governors. "Cedric brings more than two decades of expertise to our organization and has traveled extensively in Canada and internationally developing strategic relationships and expanding product/service adoption. We were impressed by his exceptional presence and extensive association management experience. We look forward to having him represent our organizations for years to come. We also want to thank Sharon for her service and leadership over the past seven months as interim CEO and 12 years with our organizations. We wish her the best of luck as she starts an exciting new chapter in her career."
"Cedric's passion for our organizations and DSSF's mission to promote secure and safe openings that enhance life safety was apparent in my first conversation with him," said Robert Maas, FDHI, President of the DSSF Board of Trustees. "With his strong skillset and knowledge of association management, I am confident he will make a lasting impact on our organization and bring further awareness of our industry's expertise to our stakeholder communities. I look forward to working with him."
Calhoun looks to continue DHI's work as the premier association for door security and safety professionals, and raising further awareness of the importance of balancing life safety and security in the built environment to building design, code authority, and facility management communities through DSSF. Calhoun will work closely with Newport over the coming weeks to ensure a smooth transition of leadership for DHI and DSSF.