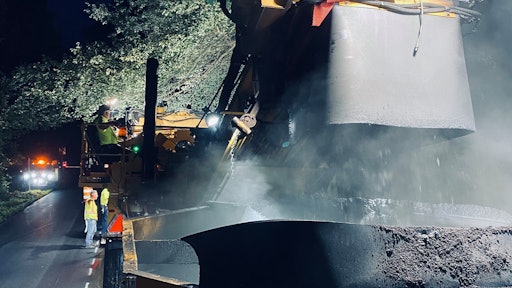 Dylan Welshman/Facebook
It's a familiar story across the country, states have an excess of maintenance and repair needs, but no funding to address them. As funding promises are trickling down from Washington, a host of states announce plans this week to tackle some of these existing projects first, rather than make plans to build new.
In Colorado, transportation officials soon will consider spending plans for the first blast of money from a major long-term funding bill approved by lawmakers. The bill, which was approved in June, will give $5.4 billion in transportation funding and aims to "future-proof" the state's transportation funding system.
Specifically, SB260 creates a new set of road-user fees to benefit highways, transit and electric vehicle infrastructure. The state highway fund will receive more than one-third of the new revenue ($2 billion). Local governments will collect nearly 20%, or about $950 million. Approximately $900 million will be used for purposes that include electric vehicles and transit.
The first projects from the spending plan are being announced and they include $50 million in long-needed repairs and upgrades for the Eisenhower Tunnel. The $238 million spending proposal would repave major stretches of Interstate 25 in Colorado Springs and Interstate 76 near Sterling, along with tackling road safety improvements in several regions of the state. The Colorado Department of Transportation also proposes more money for its network of "mobility hubs" — which enable transit connections — along I-25 north of Denver.
For the Eisenhower-Johnson Memorial Tunnels, which take Interstate 70 beneath the Continental Divide, the plan would pay for the most pressing projects on a roughly $150 million repair backlog.
Construction on nearly three-quarters of a billion dollars in modernization and expansion projects for critical Kansas roadways will soon be underway across the state. Eight projects are planned in eastern Kansas, nine out west, six in the south-central region and one significant project in the Overland Park area. Efforts include expanding historically deadly road shoulders, adding new passing lanes on narrower highways and updating interchanges.
Out of every $10 spent by the state in the 1950s and '60s, as much as $3 was spent on transportation, Kelly said. By 2018, that number had dropped to 70 cents out of every $10. The road improvements in the state are part of the 10-year Eisenhower Legacy Transportation Program, or IKE, passed and initiated by the governor and Kansas Legislature in April 2020. Most of the projects will begin in 2023.
Bridges a Priority
Louisiana's crumbling roads and bridges will eventually see much needed infrastructure improvements following a bill the state's Governor signed into law last week. This new bill will dedicate an existing tax stream towards the improvement of Louisiana's roads and bridges which can amount to as much as 300 million dollars annually. The state has a current backlog of maintenance issues of nearly 15 billion dollars for their roads and bridges.
Louisiana currently funds infrastructure improvements through the use of a 16 cent gas tax which was implemented over 30 years ago. But as inflation continues to rise, the gas tax hasn't changed to keep up with costs. This new bill will gradually move 60 percent of existing vehicle sales tax from the general fund to be used towards infrastructure.
The bill further dedicates 75 percent of the funds towards mega projects. Four specifically including I-49 south, Calcasieu river bridge, Mississippi river bridge in Baton Rouge as well as I-49 north.
Bridges are a huge focus across the nation as the closure of the I-40 bridge in Tennessee is still causing major delays and impacting the supply chain. The Tennessee Department of Transportation (TDOT) announced this week that the initial fracture that shut down the Interstate 40 bridge at Memphis has been repaired, TDOT expects the bridge to reopen by the end of July..
There are a total of 615,318 bridges in the U.S. Of those, 47,223 are considered structurally deficient, according to a report from the American Road and Transportation Builders Association (ARTBA). It would cost $41.8 billion to repair every structurally deficient bridge in the nation, according to the U.S. Department of Transportation. That number doesn't include the 79,500 bridges that need complete replacement.
President Joe Biden proposes to fix the 10 most "economically significant" bridges in need of reconstruction or repair in his infrastructure plan. Ten thousand smaller bridges rated in "poor" condition are also included. However, the American Jobs Plan does not identify which bridges would receive funding. Instead, the plan includes a competitive grant program in which states can display their most worn down and unsound bridges.
States Seek More Funding
With all of the above happening slowly in certain states who have made infrastructure funding a priority, it's clear more needs to be done at the national level to ease the financial burden of our crumbling roads and bridges. And while some states have approved budgets to address their needs, others are desperately waiting.
Kentucky's roads and bridges are facing a $2 billion maintenance backlog, with no clear solution for how to address the massive need. Transportation Secretary Jim Gray asked state lawmakers this week to increase his budget by $350 million, but the legislature has little appetite for a tax increase to fund that expansion.
Nearly 30 percent of Kentucky's roads and 534 of the state's bridges are in poor condition, Gray said. While the Kentucky Transportation Cabinet received $400 million this year, the cost to keep the state's roads and bridges in their current condition would be $500 million, he said. Gray is proposing a budget of $750 million so the cabinet can begin chipping away at the backlog. But there are headwinds caused by the road fund's reliance on gasoline taxes for revenue.
In Maryland, officials are asking D.C.-area leaders to vote on July 21 to restore the state's toll lanes plan for part of the Capital Beltway and Interstate 270 to a list of regional transportation projects, according to a letter Wednesday from the Maryland Department of Transportation (MDOT).
MDOT has said the state will have to cut about $1.5 billion worth of road and transit projects in Montgomery, Prince George's and Frederick counties if it must replace the American Legion Bridge without the private financing included in the toll lanes project.
In its letter, MDOT listed $2.84 billion worth of projects "under consideration" to be delayed or cut — $1.66 billion in Prince George's, $724.5 million in Montgomery and $453 million in Frederick. The list includes building a Corridor Cities Transitway in upper Montgomery, building a full interchange on the Beltway at the Greenbelt Metro station, and widening U.S. 15 in Frederick.