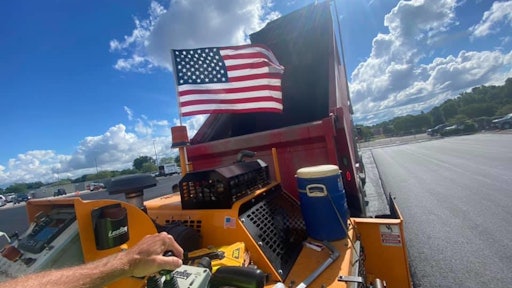 Edward James/Facebook
On June 24th, a bipartisan group of senators who have been working on an infrastructure plan reached a deal with President Biden who announced the $1.2 trillion plan would move forward. The White House's long sought-after bipartisan infrastructure deal could hit the Senate floor as early as the week of July 19, according to multiple House and Senate Democratic sources. The bipartisan group of negotiators is still working to turn their eight-year framework into legislation but they are working with the administration to have the plan ready for floor consideration as early as the next two weeks.
The Senate is in the middle of the two-week July 4 recess, but Politico reports that Democrats are feeling a sense of urgency to move an infrastructure package through Congress. Reports indicate that the bipartisan lawmakers have split into specific sub-groups focused on pieces of policy like broadband or financing and are moving rapidly to turn that into legislative language during their break. The group are aiming to draft their legislative language by next week in preparation for floor action.
The lawmakers are still trying to figure out how exactly to make their revenue sources, which include no new taxes, cover nearly $600 billion in new spending. Before breaking for July 4, senators settled on using infrastructure privatization and unused coronavirus aid and unspent unemployment benefits to help pay for the legislation.
What's Next?
The Senate will return on Monday, with lawmakers scheduled to stay in town through the first week of August. That means the bipartisan deal could come to the floor as soon as the second week in session.
Senate Majority Leader Charles Schumer (D-NY) has said he wants to  move on both the bipartisan plan and the budget resolution during the upcoming July/August Senate session. This plan will set the stage for a "massive party-line spending bill, which would likely wait until the fall for passage," The Hill reports. The two spending bills are considered complementary by Democrats, one written by centrists in both parties for hard infrastructure, and the other a partisan spending package focusing on climate change, childcare and potentially other items like immigration reform, Medicare expansion and drug prices.  
Republicans have warned against this bipartisan plan being linked to the separate, significantly larger package that Democrats are going to try to pass along party lines that will encompass broad swaths of Biden's jobs and families plans and potentially go further. Schumer has said that he will move both the budget resolution and the bipartisan deal during the upcoming work period, but hasn't announced the sequencing of which he will bring to the floor first. 
Senate Budget Committee Democrats are aiming to have both an overall spending number and the party's priorities for that massive bill laid out by early next week. That number must strike a balance between Chairman Bernie Sanders (I-VT) and his most moderate member, Sen. Mark Warner (D-VA). Sanders wants to spend as much as $6 trillion, a number that's run into some resistance from moderate Democrats, who prefer something closer to $2 trillion. Democrats would use reconciliation to pass this type of package. 
Senate GOP Leader Mitch McConnell (R-KY) vowed in Kentucky this week that Republicans would wage a "hell of a fight" over Democrats' plan to use reconciliation to pass the more sweeping infrastructure package along party lines.  
"There is a process by which they could pass this without a single Republican," he said. "But we're going to make it hard for them. And there are a few Democrats left in rural American and some others who would like to be more in the political center who may find this offensive." 
What About Surface Reauthorization?
On September 30th, less than three months from now, the FAST Act expires. The Fixing America's Surface Transportation (FAST) Act, signed in 2015, was the first federal law in over a decade to provide long-term funding certainty for surface transportation infrastructure planning and investment. With its expiration looming over the industry for years, funding certainty has been a struggle causing many project to be delayed or even cancelled. 
Last week, the House advanced H.R. 3684, the INVEST in America Act, a partisan infrastructure bill that barely passed with a vote of 221-201. H.R. 3684 is a $715 billion surface transportation reauthorization and water infrastructure bill is intended to help shape the larger infrastructure package and would reauthorize surface transportation programs that are set to expire this year.
Democrats hailed it as a monumental shift toward more sustainable infrastructure projects, with Republicans warning of lost jobs and a skyrocketing federal debt. This bill is not expected to become law and is separate from the bipartisan infrastructure negotiations that are happening with the White House and Senators. 
Meanwhile, the September 30th deadline looms. 
The Surface Transportation Reauthorization Act of 2021 (STRA) bill was unanimously passed by the Senate Environment and Public Works (EPW) Committee last month but progress has stalled.
The EPW surface reauthorization bill would increase federal highway investment by 34 percent while pursuing important environmental review and approval process reforms. The bill would also protect infrastructure assets from future natural disasters, preserve state flexibility and improve the safety of the country's transportation assets.
The industry is urging a long-term reauthorization well before September and hopeful there will not be another one-year extension as was passed in 2020. Short-term extensions generate significant disruptions and uncertainty for state transportation programs and the people and businesses relying on infrastructure development. The industry will continue to push for progress to be made on the STRA with a full surface transportation reauthorization bill ready for floor consideration before the August state work period ends.
Stay tuned to ForConstructionPros.com for the latest on infrastructure funding.