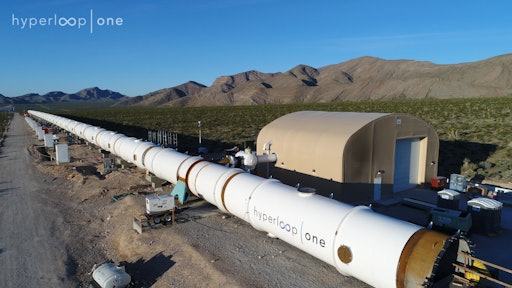 Hyperloop One, the only company in the world that has built a full-scale Hyperloop system, announced the winners of its Hyperloop One Global Challenge to identify the strongest new Hyperloop routes in the world. Following a close assessment of the proposals by a panel of experts in infrastructure, technology and transportation, 10 teams from five countries were chosen from among hundreds of applicants. Hyperloop One will commit meaningful business and engineering resources and work closely with each of the winning teams/routes to determine their commercial viability. Additionally, as a direct result of the Global Challenge, Hyperloop One and the Colorado Department of Transportation (CDOT), with support from AECOM, will enter a public private partnership to begin a feasibility study in Colorado.
The potential United States routes include:
Cheyenne-Denver-Pueblo

Chicago-Columbus-Pittsburgh

Miami-Orlando

Dallas-Houston



Hyperloop One will now work closely with each winning team to validate and analyze their proposals further, and provide initial ridership forecasts, business case and preliminary technical analysis of the route and corridor, tailored to the needs of the individual route. Hyperloop One's business and technical leaders will host in-country workshops with each team, and connect them with Hyperloop One's global partner network to sharpen the feasibility and scope of the potential routes. Another 11 finalist teams will continue to develop their proposals with the support of Hyperloop One.
Hyperloop One and the Colorado Department of Transportation, supported by AECOM, will enter into a public-private partnership that will begin a feasibility study that examines transportation demand, economic benefits, proposed routes and potential strategies, regulatory environments and alignment with overall CDOT high-speed travel, rail and freight plans.