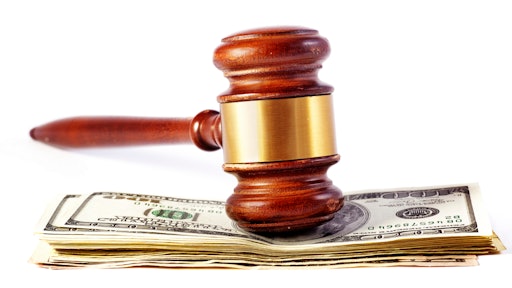 ISTOCK/GETTY IMAGES
Every week there seems to be yet another item in the news about contractors being charged with fraud, wage theft and more. This week is no different, unfortunately. 
In Arkansas, Matthew Beasley, President of Cobas, Inc. construction company in Conway, AK, was sentenced to 36 months in federal prison for defrauding a bank by creating fraudulent invoices. According to the Unisted Sates Department of Justice press release, Cobas would perform construction work for other companies and send invoices for that work. While waiting for the invoices to be paid, Cobas would also submit the invoices to Centennial Bank, which would advance a percentage of the invoice to Cobas, according to the press release. Then in 2016, Beasley began submitting fraudulent invoices to Centennial Bank to receive advance payments. He submitted 17 fraudulent invoices for approximately $2,911,617. In addition to his prison time, Beasley will also face two year of supervised release and must pay back $2.019.773.36 in restitution.
(read ore on the case against Beasley...)

A woman from Greenlawn, NY, was charged with stealing $200,000 from the construction company where she worked. Jennifer Toscano, an employee of SNL Construction, allegedly wrote herself five checks totaling about $200,000 between July and November 2018. She is also charged with altering business records to cover up the theft. She is being charged with second-degree grand larceny, second-degree possession of a forged instrument and first-degree falsifying business records.
(read more on the charges against Toscano...)

Meanwhile in Massachusetts, a state that has been under scrutiny for construction wage theft, Attorney General Maura Healy issued 165 civil citations against 66 construction companies in 2018. According to a press release from the Attorney General, restitution in 2018 exceeded $1.47 million for more than 1,030 employees, and the companies were fined more than $1.23 million.
Wage Theft Big Problem in Massachusetts Construction Industry

Violations included:
Failure to page proper wages
Failure to pay overtime
Retaliation
Failure to furnish records for inspection
Failure to pay prevailing wage
failure to submit true and accurate certified payroll records
Failure to register and pay apprentices appropriately

"Workers in the construction industry are particularly vulnerable to wage theft from dishonest contractors who cheat their workers," said AG Healey. "As Massachusetts undergoes a historic construction boom, my office will continue to fight for exploited workers and ensure they are paid the wages they earn."
(read more on Massachusetts' 2018 construction wage theft penalties...)
Here are some additional recent stories on wage theft and fraud in the construction industry:
Turner Construction, Bloomberg Targets of Fraud Investigation
Former HERC Solutions President Sentenced to Prison for Defrauding State Department
WI Contractor Accused of $200M Fraud, Money Laundering Scheme
CA Advances Bill That Would Make Builders Responsible for Subcontractor Wage Theft