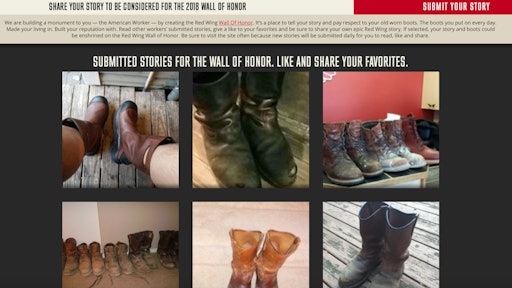 Red Wing Shoe Company unveiled its Wall of Honor, a monument that features epic stories about skilled laborers and their Red Wing boots, in the honorees' own words. The Wall of Honor pays tribute to those who have handled some of the toughest jobs such as delivering goods and services across ports and seaways as a U.S. Merchant Marine; installing the spire atop the Willis Tower in Chicago; and the cleanup at ground zero after the 9/11 attacks. 
Red Wing asked for customer stories in the summer of 2017, and after receiving nearly 500 submissions, selected 32 to highlight, along with their boots, on a permanent, physical Wall of Honor at its flagship store in Red Wing, MN. In addition, a virtual experience can be found at www.redwingamericaworking.com where the honorees' impressive tales — surviving jobsite accidents, repairing public services during dangerous storms or simply getting up each morning for decades knowing a trusted pair of boots would provide safety and comfort — are featured.
"We receive thousands of notes every year from workers sharing their Red Wing stories — and often times their boots — the Wall of Honor was created to honor these customers," says Dave Schneider, chief marketing officer at Red Wing Shoe Company who conceived the Wall of Honor. "Our customers tell us their Red Wing boots are like tools in their tool belt. We are touched by the amount of love our brand receives, and it felt right to provide a space where their stories can live forever, paying respect to our customers' boots and the remarkable work they have accomplished in their communities." 
Since its founding in 1905, Red Wing has focused on providing purpose-built footwear designed to handle and outlast all kinds of demanding work without sacrificing comfort. To that end, the Wall of Honor chronicles work from several industries including commercial and residential construction, energy, manufacturing and public services. 
Submissions are open for the 2019 Wall of Honor at www.redwingamericaworking.com.