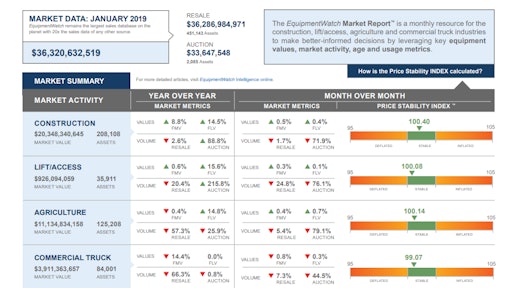 In the February Market Report, more than 450k assets with the total market value of $36.3 billion were analyzed. Resale and auction prices both increased from December to January, rising by 0.5% and 0.4%, respectively. Auction has increased almost 15% from January of 2018, while resale has gone up by almost 9% over the same time frame.
The average utilization in resale and auction channels remained even from December to January, while average age increased in both channels in the same time frame. Auction market activity decreased by almost 72% from December to January, while resale market activity also decreased, but by only 1.7%. Year-over-year market activity was up by almost 90% for auction. The overall number of assets increased by about 15% from December to January, while overall market value increased by over 20% month-over-month.
FMVs in the construction channel should remain relatively even in February, while FLVs should increase and auction market activity should have very large increases with the large auctions occurring.
The EquipmentWatch Market Report is the authoritative resource for heavy equipment market insights. A monthly analysis of key market performance indicators covering construction, lift/access, agriculture and commercial truck industries.
For more market analysis, download the full market report here: : https://equipmentwatch.com/downloads/market-report/?utm_source=RentalWatch%20newsletter&utm_campaign=Feb%20Market%20Report