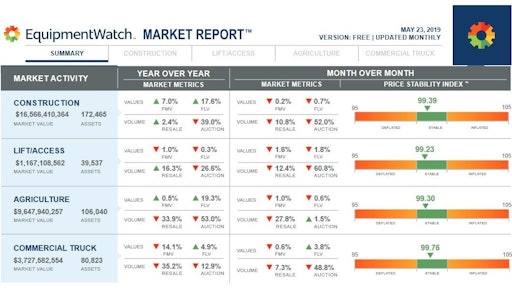 EquipmentWatch released its May Market Report, saying values of machines in the company's "Construction" classification, "Both FMV (fair market value) and FLV (forced liquidation value) declined again in April, this time dropping by 0.2% and 0.7%, respectively. Year-over-year values remain higher in both resale and auction markets."
Year-over-year values are up 7.0% (FMV) and 17.6% (FLV). 
In the EquipmentWatch "Lift/Access" equipment category, "FMV and FLV in the month of April both saw notable decreases, going down 1.6% and 1.8%, respectively. This coincided with drops in both resale and auction market activity."
"Average FMV for used commercial trucks continued to decline, dropping another 0.6% in April 2019. However, this is expected given the high demand (and backlog) for new Class 7 and 8 vehicles in North America. Average FLV and auction activity normalized in April 2019 after a seasonally strong month in March."
Download the free report for more insight...