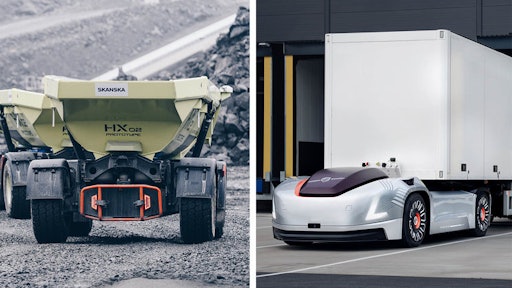 Volvo Construction Equipment (Volvo CE) reported a modest decrease in sales and operating income in the third quarter of 2019, noting that the long period of strong growth in the market for construction equipment appears to have come to an end. However, it also reported the continuation of its R&D efforts during the period and announced the next phase of its plans to expand its autonomous transport solutions.
Volvo CE reported a 4% decrease in net sales in Q3 2019 to $1.85 billion USD (17,921 M SEK). Operating income also dipped slightly to approximately $225,425 USD (2,180 M SEK) vs. the roughly $267,600 USD (2,587 M SEK) reported in the same period in 2018. According to the company, profitability was hindered by brand, market and product mix, as well as higher R&D and selling expenses. Net order intake decreased 9% compared with the same quarter in 2018. Deliveries decreased by 2%, to 16,460 machines.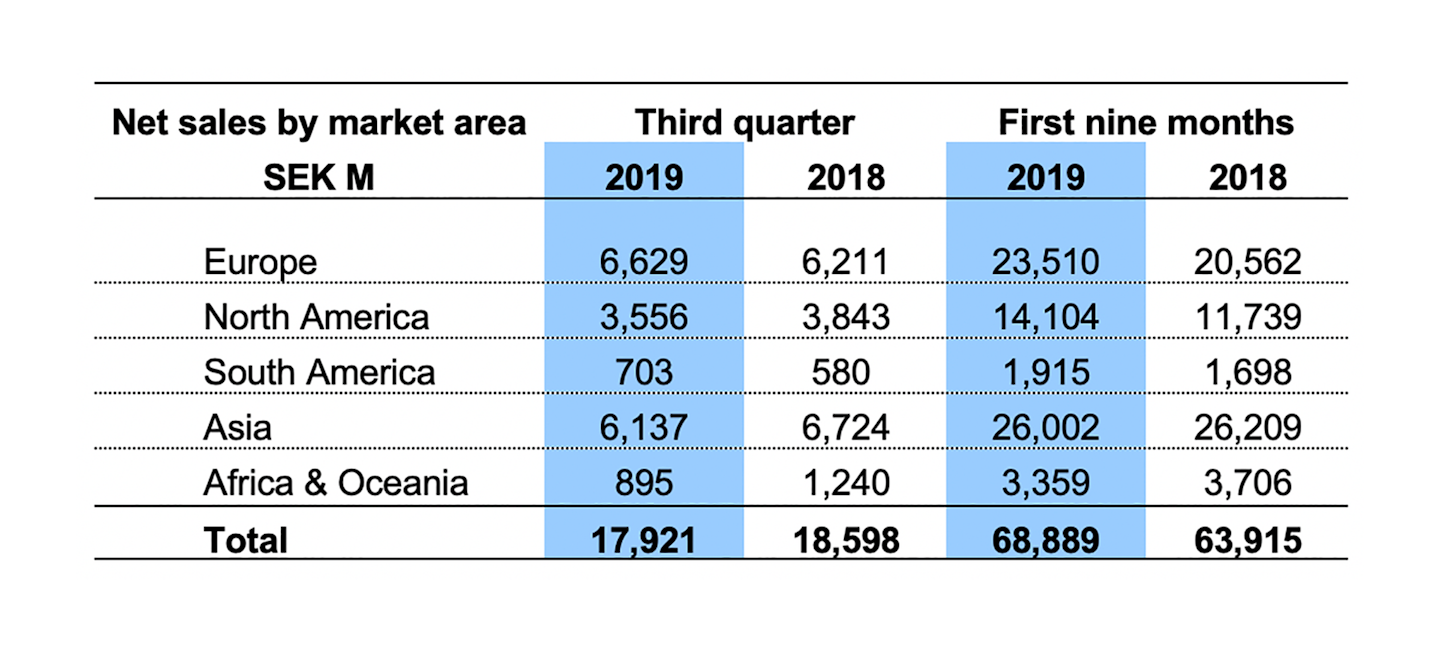 Volvo Construction Equipment net sales by market area in Millions of Swedish Krona (SEK).

Through the end of August, Volvo CE saw:
the European market up 4% over the same period in 2018, driven by stable growth in Russia, Germany and Italy;
North America up 7% based on demand for large excavators, haulers and wheel loaders
South America up 10%, driven by strength in Brazil;
Asia (excluding China) drop 11% across all markets;
and China up  7% over 2018, due in part to increased sales of compact excavators.
"After several years of high market levels, demand for construction equipment is slowing down," commented Melker Jernberg, President of Volvo CE. "Although many markets are coming off their previous high levels, we expect the underlying need for infrastructure development in many markets to support the industry in the longer term."
Expansion in Autonomous Transport
Despite the slowdown, Volvo CE sees opportunity ahead in autonomy. It announced it has signed a contract for the first commercial pilot of its autonomous battery-electric load carrier. The trials will be conducted with customer Harsco Environmental in Sweden, and represent the next stage in the process of industrializing the technology.
Separately, the Volvo Group announced creation of a new business area, Volvo Autonomous Solutions, to accelerate the development, commercialization and sales of autonomous transport solutions. The new business area will allow the organization to meet growing demand and to offer the optimal solutions to customers in such segments as mining, ports and transport between logistics centers.
"We have experienced a significant increase in inquiries from customers. With the Volvo Group's wide range of offerings and broad experience of different applications, we have a unique opportunity to offer solutions that meet their specific needs. It is a logical next step for us to gather expertise and resources in a new business area with profit and loss responsibility to take autonomous transport solutions to the next level," says Martin Lundstedt, Volvo Group President and CEO.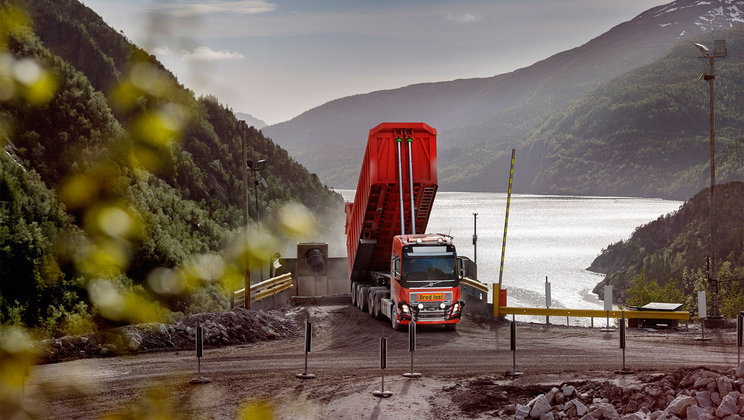 Autonomous Volvo FH trucks are being tested, transporting limestone along a 5-km stretch at the Brønnøy Kalk mine in Norway.

The Volvo Group has already demonstrated a number of different autonomous transport solutions. Its Electric Site project at Skanska's Vikan Kross quarry, near Gothenburg, Sweden, reported a 98% reduction in carbon emissions, a 70% reduction in energy cost and a 40% reduction in operator cost. At the Brønnøy Kalk mine in Norway, autonomous Volvo FH trucks will be used in commercial operation to transport limestone along a 5-km stretch.
Volvo Autonomous Solutions will become a new business area as of January 1, 2020, with financial results reported as part of the Truck segment.