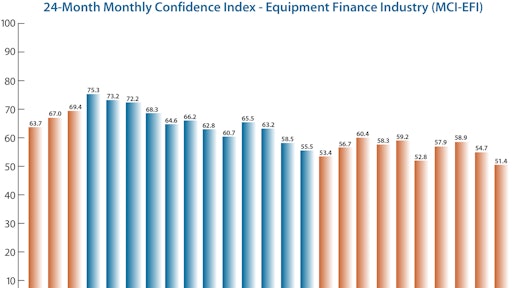 The October 2019 Monthly Confidence Index for the Equipment Finance Industry (MCI-EFI) came in at 51.4, a measurable decrease from the September index of 54.7. Released by the Equipment Leasing & Finance Foundation (the Foundation), the index reports a qualitative assessment of both the prevailing business conditions and expectations for the future as reported by key executives from the $1 trillion equipment finance sector.
"We still see continued demand for certain classes of replacement equipment," noted survey respondent Valerie Hayes Jester, president, Brandywine Capital Associates, Inc., when asked about the outlook for the future. Yet, there is cause for concern. "Our customers who have any cross-border interests seem to be postponing acquisitions due to uncertainty with trade issues and tariffs. The recent events in Washington could provide some headwinds to a strong fourth quarter."
"I'm optimistic that the consumer remains healthy, with low unemployment and relatively low personal debt," stated Quentin Cote, CLFP, President, Mintaka Financial, LLC, adding, "I'm concerned that the trade wars are starting to have effect on the economy, starting with transportation."
Survey Results
When asked to assess their business conditions over the next four months:
9.7% of executives responding said they believe business conditions will improve, down from 10.3% in September. 71% of respondents believe business conditions will remain the same, a decrease from 75.9% the previous month. 19.4% believe business conditions will worsen, up from 13.8% in September.
13.3% of the survey respondents believe demand for leases and loans to fund capital expenditures (capex) will increase, unchanged from September. 73.3% believe demand will "remain the same" during the same four-month time period, a decrease from 76.7% the previous month. 13.3% believe demand will decline, up from 10% in September.
16.7% of the respondents expect more access to capital to fund equipment acquisitions, unchanged from September. 80% of executives indicate they expect the "same" access to capital to fund business, a decrease from 83.3% last month. 3.3% expect "less" access to capital, an increase from none in September.
16.1% of the executives report they expect to hire more employees, a decrease from 30% in September. 71% expect no change in headcount, an increase from 63.3% last month. 12.9% expect to hire fewer employees, up from 6.7% the previous month.
19.4% of the leadership evaluate the current U.S. economy as "excellent," and 80.7% of the leadership evaluate the current U.S. economy as "fair," both relatively unchanged from the previous month. None evaluate it as "poor," unchanged from last month.
When asked to assess business conditions over the next six months:
3.2% of the survey respondents believe that U.S. economic conditions will get "better," unchanged from September. 58.1% of survey respondents indicate they believe the U.S. economy will "stay the same," a decrease from 70% the previous month. 38.7% believe economic conditions in the U.S. will worsen, an increase from 26.7% in September.
25.8% of respondents indicate they believe their company will increase spending on business development activities, a decrease from 26.7% last month. 71% believe there will be "no change" in business development spending, an increase from 70% in September. 3.2% believe there will be a decrease in spending, unchanged from last month.
Q4 Update Forecasts 3.9% Expansion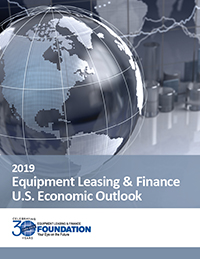 Equipment and software investment growth decelerated during the second consecutive quarter and is expected to moderate at 3.9%, according to the Q4 Update to the 2019 Equipment Leasing & Finance U.S. Economic Outlook. This is unchanged from the Q3 Update of the Economic Outlook published in July.
Overall, the economy is expected to expand 2.2%, down from the previous estimate of 2.5%, with growth driven primarily by consumer spending.
"While we continue to expect both the overall economy and equipment and software investment to moderate this year, they should remain positive," said Jeffry D. Elliott, foundation chairman and senior managing director, Huntington Equipment Finance. "Measures of consumer optimism have declined in recent months, though remain high by historical standards, reflecting a strong labor market and solid wage growth."
Highlights from the report include:
Capital spending has been noticeably weaker in 2019 and may slow further over the remainder of the year due to heightened trade uncertainty and industrial sector weakness. However, credit market conditions remain healthy despite tightening credit conditions for commercial real estate and consumer loans and somewhat weaker demand for business loans. Financial stress has ticked up in 2019 by most measures but remains at healthy levels overall.
U.S. economic growth decelerated to 2.0 percent in the second quarter, down from to 3.1 percent growth in Q1. Consumer spending improved significantly and is a key driver of economic growth. However, the manufacturing sector and business investment remain weak. Although robust consumer spending will likely remain a tailwind over the remainder of the year and the U.S. housing sector is showing signs of improvement, trade tensions with China, equity market volatility, and decelerating job creation are key potential risks as 2019 draws to a close.
The Foundation-Keybridge U.S. Equipment & Software Investment Momentum Monitor, included in the report, tracks 12 equipment and software investment verticals. In addition, the Momentum Monitor Sector Matrix provides a customized data visualization of current values of each of the 12 verticals based on recent momentum and historical strength. Momentum readings are below the long-term historical average in 8 of 12 verticals, however 7 of the 12 verticals saw recent momentum accelerate in October
Of those relevant to the heavy equipment market segment, over the next three to six months:
Agricultural machinery investment growth should improve
Construction machinery investment growth is likely to grow at a moderate pace
Materials handling equipment investment growth will likely remain weak
All other industrial equipment investment growth is likely to remain modest Mining and oilfield machinery investment growth is likely to remain weak
Trucks investment growth is expected to remain positive
Download the full report at https://www.leasefoundation.org/industry-resources/u-s-economic-outlook/.