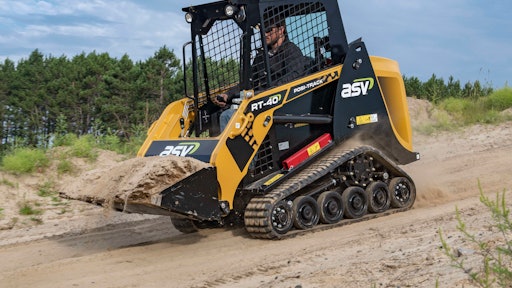 ASV Holdings Inc., a leading manufacturer of all-purpose and all-season compact track loaders and skid steers, plans to feature its RT-40 Posi-Track loader at the ARA Show 2020 in Orlando, FL, February 9-12.
"The industry has never seen power like this in a machine the size of the RT-40. It's a powerhouse," said Justin Rupar, ASV Holdings Inc. vice president of sales and marketing. "The machine features remarkable performance for its 4-ft. width. This means our customers can complete work faster, better and more comfortably in restricted areas."
Featuring a compact size, the RT-40 provides a productive alternative to walk-behind and stand-on mini skid-steer loaders for rental applications, homeowners or contractors working in tight spaces for anything from urban snow clearing to landscaping. The 37.5-hp, 4,175-lb. unit features a rated operating capacity of 931 lbs. and a tipping load of 2,660 lbs. and comes equipped with the company's patented Posi-Track system.