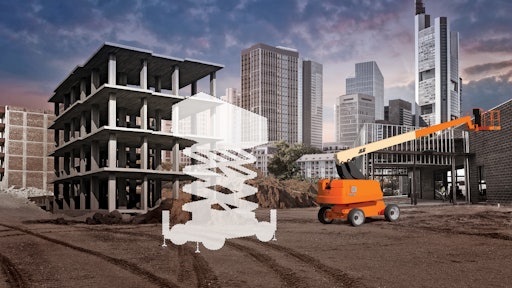 JLG
Hearing about the autonomous work sites of the future, where machines communicate with each other and the people that manage them, can sound like some far-off concept that's still years down the road. But it's actually closer than you think as technological advancements continue to redefine expectations and experiences in nearly every aspect of the construction industry — including access equipment such as mobile elevating work platforms (MEWPs). As the industry continues to take steps toward connected jobsites, today's MEWP users are seeking new opportunities to interact with these machines.
While a fully autonomous jobsite may be in the distant future, MEWP users are embracing "moments of autonomy" through their already connected devices that can solve some of the most common industry challenges, like simplifying project planning, improving fleet management and enhancing training, while driving safety and productivity gains.
By increasing fleet connectivity in ways that are fairly simple to implement, the industry can take advantage of new, innovative technologies that give MEWP end users the power to execute a variety of virtual tasks, such as equipment selection, operator training and awareness, jobsite planning and fleet management.
Equipment Selection
Every jobsite has its unique specifications and requirements, which means that selecting the right MEWP for the application can often be challenging. Choosing the right machine can lead to a productive day's work, whereas having the wrong machine on site can lead to unexpected delays or inefficiencies.
Augmented reality (AR) technology can make machine selection more intuitive. For example, innovative AR apps available in the market can offer machine visualization that enables users to place "to-scale" 3D machine models into the actual work environments they will be used in. Users can then virtually move a selected MEWP through doorways, into small spaces and/or around obstacles to help determine if the particular machine can be used in the space it will need to maneuver. 
In addition, this type of AR app can allow for accessory visualization. Users can see the various options and accessories available for the selected MEWP in order to better visualize what may be needed to further enhance productivity on the jobsite.
Operator Training and Awareness
While AR is making great strides with machine visualization and selection, virtual reality (VR) technology continues to advance equipment training. Life-like simulators provide trainees the opportunity to improve controls familiarization and practice operating equipment long before stepping foot into a physical machine. This experiential form of training takes users onto virtual jobsites, helping to build operator confidence in advance of physical machine use.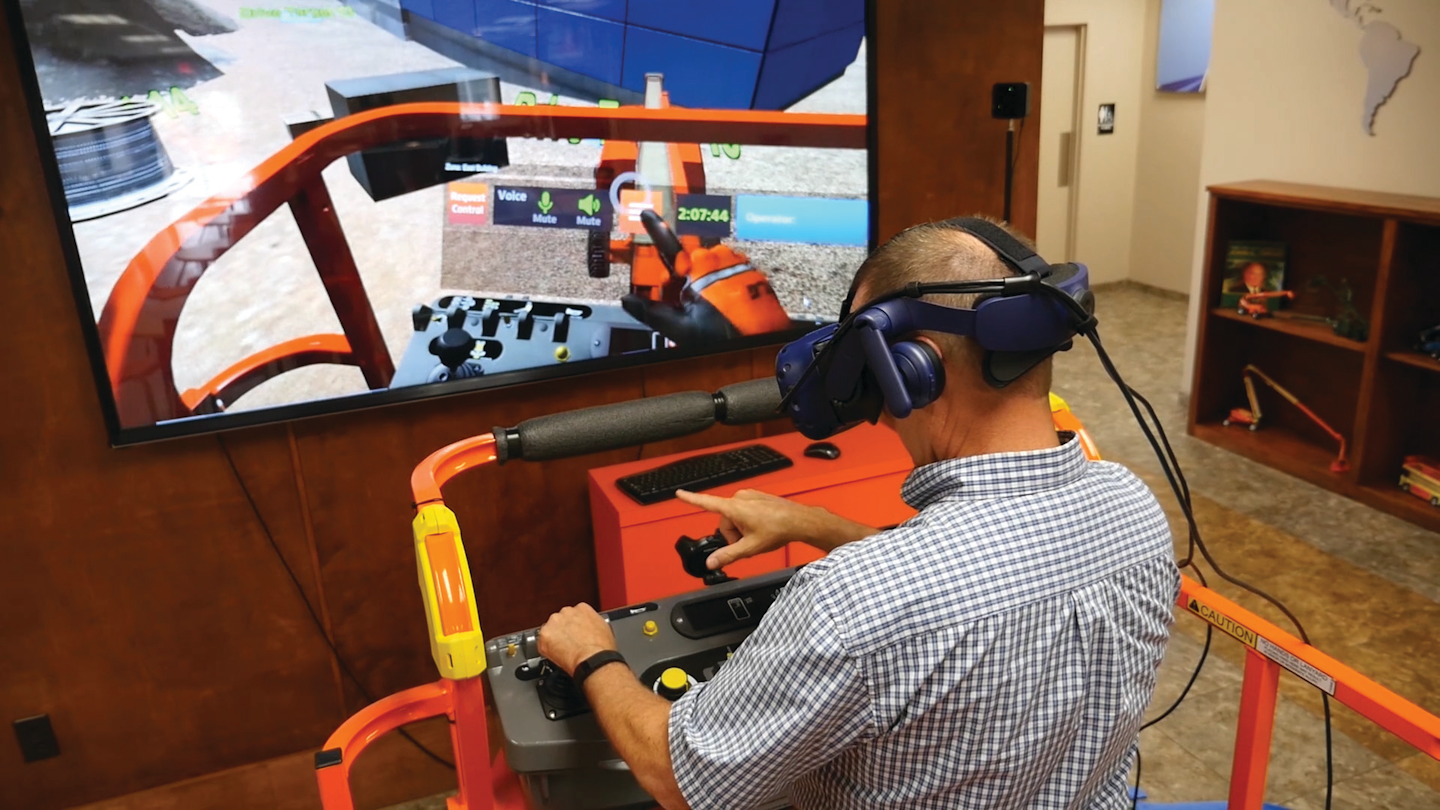 Life-like simulators, such as JLG's AccessReady XR, enable trainees to improve controls familiarization and practice operating equipment before stepping foot into a machine.JLGFor example, some of the latest advances in virtual training from MEWP original equipment manufacturers (OEMs) include a MEWP platform that simulates the actual movement an operator experiences while operating the machine. Trainers using VR tools like this can select from various jobsite scenarios or build customized scenarios based on the skill level of the user or specific application training that may be required. 
New technology is also available to help make MEWP operators more aware on the jobsite by giving them a better sense of their immediate surroundings. For example, electronic detection systems can equip MEWPs with sensors that provide visual and audio alerts informing operators that the MEWP is approaching a structure, increasing protection of people and property.
Jobsite Planning
Technology can also be used to preplan for upcoming projects and make informed decisions about the jobsite. For example, building information modeling (BIM) can transform the traditionally siloed architecture, engineering and construction disciplines to work together more efficiently with integrated workflows. How? Because it is an intelligent 3D equipment model with specification information that provides architects, design engineers and construction professionals the ability to work collaboratively throughout the early bidding, planning and design stages of a project to better plan for the construction phase.
Using OEM models ensures MEWP users have the benefit of the most up-to-date specifications, so models look and act as the real equipment would on the job. OEM-specific BIM libraries allow architects and design engineers to utilize exact MEWP models at the earliest stages of a construction project to assure that design elements can be accessed throughout construction, then maintained post construction. For example, MEWP BIM models that contain machine specifications ensure that the equipment selected is suitable for both the short- and long-term work at hand.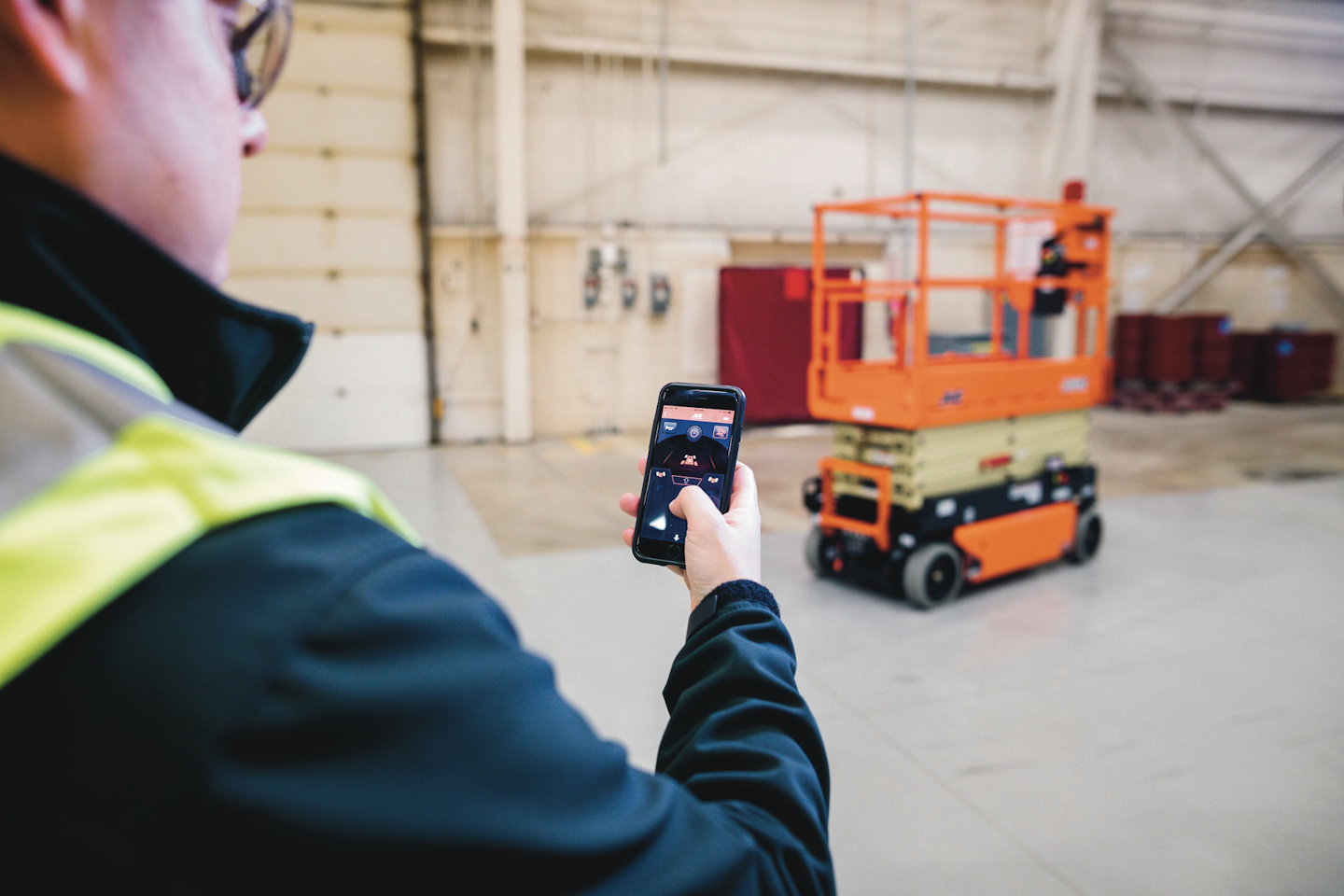 Mobile apps can offer remote control of a MEWP without tethering to the machine, allowing users to maintain a safe distance when needed.JLGOnce a MEWP is selected, mobile apps can improve the operator's experience with the machine before work begins. For example, OEM AR apps enable users to scan the MEWP's safety decals in order to get the current information on ISO symbols, as well as to see an overlay of a specific machine's control panel with explanations of its functions prior to machine operation.
Mobile apps can also offer remote control of a MEWP without tethering to the machine. This allows users to maintain a safe distance from the machine while maneuvering it around obstacles, positioning it into areas with low clearance and loading/unloading it from trucks. It eliminates the need for an operator in the platform or walking next to the machine.
Technology aids aren't just for the equipment operator. For example, an OEM's AR app can provide service technicians with virtual overviews of a machine's components that need to be inspected, repaired or replaced.
Fleet Management
Typically, most construction jobs run on tight margins, and MEWP operators must often complete one particular aspect of a project before they can start on the next. Therefore, if equipment breaks down or requires service, entire projects can fall behind. Telematics technology can help address these challenges by giving visibility to the equipment's location and operating condition any time of the day or night. As a result, it is easier to be more proactive when it comes to maintenance.
For example, telematics enables service departments to remotely assess a MEWP's setup and personalities to diagnose qualitative operational issues and review fault codes. This allows techs to proactively assess whether a service call is needed.
Remote diagnostics also allow techs to be more efficient with their time on the jobsite by ensuring they arrive with the necessary materials to complete the work. These advancements can help contractors save labor costs while increasing machine uptime.
In addition to improving service calls with remote diagnostics, telematics data makes it possible for fleet managers and equipment owners to quickly receive actionable diagnostic information on a MEWP's battery and charger system, which can help owners and operators follow best charge/discharge practices to improve battery life. Additionally, it can help to reduce the majority of battery replacements, which are often performed erroneously due to a lack of actionable data.
Looking Ahead
One of the best ways to continue advancing the construction industry forward with technology is for OEMs, such as JLG, to develop solutions and tools that create "moments of autonomy" on aerial sites, taking steps toward connected jobsites through practical and digestible features and applications.