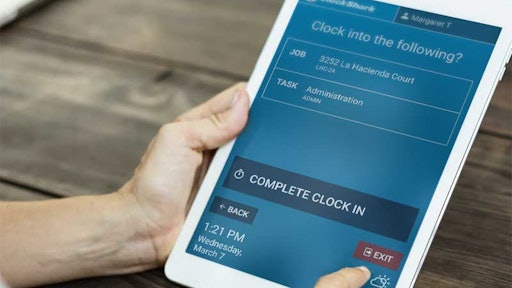 Clockshark
By Jonathan Barnes, Contributing Editor
Labor costs are simply too high and too crucial to managing today's construction projects, and estimating future ones, to trust to paper time sheets completed by a project supervisor at the end of a long day or week. Current technologies – mobile apps, software and hardware options – can automate meticulous timekeeping, improving accuracy and eliminating job-site paperwork. Improving your firm's cost control and employee retention in this tough labor market begins with picking the right software.
Evaluating Timekeeping Needs
Time tracking software generally asks each worker to enter data such as start time, end time and time devoted to specific tasks. Some of this administration can be at least partly automated by the software, eliminating steps employees might have to accomplish, or might forget, like remembering to clock in or out. It's accomplished partly with GPS tracking, allowing the boss to see where employees are working at any time. Pre-set reminders can tell workers when to clock in and out, and parameters can be set to allow one or several employees to clock in and out on the same cell phone or tablet.
But how does an employer overcome the Big Brother stigma sometimes associated with GPS tracking technology applied to individuals? Privacy issues can arise from tracking employees' movements in detail. It's an issue that can be overcome with careful management of the technology and its positioning with labor.
Successful implementations of GPS-based labor-tracking systems typically find the data actually supports the opposite effect of privacy invasion. Accurate information eliminates confusion and potential suspicion by making labor time information accurate and transparent. It improves traditional management-centric time tracking, reducing errors and round-ups in employee work hours.
Of course, GPS isn't the only way to automate time tracking. Using RFID tags and readers, or Bluetooth readers can effectively identify a worker's time in various work zones without recording their every step. Some contractors find the investment solves privacy concerns with profitable results.
Ultimate return on investment generally relies on integrating the data from time-tracking tools with enterprise software, project-management, or payroll software. Integration allows data from the time-tracking app to automatically populate essential fields in the other software accurately and quickly, removing the need and risk of errors associated with entering the same data into more than one app. Accurate time data compiled and fed to project-management software, for example, offers contractors unprecendented insights into employees' work processes, generating increasingly effective data for improving production, tracking safety, planning training, improving estimating and more.
Timekeeping software, when paired with timestamped photos, is an excellent way to keep workers on task. It also can provide important documentation of tasks completed. The combination of images and time data can also speed resolution of disputes by communicating the problem more effectively with offsite managers.
Savings from use of a time-tracking tool can add up fast. If scheduling a project is difficult because you are still using a paper-based process, or hours are piling up without greater productivity, a time-tracking tool may be needed. To determine if you need time tracking software, get the data.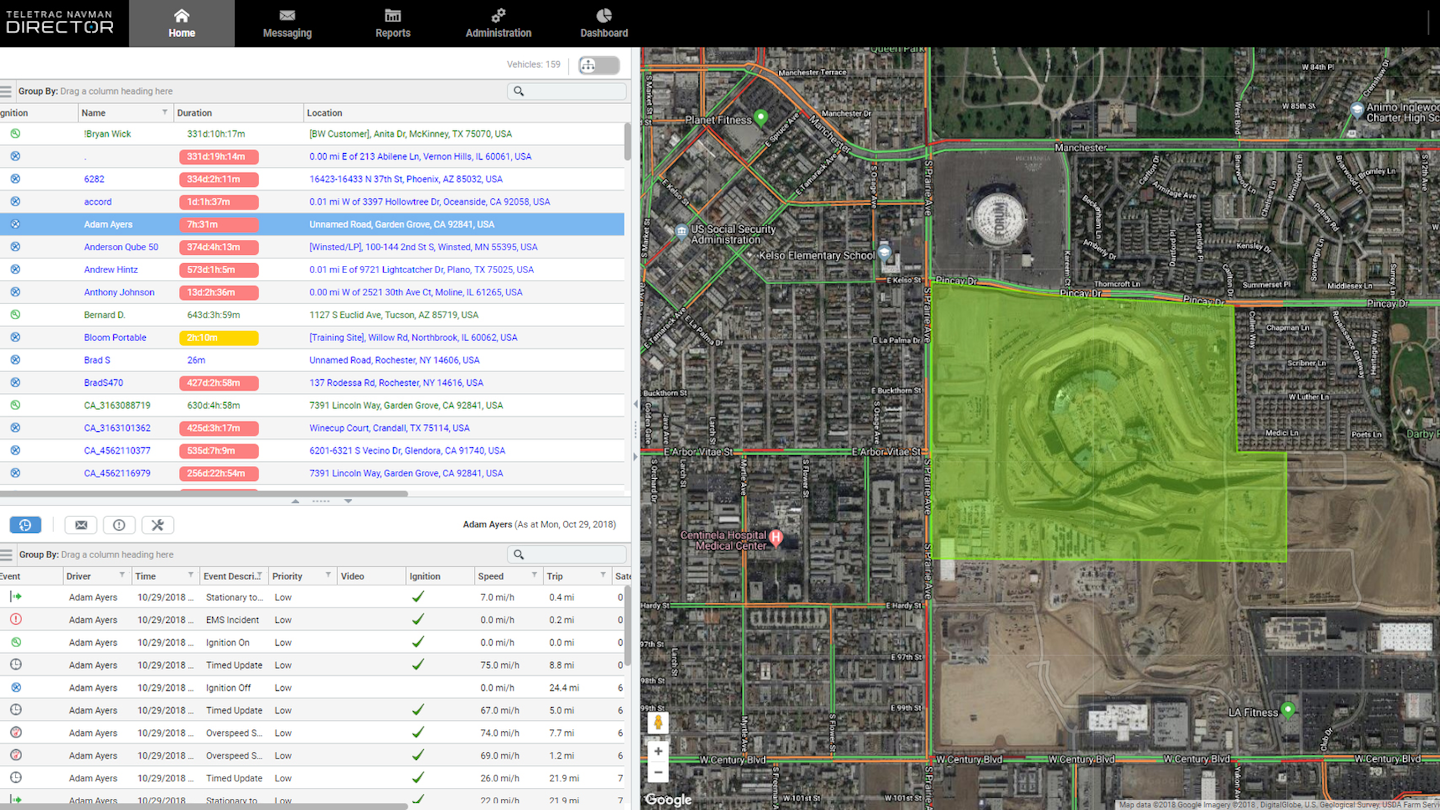 "Ask employees: what about time-tracking frustrates them?" says Mika Majapuo, director of product management for Teletrac Navman. "By shadowing workers, managers can look for inefficiencies, delays, extra administrative work, mistakes and productivity issues."Teletrac Navman
"Ask employees: what about time-tracking frustrates them? What do they need to accomplish and how long do those tasks take?" says Mika Majapuo, director of product management for Teletrac Navman. "By shadowing workers, managers can look for inefficiencies, delays, extra administrative work, mistakes and productivity issues."
"Exorbitant payroll, lost paper time cards, inaccurate job costing – once a company has these problems, they need a solution," says Cliff Mitchell, CEO of ClockShark. "When a company recognizes their need for a time tracking tool, they should carefully research all options available."
The solution could turn out to be fairly simple.
Time tracking software can cost as little as about $10 per month, per user, Majapuo says. "We offer different packages, so customers only pay for features they actually use. Our solutions are meant for actual users, or managers and a consultant," she says.
Pricing of such software varies by user and often includes a monthly fee.
"At ClockShark, pricing is $5 per user per month, plus a $25 monthly base fee. For those committed to using their software, providers will offer an annual discount," Mitchell says.
Time tracking software is a smart idea for any company, regardless of size, Mitchell says. "ClockShark's customers range from two-person companies, to large engineering firms. The common link is every company needs profitability, and reliable time tracking software ensures that money and time don't go missing," he says.
Small contractor Dustin Buckingham, of Buckingham Electric, was tired of dealing with cumbersome payrolls, which were filled out partly from the information provided by employees on their own. "Time sheets [filled by employees] were hard to read, job numbers didn't match, and time sheets were handed in at the last minute," he says.
Adopting ClockShark's Time Tracking and Scheduling Software made a big difference for Buckingham, since the tool uses mobile apps to manage time tracking and speed tasks. Making it simple for employees to accurately and quickly fill out time sheets was a problem-solver.
"We now resolve timecard issues quickly, while jobs are fresh in our employees' minds. And if we go over budget on hours, ClockShark lets me know," Buckingham says.
While the dollar cost of such software is low, these tools are not equally user-friendly, and adoption times vary. That's why doing research and finding the right solution is paramount.
Simpler solutions are available for companies that don't need the breadth of functionality. But they should find the right fit by trying many tools, and by considering reviews.
ClockShark was named Capterra's "Best Ease of Use" time tracking app in 2018.
"Using a third-party review site like Capterra or G2 Crowd to read user reviews allows a company to easily see if a time tracking software is friendly and intuitive," Mitchell says.