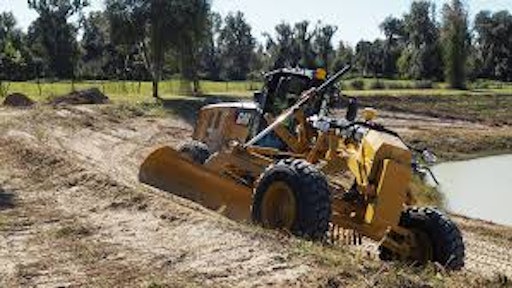 Construction has long relied on tried-and-true methods to survey terrain, maneuver equipment, train workers and perform other tasks. But in recent years, a spate of digital-based technologies have turned construction into a hotbed of high technology. These technologies are enabling operators to more precisely survey and plan the elements of a construction project, perform various construction tasks, and develop and maintain a vital database of construction fleet data.
Whether it be high-tech grade positioning, Building Information Modeling systems, telematics, remote control, or 3D printing, these technologies are available now. The initial investments construction companies make in these technologies will be repaid in faster, more streamlined project deployment, fewer errors in the field, improved fleet maintenance and more efficient labor deployment.
BIM eases project planning
With construction projects becoming more complex and desired time windows to completion getting tighter, an integrated means of displaying all facets of a project is needed. Building Information Modeling (BIM) systems are providing a means for all stakeholders in a project—architects, accountants, construction crews and others—a close-up look at the construction project workflow to streamline planning and project coordination.
Taking computer-aided-design (CAD) up the technology ladder, BIM uses tools such as robotic total stations and 3D laser scanners to give designers more in-depth insights into projects. These tools are enabling BIM models to be accessible in the field, thus enabling faster, more accurate real-time collaboration on the job site without delays waiting for updated designs.
Construction firms have embraced BIM in a big way. In a blog post from BIM software provider Hexagon, the 2019 Sage Construction Hiring and Business Outlook Survey showed only 38% of construction firms do not use BIM. The post added that according to the National Institute of Standards and Technology (NIST), modeling data from technologies such as BIM reduces duplicate design and production work, which in turn leads to costly delays. NIST estimates these wasted costs could amount to $8.4 billion for engineers to answer questions and create additional drawings, and $3.8 billion for machinists to do the same.
Read next: Contractor's 5-Step Guide for Getting Started with BIM

Hexagon offers BIM software that accepts input from 3D CAD models and generates a BIM workflow that can be updated as needed. The workflow encompasses detailed construction elements that extend to all features in a building.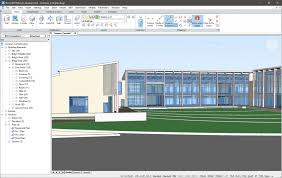 Hexagon offers BIM software that accepts input from 3D CAD models and generates a detailed BIM image showing all construction elements."Some may say that Building Information Modeling (BIM) is responsible for the creation of more and more complex building forms, and that may be true," says Matt Wheelis, LEED AP, Global Business Development, Buildings & Construction, Geosystems division of Hexagon. "But, building complexity is also a function of the systems contained within this building to automate environmental controls, integrate with facility operation systems, and make the building more responsive to people and to the environment."
One limitation of BIM is its relative non-availability for existing buildings. "One of the trends that has been getting a lot of attention in the past couple of years is that of a "Digital Twin," or digital replica of the actual building that is kept in sync with the building so that sensor data can be understood in context (including 3D) and impacts and changes simulated to better predict outcomes," says Hexagon's Wheelis. "For new buildings, a Building Information Model – or BIM – can provide the 3D context, but for existing buildings an emerging trend is that of using Laser Scanning (LIDAR) to capture the building geometry and using specialized software to create the 3D virtual representation."
Viewing progress through augmented reality
While BIM is a great help during construction planning, virtual technologies such as augmented reality (AR) and mixed reality give project stakeholders a clear window to the project as the project goes through all stages, through whatever desktop or mobile device is used. AR is designed to combine the physical and digital worlds by overlaying digital information onto the user's actual environment.
"We've had a vision since the late 1990s—we've been looking at AR technology for 20 years—how to apply to construction and earthmoving machines," says Mark Nichols, general manager at Trimble.
With AR, all the stakeholders in the construction process can now visualize what a project will look like via a 3D model using the AR tool on their own devices. While viewing the model overlaid on the actual site, people can ask and answer questions, raise concerns and solve problems on the spot. 

According to Nichols, AR and mixed reality, which anchors virtual objects to the real world, have taken off in the past few years due to technology advances in areas such as sensors, video and software.
Nichols adds that the current COVID-19 crisis could further boost the use of AR and mixed reality as construction operators seek to deploy fewer people at jobsites and resort to greater use of technology. 
"Mixed reality is where the industry will trend to, as operators gain the ability to operate hands-free," says Nichols. He envisions mixed reality integrated with a certified hardhat that allows users to visualize 3D data on project sites.
The power of simulation for training
The intricacies of performing a construction task can often be learned in a virtual manner that walks an operator through, enabling him or her to learn a task before doing it for real. Simulation, where powerful computer and software team to provide a complete picture of all facets of a construction project in progress, is giving construction operators a powerful training and practice ally.
Simulation enables operators to experiment with construction project variables, helping operators optimize a particular job and providing an added degree of assurance when training new or inexperienced operators.
"Simulation allows operators to train in a safe environment while experiencing challenging situations," says Curt Leconte, product manager, simulators, for John Deere. "Some of the benefits include concentrated seat time, repeatability and experience to a variety of equipment in a cost-effective way. There is no need to fuel up the equipment, rope off an area and occupy an instructor. Simulation can be reset and tried again and again."
According to Leconte, the advent of increasingly powerful computers is enabling advancements in simulator accuracy and functionality. "We are able to more accurately represent the components of the machine, soil simulation and interactive environments that make the operators feel like they are in control of the real equipment. For example, simulators are now able to simulate soil particles and how they interact with a blade or bucket, soil compaction of tracks, calculate forces the equipment is feeling at each point, calculate run-time fuel consumption and more."
Upgrading grade positioning to increase productivity
Grade positioning is a crucial construction jobsite task where traditional low tech methods fall short of providing the speed and accuracy needed in today's construction tasks. Grade positioning technology enables operators to interactively view what is happening on the site as the construction vehicle is moving, eliminating guesswork and increasing productivity.
Technology advances are improving the all-important function of grade positioning. "Grade control systems continue to advance the productivity, accuracy and profitability of a multitude of applications on the jobsite," says Oscar Cantu, construction content manager for the Americas for Topcon Positioning Systems.
Topcon's X-53x positioning system provides real-time, dynamic on-screen bucket location and design views.Topcon offers a grade positioning system designed to minimize the guesswork and operator error in grade positioning. "Our X-53x positioning system provides real-time, dynamic on-screen bucket location and design views. It allows operators to cut grade faster and more accurately; create, cut, and check complex designs from the cab; and it increases safety by removing the grade checker from the trench."
Cantu added that the X-53x can be easily upgraded to an automatic system that helps operators automatically determine the digging depth and bucket angle. "The operator can import design files or create a custom design from the cab of the excavator using the bucket to take topo shots," says Cantu. "The bucket follows complex designs by simply pulling back on the left joystick. Additionally, it can add support for boom automation in tilt/rotator applications."
Trimble has also made a number of innovations in its grade control products. In March 2020, the company introduced its Trimble Earthworks Grade Control version 2.0. The system's most noteworthy feature is Horizontal Steering Control, which automatically controls the machine to follow any horizontal alignment, such as the back of a curb, break line, roadway centerline, or bottom of slope, without operator assistance.
"We're focusing on operator assistance, "says Cameron Clark, earth moving industry director, civil engineering and construction for Trimble. "A lot of grade positioning systems will tell the operator how far to move the machine but not give guidance as to how."
The system's integrated LOADRITE Payload Management displays grade control and accurate payload data on one screen, increasing mass haul productivity and efficiency by preventing under loading and avoiding overloading.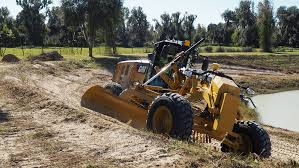 Trimble Earthworks Grade Control version 2.0 features Horizontal Steering Control, which automatically controls the machine to follow any horizontal alignment.The platform also offers a mastless motor grader configuration that mounts one GNSS receiver on the cab and one on the machine's gooseneck, thus eliminating the masts and cables traditionally located on the blade. According to Trimble, this design helps contractors decrease the risk of machine damage and reduces the time spent removing and reinstalling the masts daily.
Drones to the rescue
Nothing beats accurate visual data for surveying a potential construction site. Sending people there costs time and money, so more construction operators are considering using drones to aerially survey the site prior to shoveling or sending people to take a detailed look.
Moreover, drones can be useful in monitoring the progress of a construction project without having to physically send people to survey the site. 
Read next: How Drones Are Transforming the Construction Industry

Propeller Aerobotics uses drones as part of a cloud-based data visualization and analytics platform. The platform provides a 3D site mapping technology, which achieves accuracies as precise as one-tenth of a foot, according to company Co-founder and CEO Rory San Miguel, in an interview conducted by ForConstructionPros at CONEXPO 2020.
"The drones are designed to help free overworked site personnel and perform some of the tedious surveying tasks and focus on analyzing data," says San Miguel. The drones produce measurable 3D site surveys as well as an interactive, visual timeline of the user's site. The platform produces on-demand reports that frees the user from having to perform data analysis.
Because drones may be unfamiliar to some users, San Miguel says Propeller has dedicated considerable resources to help customers deploy the technology and navigate issues such as airspace rights.
The case for telematics
As the IoT (Internet of Things) grows in usage, more construction companies want to leverage data on fuel usage, mileage and other variables to better predict vehicle maintenance and repair. For large operators, the ability to perform predictive maintenance is particularly important as fuel costs can skyrocket and vehicles can break down at the most inopportune times.
Telematics, which uses telecommunications and information processing to monitor vehicle operation, has become an important ally for construction operators to help them maximize their effectiveness in deploying and maintaining often vast fleets of equipment.
Volvo Construction Equipment, for instance, uses its ActiveCare Direct telematics system to monitor equipment wear. "At Volvo, some of the most common issues we see with our ActiveCare Direct advanced telematics system are excessive idling, hot turbo shutdowns, high-speed shifts on wheel loaders and misuse of excavator work modes," says Dave Adams, product sales manager, connected services. "Catching these issues can lower costs, increase uptime and identify operator training opportunities — all of which can help a company's bottom line."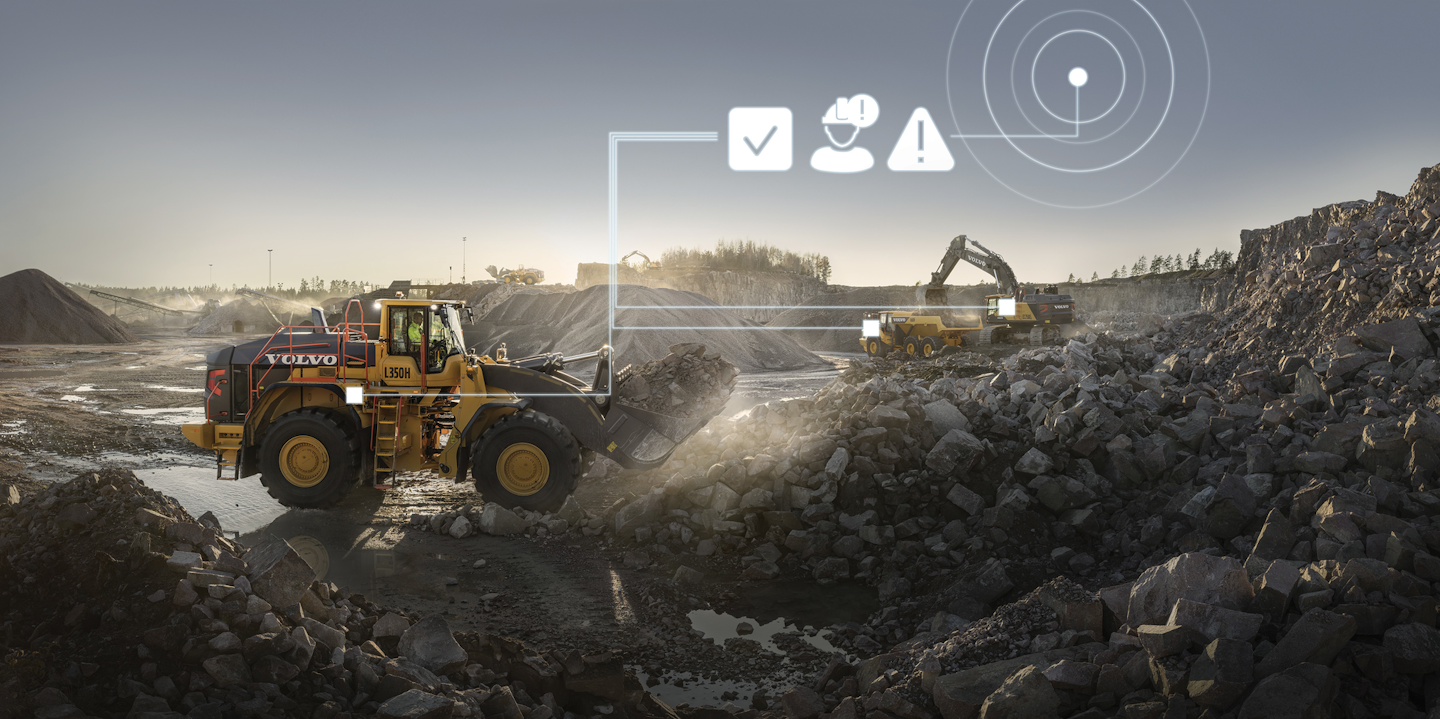 Volvo Construction Equipment's Active Care Direct telematics system proactively monitors equipment wear, helping operators optimize vehicle deployment and maintenance schedules.

According to Adams, the company's telematics system sends the data it collects to the Volvo Uptime Center in Pennsylvania where data analysts and a software system sift through data and only send alerts when there is an actionable item. The system also provides a monthly fleet utilization report, allowing customers to see fleet performance, efficiency, hours and instances of machine misuse.
Reducing excessive idling has reduced operating costs for fuel consumption and maintenance, according to Adams. "It can even help increase a machine's resale value because a machine with less idle time will accumulate fewer hours. I've seen that add up to a difference of a couple thousand or more lifetime hours, allowing the owner to sell a machine for thousands of dollars more."
The sometimes chaotic nature of construction also requires that operators keep track of where construction vehicles are at any given time. Here, telematics is again reaping benefits.
"When any piece of equipment goes missing, it can hinder fleet performance and increase insurance costs," says Steven Berube, senior business development manager for off-road and vocational sales, Geotab. "A telematics system enables fleets to create a geofence, a virtual setting that corresponds to a real-world geographic location. Construction companies can use geofencing to determine if a piece of equipment that leaves a jobsite is being stolen or inappropriately moved. Along with theft, there is always the possibility of accidents or collisions at a construction site."
Read next: 3 Ways Telematics Increase Construction Equipment Security

Berube notes that telematics creates a database of fleet data invaluable for safety. "Fleet managers can review trip history, accidents and log data along with speed profiles, accelerometer and/or RPM graphs. With this data, they can train equipment operators on safe equipment practices to prevent future incidents."
Robotics meets load challenges
An ongoing challenge at construction sites is humans moving heavy loads often many times their weight bearing capability. This issue becomes exacerbated on some sites where loads must be maneuvered in tight locations construction equipment may not easily be able to access. To deal with this issue, the industry is deploying robotic technology in an exoskeleton whose robotic features enable safer handling of difficult loads.
Sarcos Robotics has developed a full-body, powered industrial exoskeleton, called Guardian XO, that enables a worker to lift loads up to 20 times his or her lifting capacity.
Read next: Are Human Robots the Future of Construction?

"The Guardian XO gives the operator an added degree of safety in difficult to access locations at a construction site," says Kristi Martindale, chief customer officer and executive vice president, product strategy, for Sarcos Robotics. "It enables humans to maneuver and lift materials in locations where forklifts or other heavy equipment cannot access."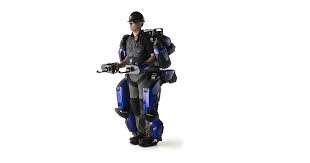 Sarcos Robotics' Guardian XO exoskeleton enables a worker to lift loads up to 20 times his or her lifting capacity.Martindale adds that social distancing regulations that put constraints on the number of persons that can lift a heavy object are another advantage of the robotic exoskeleton, as one person can now lift an object that weighs up to 200 pounds. The Guardian XO reduces the chance of a worker getting injured and gives the worker a high degree of freedom of movement.

Remote control makes equipment operation safer
Safety is of the utmost concern for construction operators. Remote control technology that allows equipment to operate without a person physically present can assist operators where labor is not available and in isolated or dangerous locations where deploying human labor is not practical.
"It is still commonplace globally to put machine operators into hazardous environments," says Andy Massey, product applications specialist at Caterpillar. "No employer wishes to put operators at risk. Remote control technology for construction equipment has been based around mining equipment and had been prohibitively expensive to roll out into general applications."
Caterpillar's Cat Command technology enables employers to roll out cost-effective, factory designed, integrated remote control technology for a large selection of Cat machines.
Read next: Remote and Autonomous Construction Equipment Technologies Increase Safety and Productivity
The Cat Command remote control technology gives operators flexibility in deploying labor where needed. "A good example of how this could be rolled out with huge gains is low production concrete batch plants where small wheel loaders are typically used for charging the plant hoppers," Massey says. "Once the hoppers are full, the machine is sat idling waiting for the next order to come in. In this application, imagine if one operator could run five loaders on up to five different sites from one central location, keeping up with production as required."
Caterpillar's Cat Command technology enables employers to roll out integrated remote control technology for a large selection of Caterpillar machines.

From a labor standpoint, the remote technology has produced ancillary benefits as well. "We are finding Cat Command Technology opens up the machine operation profession to a whole new range of employees who previously were unable to or not attracted to the machine operation profession," says Massey. "This included people with physical disabilities who previously could not climb aboard a machine, and tech savvy young professionals who see remote machine operation a highlight career path."
Ruggedized devices stand up to jobsite abuse
Technology advancements in construction also mean a greater presence of devices such as laptop computers, tablets and smartphones all over construction sites. Given their importance in collecting and storing crucial data, it is important these devices stand up to dirt, humidity, temperature extremes and vibration. Ruggedized devices give construction operators better assurance of withstanding severe environments.
For instance, ruggedized laptops have a thicker and stronger housing than a regular laptop and are mainly used for industrial, construction and military purposes. They are designed to stand up to vibration, shock, drop, dust and moisture, yet comply with requirements such as high performance and governmental grade security.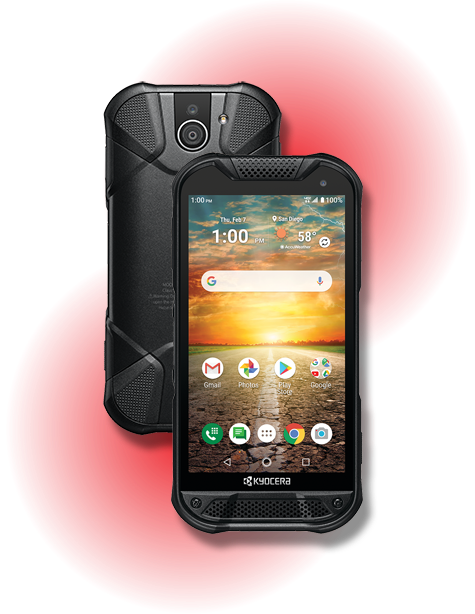 Smartphones for rugged environments, such as Kyocera's DuraForce2, are sealed against moisture and humidity and resist shock, vibration, and extreme temperatures.Likewise, ruggedized tablets are built to withstand the harsh conditions present at construction sites. They can incorporate features such as touch screens, hot-swap batteries, integrated scanners, large memory and storage capacities, and more.
Ruggedized smartphones incorporate a thicker housing and are sealed against environmental extremes. These smartphones can be left out in a sandstorm, frozen in a blizzard or go underwater. Like a rugged tablet, rugged smartphones typically meet IP certification and military standard specifications for dust, shock, vibration, rain, humidity, solar radiation, altitude and temperature extremes.

3D printing revolutionizing construction materials
Technology is also changing the face of construction materials. The familiar image of concrete being poured onto a slab by mixer is starting to change to composite materials that are printed by a 3D printer. 3D printing potentially allows the fabrication of high-strength construction materials without the dirt and mess of traditional material formation processes.
Construction companies are looking at 3D printers that can print materials combining a composite and concrete that is thicker than conventional concrete. Potential advantages include faster construction, lower labor costs, increased complexity and/or accuracy, greater integration of function, and less waste produced.
In one example, Belgian provincial technology accelerator company Kamp C fabricated the structure for a two-story house using a fixed 3D concrete printer on site. The company claims the concrete material's compressive strength is three times that of traditional brick. The house was constructed in about three weeks.
Advances are also occurring in 3D printing processes geared towards construction. Prefabrication and technology company Branch Technology offers a patented 3D printing process called cellular fabrication, C-FAB, which the company says allows the construction of composite wall systems for interior and exterior structures with high strength-to-weight ratios and high design flexibility.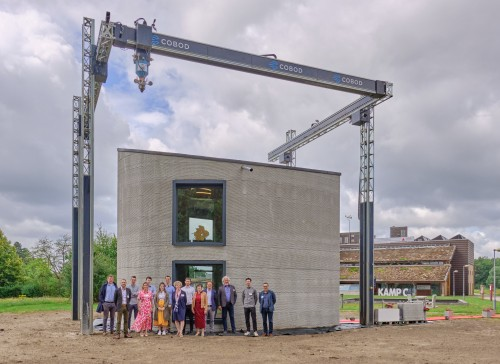 Kamp C used a 3D printed to fabricate the structure of a two-story house.

At a time when construction operators face the challenge of tighter project windows, increased building complexity, a greater need for data, and the possibility of less human labor due to budgetary and safety concerns, technologies such as the ones portrayed here will give savvy operators a leg up on the competition.
Adopting these technologies will enable companies to plan and carry out complex projects with a higher degree of precision, safety and efficiency.
Companies in this article