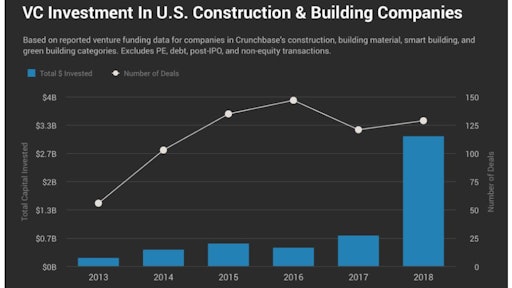 Cruchbase News
The EPC giant Bechtel built itself a big data and analytics center of excellence that can process a whopping 5 petabytes (5 million gigabytes) of data to shape its artificial-intelligence-based tools. Chief among these is its photo recognition technology, which labels worksite photos for clients and has saved the company $2 million.
Bechtel also relies heavily on its natural language processing technology to read and parse contracts, claims, RFPs and other documentation, reducing the time it takes to create estimates from weeks to mere hours. The contractor is expanding its AI development to include human resources tasks, including schedule creation around material availability, labor shortages and even the weather.
AI development has become one of the fastest-growing tech industry sectors, with Tractica predicting the market to grow to $11.1 billion by 2024 (up from $202.5 million in 2015). Marketwatch predicts the construction AI market will exceed $2.11 billion by 2023.
A wealth of data is needed to train new systems' pattern-recognition abilities. Just as construction professionals learn through experience, AI learns through analyzing past data and looking for patterns. As a result, the data collection and analytics industry has boomed in parallel with AI. Funding in U.S.-based construction technology startups surged by 324%, to nearly $3.1 billion in 2018, according to Crunchbase data.
Major construction firms such as Kiewit Corporation are investing in data. Kiewit, having acquired the software company InEight, has been investing in SAP's ERP technologies to track and analyze its data for the past seven years. This data set has informed InEight's technology development for Kiewit. Without it, Kiewit would be left grasping at straws.
(more on AI in construction . . . )
More Resources
How Artificial Intelligence Research Could Reduce Construction Industry Injuries
How Contractors are Improving Projects with Construction Data Technology